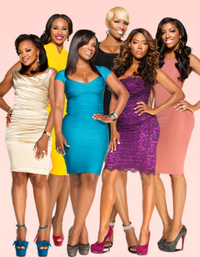 Dear ladies, although we've never met, mutual friends have attested to what nice people you are despite the less than flattering persona displayed on The Real Housewives of Atlanta.  Therefore, I was shocked to learn of the barbaric brawl you recently had on national television.
As one with a history, albiet brief, with an ensemble casted reality show, I have personal knowledge of the inner workings of creating a successful show. From personal experience, I know that a scene can be purposely edited to portray a character in a negative light. I know that an unsavory producer can threaten cast members with "firing" if they don't "bring it". I know that competition for air-time can be fierce and consequently, being a bitch and/or instigator can be good for increasing Twitter and Instagram followers; and thus elevating your brand. I get it all!
But the reunion show is different. There is not crafty editing to blame. No one is forcing you to bring circus props so you can clown another (pun intended). On the reunion show your audience gets to see who you really are, and sadly, on Saturday, April 20, 2014, they saw women who were wonderfully coiffed on the outside, but uncouth and desperate for headlines, underneath.
While the reunion episode was airing, I had the pleasure of dining with 25 smart, wildly successful "housewives," athletes' wives and accomplished female entertainers. We talked about our children, their extracurricular activities and what Ivy League schools some were attending. We laughed about our relationships or lack thereof. We even talked about politics and religion -- and not once did someone think that raising her voice or worse, using a blow horn to make her point, was necessary or remotely appropriate.
That evening, when I scoured the room of beautiful and passionate women, I realized that each of us could sing the song "Thank God, I don't look like what I've been through." Yet, through all of the B.S. each has experienced, maintaining our dignity, patience, and cultured etiquette is of paramount importance.
In utter disgust, I declare, "there is absolutely no excuse for the abhorrent choices each of you made!" Ladies, we always have a choice. You can be radical without being ridiculous. No one forced either of you to denigrate and embarrass yourselves by screaming and fighting like teenage gangbangers. Each of you chose to be overly dramatic in a purposeful attempt to taunt the other. Each of you felt attacked, and each of you chose to respond irresponsibly.
Ladies, you can't un-ring that bell. There is not a statement you can make that will erase, nor explain away the deplorable actions people viewed. Your antics, including the fight, will be an unwanted footnote after your name for a very long time.
Aristotle wrote, "Excellence is never an accident. It is always the result of high intentions, sincere effort and intelligent execution; it represents the wise choice of many alternatives. Choice not chance, determines your destiny."
Ladies, working on a reality show is a "gig" not a career. Fame can be fun. Fortune can be exciting. Still, a true lady values her ability to maintain her poise and dignity during the toughest times as priceless. You must be mindful that future opportunities are often predicated on present-day actions.
I sincerely pray that your choices in the future will represent the strong, smart women I believe you to be. I hope that your future choices will empower, educate and inspire your audience. It is my sincere desire that you rise above the labels that you've now earned. God bless you and keep you.