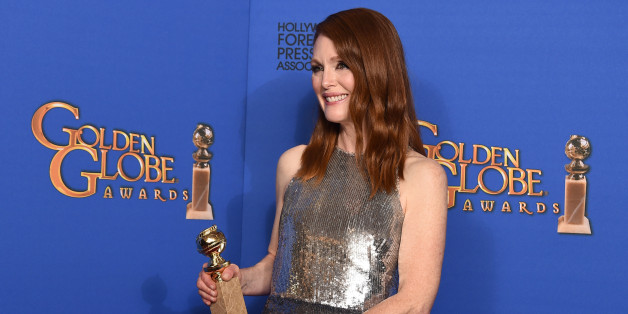 Julianne Moore, who won the Golden Globe award for best actress in a drama motion picture and is considered the leading contender for her first Oscar this year, gives an epic, outstanding, tour de force performance as Alice, a woman seemingly at the top of her game professionally and personally.
She's a linguist at an Ivy League university, married to another academic, Alec Baldwin (whose pout never fails to wow me), a nice but self-absorbed guy.
Together they have it all including three great children (as Moore does in life). Their married eldest daughter, played by Kate Bosworth, is a lawyer about to make them grandparents. Their only son is in medical school. The youngest child, played brilliantly by Kristen Stewart, is the non-academic rebel, aspiring to a career as an actress.
Co-director/writer, Richard Glatzer, (stricken with Lou Gehrig's disease himself and now confined to a wheel chair without the ability to speak unaided by a computer) calls Stewart the new James Dean at a press conference last December.
Kate Bosworth, simultaneously stoic and warm, is a wonderful foil to moody Stewart. Their sibling rivalry plays out deliciously. Baldwin, the good daddy, referees their flare-ups.
It's a perfect picture of family life for a midlife couple, but as William Shakespeare wrote about picking a casket in the play, Merchant of Venice, "all that glitters is not gold." Alice is just noticing the first symptoms of early-onset Alzheimer's, a "familial" form of the disease which strikes early and fast.
Let's gaze in the cinematic mirror once again to see what we can learn through theratainment from Still Alice. The film is a compassionate journey from the point of view of the victim.
As this matriarch's mind begins to slip away, we watch the impact on her as well as everyone around her. We come away with a better understanding of what it is like if we, or someone close to us, should be struck by the disease.
Some of the symptoms seem like ordinary annoyances -- having a word in mind and then losing it, repeating a question that was answered, then forgetting the answer to the same simple question, or misplacing a mobile phone. Being a bit disorganized and running late are all too familiar occurrences we all experience.
But other symptoms are more troubling. Alice can't remember where she is even though she's in a familiar place. Imagine how scary it is to take your usual run and getting lost, or neglecting appointments practically overnight.
Later on, we watch panic and rigidity replacing charm, intelligence and loosing her sense of humor -- what Moore called Alice's loss of identity at a press conference in December. Then there is the ultimate humiliation when Alice is unable to find the bathroom in her own home and ends up peeing on herself.
Consummate professional that she is, Moore worked for almost two years to prepare for this role with another natural red-head, a former nurse with this rare form of Alzheimer's.
Moore is still gorgeous. She makes upper lip lines sexy. Kudos to the courageous filmmakers for allowing a glamorous woman to age gracefully. Despite her condition, Moore glows. She's in great shape and the wardrobe choices make me want to wear a crepe de chine silk blouse and sweater to work today.
Symbolic of Alice's attempt to cling to the familiar as she retreats further inside herself, we see her wear the same pink plaid shirt day and night. It's a touchstone to her teen years -- a time when her mother and sister died tragically too young.
Even when her life seems to be at its most disquieting, out of nowhere she blurts out sage advice. She's "still Alice." We're moved by one of those moments when we see Moore make a stink about her daughter (Kristen Stewart) needing to go to college as back-up plan in case acting doesn't pan out.
Another take-away lesson for usual in life and off the screen is the rigor and discipline of scholarship helps Alice to hold the symptoms at bay for a while, even if the disease will ultimately win.
The soundtrack, especially the use of Lyle Lovett's, "If I Had a Boat," (off of the album Pontiac released in 1980) adds poetic warmth and humor to this understated and daring movie about tragic loss and love.
As always none of what has been written here should be construed as advice, except to recommend that you go and see Still Alice.