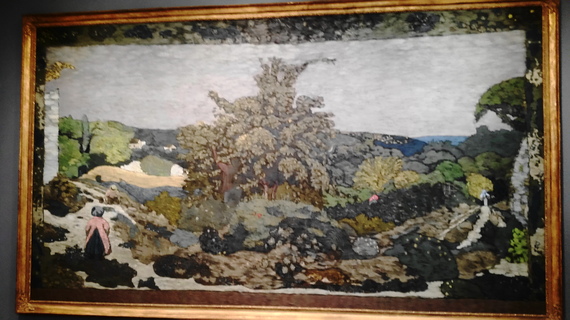 Speckled with light, French Impressionist Edouard Vuillard, First Fruits, 1899, Norton Simon Museum
The tree at the center of this oil painting looked remarkably similar to our Pakistan mulberry in Santa Monica, California. A reprieve in severe drought conditions last winter boded well for a promising spring harvest 2016. Planted 10 years ago our Paki flowered abundantly with flappy, glassy leaves as big as your face. The mulberry harvest officially over, those leaves now appear post-partum shrunken by a third.
With Lewis Perkins, my partner in raising subtropical fruits, our bough method of arcing the tall branches tying them to the trunk for easier harvesting worked well, despite the unreliable weather. Hot and cold bursts in April along with high and dry winds, waylaid May. Hundreds of droops landed on the ground in various stages of maturation. Desiccated droops still litter surrounding branches, a reminder of trouble in paradise.

The newest challenge in the age of Anthropocene is dealing with reverse June gloom here in LA. Unusually sunny at the beach where the garden is, it is cloudy and cooler in the city.
THE NEW THREE R'S
Managing expectations and disappointing unforeseen events, rebounding from setbacks and heartbreaks - handling unproductive growth - are ongoing issues in self-management. As you read, please remember, this blog should not be construed to be therapy, or its substitute. Furthermore, if you or someone you know is suicidal, do not hesitate to reach out to a mental health professional or trusted adviser.
That said, if it is helpful, consider this suggestion for a positive re-frame. 3 R's stands for Reflect, Refine and Repeat, a play on the old rhyme; Reading, Writing and Arithmetic.
Reflect
I do not have the fortitude and perseverance to farm for a living, and have immense respect for those who do. I recall Terry Fewel an hour after his crop of apples were rejected in Yakima Valley, the summer of 2015. He was told they were not, "red enough." This was the same summer this region of Washington State was beset by wildfires. We took dozens of these delicious apples home, eating our fill while there. The remaining few tons fed his wife's rescue horses.
The growing cycle like life, will lift you up and let you down, not always gently. Every wisdom tradition purports a variation on the theme that ideas once tested will surely fall short. Excellence should not be confused with perfection. Whether you move on or not from consequences, the world does.
I tend to become emotionally invested in the harvests and must take care not to personalize the process. On a recent trip to Austin, Texas, I met UT professor Dr. Michael Charlesworth who is writing a biography of renowned 19th century English botanist, Reginald Farrer. He regaled with stories, how Farrer anthropomorphized the plants he studied.
Gratitude for a thousand stellar droops snapped me out of negativity.
Refine
The longans, a cousin of the lychee, need the same bough procedure as the mulberries. An unexpected crop of Cherries of the Rio Grande are ripening fast, as are the blackberries. Sadly the albino Afghan mulberries were eaten by squirrels, birds and who knows what else before we got to them. The Brazilian Surinam cherries known as pitangas, are something to crow about as are Kona coffee cherries and blueberries, some of which are ready to pick.
I must pay attention to moving forward, applying innovations which worked for mulberries.

Repeat
Ultimately, urban farming is a good hobby and break from my profession. What better way to unplug, to ritualize growing with companion and pooch in tow. Berries ripen in bursts and when they do picking can be done at least twice a day. The subtle pop as the ripened fruit gently falls into one's palm is exciting beyond imagination. Searching the leaves for fruit, I better understand a hunter's delight.
Researching recipes and prepping the literal fruits of our labor to our specifics, while getting exercise outdoors is a joy. Amazing food blogs abound for smoothies and cereals, a grazers delight. Laura Wright's The First Mess reminded me there will be opportunities to roast fruits. The recipe for refrigerator jam on the side of the chia seed package was tempting.
I always want to share the harvest with friends, family and like-minded folks.

Making the Most of the Harvest
Gathering ingredients I am a fan of for our makeshift mulberry smoothie and granola test kitchen was major fun. Bob's Red Mill provided oats, hazelnut and coconut flours, and chia seeds to work with. Pacific Foods provided a panoply of nut and grain milks to do the same. La Tourangelle came through with single origin coconut and sweet almond oils, as well as their Nutriblend. We went to town.
Oats rolled in coconut oil, dredged in hazelnut flour, baked with cinnamon and maple syrup, and served with hemp milk is the stand out winner. A variation on the theme, cobbler topped with granola and one of the non-dairy milks is yummy. Coffee by Caffe Luxxe, rounded out the experience as does fresh squeezed OJ.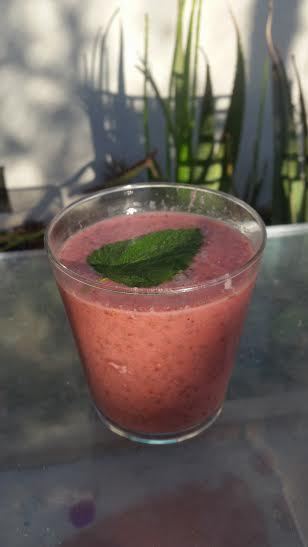 Vegan smoothie with Lew's mulberries and oranges, chia seeds, coconut milk and Nutriblend oil topped with a leaf of lemon balm
Smoothies blended with hemp, hazelnut or rice milk and coconut flour shine. I usually add a cereal or two to my smoothies. Bob's Red Mill 7 grain is convenient and need not be cooked. Next time, I might add kale powder. Pressed for time, I keep a stash of Vigilant Superfood Cereal to-go bowls in my car and office.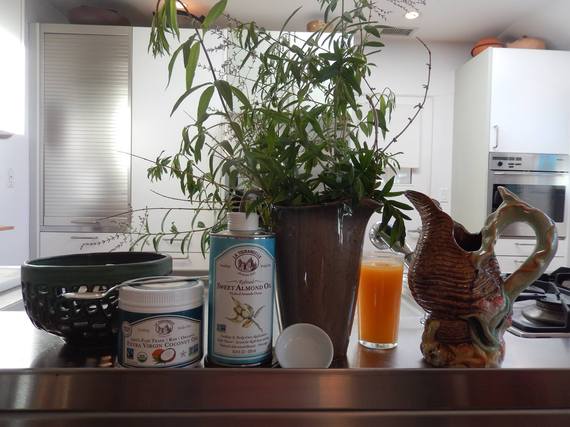 Moisturizing skin and hair with sweet almond oil is another self-care ritual
Other small joys that remind me of my time in the garden is a good perfume. Remember fruits start out as sweet smelling flowers. That is why I love garden-centric Jo Malone colognes. The mimosa tree is in bloom now. Ms. Malone has mixed this scent with cardamom to great effect. A spicier blend, I adore her blackberry and bay leaf combination. These work well with orange blossom, my stand by eau de parfume. Ms. Malone, you are always putting forth new blends. Have you considered the macadamia nut blossom or bringing back lemon verbena?
Another gardening enthusiast is my dear friend Luisa Bottari-Stern, who leans towards raising vegetables. Along with a fragrant bouquet of bay and lemon verbena, I brought her a house gift of droops and Taittinger champagne one lazy afternoon.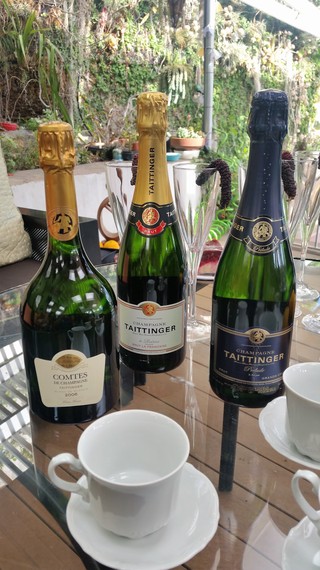 Dunking droops into flutes watching the bubble grab the fruit, I was reminded of Joost Elffers book, "Play With Your Food."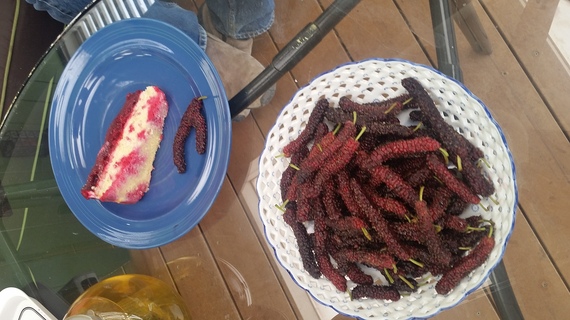 Luisa and Adam's houseguest baked a scrumptious raspberry custard kuchen
The park and garden movement was a 19th century invention to escape the hustle bustle of fast paced urban life applies today. We learned about this at a traveling exhibition, "The Artist's Garden: American Impressionism and the Garden Movement, 1887-1920," which recently closed at the Huntington Gardens, an exemplary urban oasis.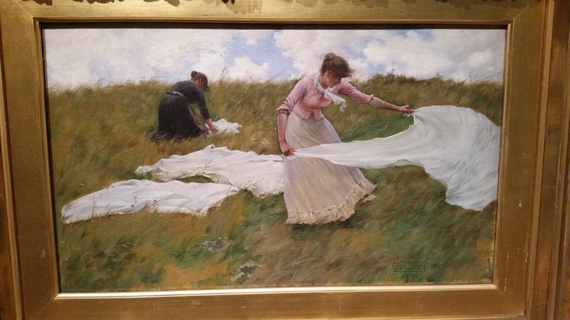 Charles Courtney Curran's, A Breezy Day, 1887, inspires me to alfresco picnic soon
Photography courtesy of Lewis H. Perkins