Grasses are the denim of the plant world, a mere two-syllable term that covers just about any situation you can imagine, in more colors and textures than you might suspect. And just like jeans, grasses look great in almost every situation.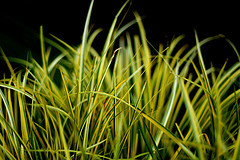 Photo courtesy of Creative Commons
If you've been staring at a shady patch of your garden with that "nothing to wear" feeling, may I suggest you try on a carex grass or two?
Carex are technically "sedges;" or grass-like marsh natives; in the garden they are an easy-going group that can range from copper to yellow to blue in color, and from delicate to bold in texture. They prefer dappled light, but most can handle full sun exposures if watered consistently. Most are low growing, usually reaching about 2' or less.
("Sedge" is botani-speak for "You're almost a grass, some of your parts are different, so you're technically a "sedge" not a "grass"... but who outside a botanist's dictionary is going to fret this detail? Things.)
Planting a few carex is such an easy way to make your garden feel instantly pulled together, you'll be laughing. Here's a few particularly lovely ones:
Carex 'The Beatles'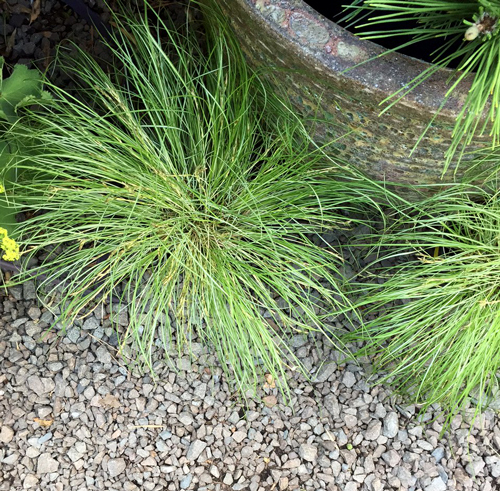 A snap from our yard
For something delicate, almost aquiline; consider Carex caryophyllea "The Beatles." In dappled light under trees, the thin blades shimmer. Planted en masse, under birches in a courtyard, say, you can easily pull your garden together with just two types of plants. Wham. Bam.
Carex 'Hobbs'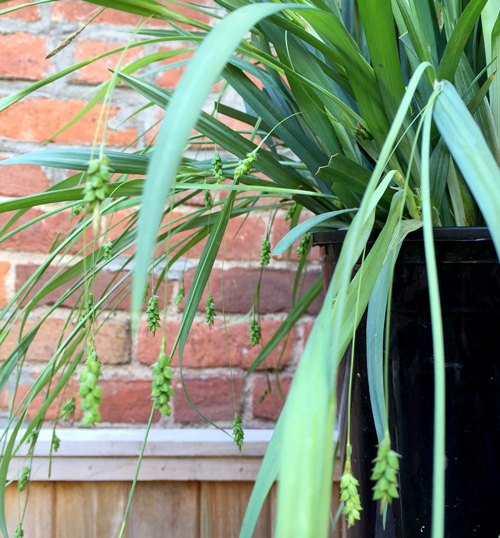 Looking great, in our garden
Carex 'Hobbs' has a bolder presence, broader blade, and a glaucous blue cast. In late spring, its seed heads emerge looking like tiny chandeliers. This grass begs to be planted in a raised planter, where its party lights can be appreciated. Combine with a gold leafed hosta, or heucherella 'Gold Zebra' for high contrast, or with a Japanese Painted Fern for something more subtle.
Carex 'Bowles Golden'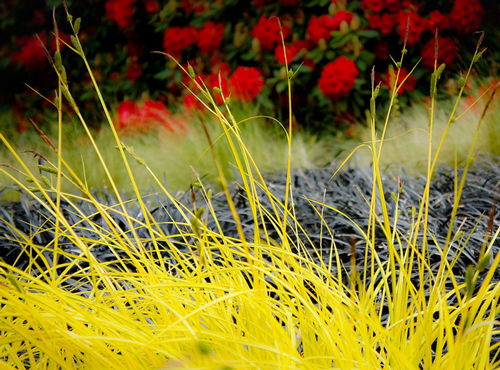 Photo courtesy of Creative Commons
Carex, 'Bowles Golden' brings its golden glamour to very wet sites, pond edges or even containers without drainage. Brightening up darker corners with its permanant glow, BG glows like a grassy footlight anywhere you plant it. Go full Mondrain and alternate with bands of black Mondo grass; you will melt the concrete heart of any modernist. Myself, included.