Embellishing with fresh flowers is an age-old custom practiced all over the world. Buds and blossoms are used to celebrate life and love, to mourn loss, to show gratitude, to make a statement and just to admire their beauty. It is impossible to deny a flower's charm (I dare you to walk past a blooming rose bush without pausing for a second. And so, it is no wonder why people have always been fascinated by them. Flowers are certainly the "fashionistas" of the plant world; they are the risk-takers, the show-stoppers and the exhibitionists. We all appreciate all of those qualities here at Sprout Home, and we're determined to find as many unique ways to incorporate flowers into our daily lives as possible. Let me encourage you to do the same.

Think, for a moment, about where you're used to seeing an arrangement of fresh flowers. Wedding bouquets and centerpieces are typical. The same goes for the center of a dining table or credenza. Maybe you've sent flowers to congratulate a friend, or to earn points with your significant other after a tiff. Floral arrangements are generally limited to special events and stationary decoration, and I just think that's a shame. Here's an idea: Why don't we decorate ourselves by wearing flowers as living fashion accessories?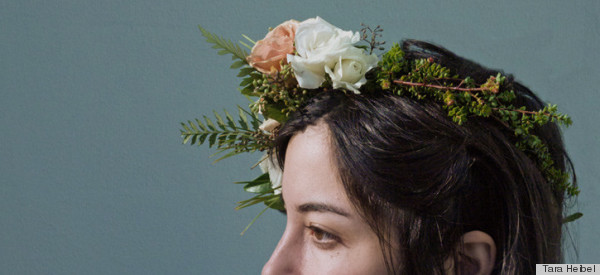 If you're looking for a unique addition to your wedding attire, or even to your date-night outfit, consider adorning yourself with flowers. These days, floral accessories are often seen as very formal or old fashioned, worn only as boutonnieres and corsages during weddings or the at high school prom. But flowers are just too incredible to be limited to a suit coat or a wrist. Many fashions of the past have emphasized floral touches: The Victorians wore posy holders on the regular, gangsters wore carnations in the 1920s. Floral trimmed hats bled into the 30s, 40s and 50s, and the hippies of the 60's braided daisies into their hair. Why not channel Billie Holiday with a hair comb laced with blooms? Or, for a modern twist on the traditional Hawaiian lei, try stringing together different types of flowers to create a funky, fragrant necklace. If you love to be the center of attention, adding fresh flowers to your party dress will surely start a conversation. At the very least, you'll be surrounded by a lovely aroma while you wear them. As a devoted floral enthusiast, I am enthralled with all of the above, but at Sprout Home we have a favorite way to accessorize with flowers: By wearing them as a headdress, a la Frida Kahlo.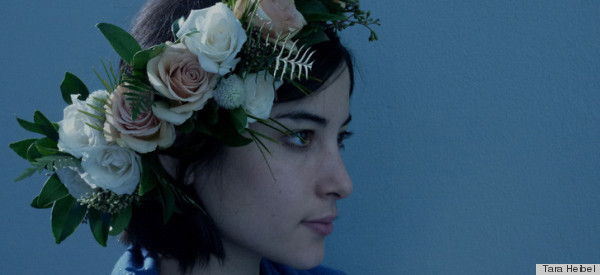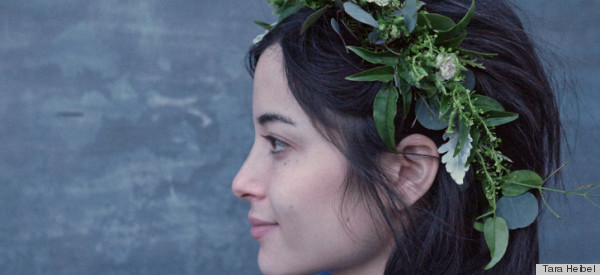 Floral crowns, halos and headbands can be created in multiple ways. One can start by using a pre-made ring or headband as a base. Or use a material such as wire to fashion an open or closed ring. Sewing, wiring and gluing are all acceptable methods to attach flowers. I recommend using greenery with pliable stems and waxy leaves such as ferns, eucalyptus, myrtle, and jasmine. Just make sure the type of greenery used will form easily into shape, and keep fairly well out of water while being worn. Using drought-tolerant flowers such as roses, wax flower, craspedia, ranunculus and pieris is also important. The style and size of a floral headdress will be determined by the flowers used as well as where they are placed on the ring. For example, attaching flowers evenly and completely around a halo can create a sort of Boho or Grecian style headdress, while securing a cluster of flowers to one half or one third of the crown will give it a bit of a vintage, playful look. Ideally, headdresses should be made no more than one day ahead of time, and should be given a fine misting before being kept cool and contained within a refrigerator until they are worn.
Floral accessories themselves are temporary and fleeting, but I would like to see this fashion refreshed on a regular basis. They may only last for a day or a night, but anything made with cut flowers will surely be fresh and one of a kind. Take advantage of nature's stylish risk-takers the next time you dress up. You can't go wrong. Flowers have already done most of the work for you.
For more great ideas, be sure to look through Tara Heibel's Plant Of The Week slideshow below.
PHOTO GALLERY
Tara Heibel Sprout
Have something to say? Check out HuffPost Home on Twitter, Facebook, Pinterest, Tumblr and Instagram.
**
Do you have a home story idea or tip? Email us at homesubmissions@huffingtonpost.com. (PR pitches sent to this address will be ignored.)