When you need a plant to make the shady area of your yard or deck feel a little more lush, look no further than caladium. Ranging anywhere in size from 15"-35" in height with leaves spanning 6"-18," these beauties are great at filling in those spots under trees or around fences where you need foliage fast. What is most fascinating about Caladium is its color combinations, which can range from white, pink, dark red to various shades of green. With the intense color of the leaves that the Caladium provides, there is no need for flowers, making them highly sought after to fill in dark spots with bold shades and hues.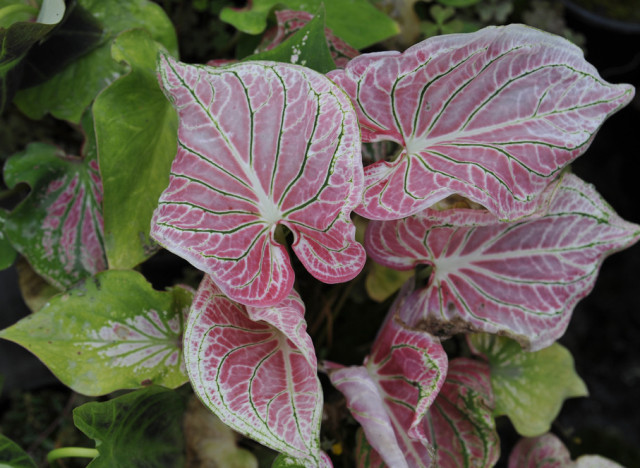 Flickr photo by Megan E. Hansen
They grow best in a shaded area that avoids mid-day direct rays. Important to note, if they are in darker shade their colorations will dull slightly. They do enjoy thriving in evenly moist soil and can rot if planted outside too early in the season when temperatures are still chilly. If your local garden center does not have the Caladium color palette that you desire, or if you want to start your plants early, you can pick up Caladiums as tubers in the spring from various mail order catalogues. Plant the top of the bulb about 2 inches below the soil surface with the eyes up. Unless you live in the south, you will need to dig up and store the tubers before the soil drops below 50 degrees if you want to save them for the upcoming spring. Take them out of their dry winter storage and replant them when they can come back to life and grace your garden once again. Once established, your Caladium will benefit from regular feedings from a well balanced fertilizer to keep them strong.

Their crazy colors will last through the Fall and are a great option to traditional annuals. Save some cash, do a little digging and enjoy the Caladium beauty for years to come.
Have something to say? Be sure to check out Stylelist Home on Twitter, Facebook and Pinterest.