With names like Afterglow, Big Red, Fireball and Lipstick (just to name a few), one might think that these flowering plants in the Crassulaceae family have a secret life or at least a juicy one. Native to semi desert areas of Central America, Echeveria can be evergreen or deciduous and will send out flowers from short stalks that are somewhat foreign and surprising. Echeveria's form compact rosettes that sometimes look like thick rose petals. The rosette colors become more pronounced in cooler months and can vary from green, red, blue and orange. These species are polycarpic -- they can flower (normally in the spring) and set seed over and over again -- spreading their love. They will also produce offsets or babies which are known as "Hens and chicks." This playful reference is also commonly applied to the genera of Sempervivum but please note that they are different from the supple Echeveria.

Echeveria can be used as garden plants in warmer climates and are quite tolerant as they are drought resistant. Hybrids of the flower are a little less tolerant. Even though they prefer full sun, some can handle some shade and frost. A majority of them will shed their lower leaves in cooler winter temperatures which should be cleaned up as to not invite unwanted fungus as they decay. During the warmer growing season they can still tolerate extended dry periods which makes them a resilient friend but still need adequate watering during the warmer months. Plant them in a well draining succulent soil so that water is not kept at their root system, avoiding rot. They are shallow rooted plants and can be planted with brethren in close proximity. Make sure they are well ventilated and check for mealy bug and aphids once and while as they do find Echeveria and most succulents just that - succulent. If you find an infestation, treat it immediately with an organic insecticide.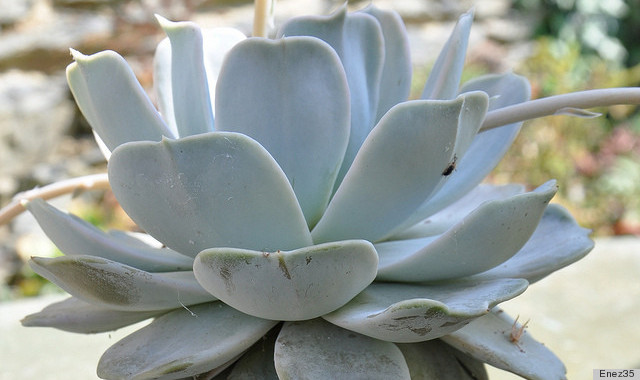 Some people fall in love with their compact rose like appearance but as they grow out people might be surprised since they become a little unkempt looking. When your Echeveria goes through what you can call its 'ugly period', they can be re-rooted or propagated to return them to their compact nature. You might run across already cut heads of Echeveria at your local garden center which can subside on their own almost like a cut flower for a couple of weeks but if given the chance to be place on some moist succulent mix they are more than happy to send out roots and grab in to the soil searching for water, giving it another chance to turn in to a growing plant. Keep on spreading the love.
For more helpful gardening ideas and tips, be sure to look through the Plant Of The Week slideshow below.
PHOTO GALLERY
Tara Heibel Sprout
Do you have a home story idea or tip? Email us at homesubmissions@huffingtonpost.com. (PR pitches sent to this address will be ignored.)