Echeveria are in the lime light at this time of year because they're big fans of drought and dry, hot weather. Even though succulents might seem a little boring, there's more to them then just planting them in a boring old pot or cactus garden. Instead, try using them as a cut floral throughout your home with a little creativity. They can easily call your dining table or bookshelf home with a little know-how.
You can order larger echeveria from a local green house or grower or pick up smaller ones at garden centers or even grocery stores during the summer months. To turn them into a plant sans soil, all you have to do is cut off their heads. Although you might feel like The Queen of Hearts from Alice and Wonderland, you're anything but. These succulents can live for 6-8 weeks without soil or even water. Since they store extra moisture in their leaves, they're good to go for a while.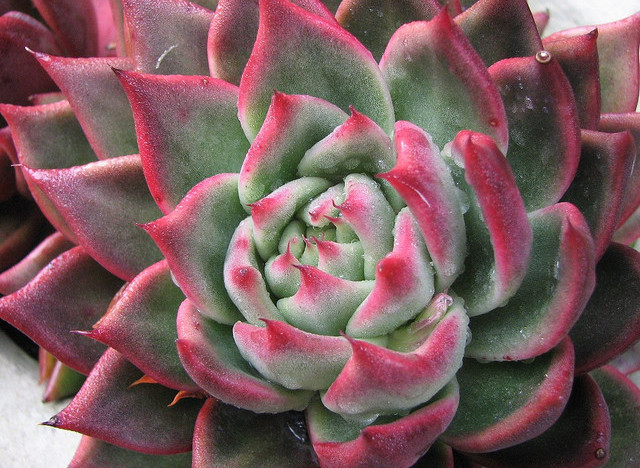 Photo by Flickr user hortulus.
Having an echeveria without soil gives you many benefits. Once the end has scabbed or sealed itself, you're able to place it many places a traditional potted plant can't go. You can place them in pieces of driftwood to decorate the center of a dining table, against a lamp on your side table or even on the bookcase next to your favorite home accessories. They give you a fresh floral feel without sagging flower heads and petals dropping everywhere.
If you'd like to keep your succulent alive for longer, you can place them in a shallow dish filled with a layer of rocks, covering the bottom with water. The echeveria will drop a root down to drink and can then be planted all over again. They're a great investment piece next time you're at your local florists. Not only can they be tied into a bouquet, they can be used throughout the home and then replanted and cut againperiod Go nature!