At Sprout Home, we just received our delivery of pumpkins. As soon as I saw the truck pull up the first thing that came to my mind (other than the obvious excitement to unload the pumpkins) was that fall is officially here. The leaves of the trees and shrubs are changing colors to shades of red, orange and yellow and in addition, it's also that time of year when you run across certain ornamental plants that didn't rear their heads until now. A personal favorite is the Chinese Lantern plant, or Physalis alkekengi. Otherwise known as the Bladder cherry or Winter cherry, the Chinese Lantern is a herbaceous perennial that after blooming a white flower, has a red to orange paper-looking casing covering its fruit, making it truly look like its namesake.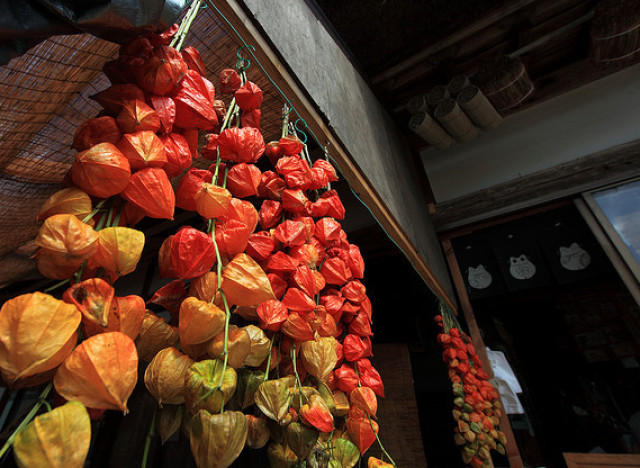 Photo by Flickr user TANAKA Juuyoh (田中十洋)
The Chinese Lantern will grow to zone 4 but be careful - it can be very invasive, so plant it where it can't run wild, because it will! They're best served as container plants in order to control its crazy ways. They can handle full to sun to part shade outdoors with ease and not much effort. If you try to grow them inside, place them in a southern-facing window in order to soak in as much direct rays as possible. They can grow to approximately two feet quickly if given the opportunity.
If you missed them at the local garden center this fall, keep them in mind for the spring when you can easily start them from seed outdoors. When using them in container plantings, contemplate using darker color foliage in order to make the lanterns pop even more. The Chinese Lantern can be added to your fall cut floral arrangements for a burst of color and they are also one of the few cut florals that look wonderful dried. As soon as they turn red, go ahead and harvest them and hang them upside down for a couple of weeks out of the direct sun. Not only can you enjoy the Chinese Lantern now but there is also plenty of time to prepare it for your Thanksgiving table decor this year -- a plant that keeps on giving.
Have something to say? Check out HuffPost Home on Twitter, Facebook, Pinterest, Tumblr and Instagram.