When I think of roses, I think about romanticism and beauty in the purest form. Poets write about them and artists use them as their muse. These flowers are not only for sending your sentiments to your significant other but are intriguing in one's garden. What some do not realize is that there is a new breed of roses out there that can outperform those of the past and take on a new literal twist to the old fashioned varieties -- the English garden rose or the David Austin Rose. Development of the English rose started in the 1960s by David Austin who wanted to reconnect with the romanticism of the Old Garden Rose by hybridizing them with modern hybrid tea and floribundas roses. The blooms of the old fashioned roses were extreme in shape and form and the new hybrids are tough and repeat bloomers, so this is combining the best of both worlds.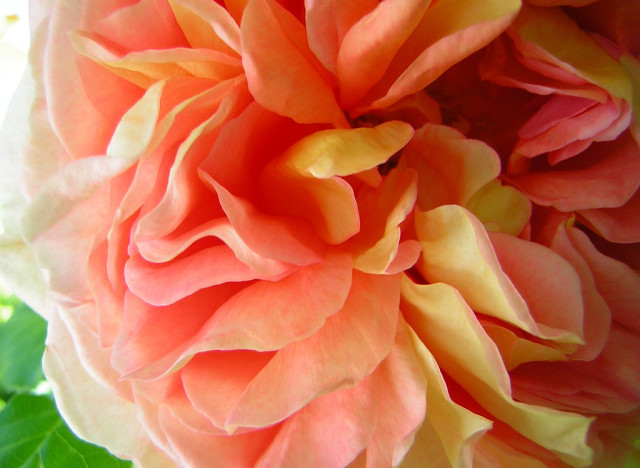 Photo by Flickr user glasseyes view
When brides come to Sprout Home for a wedding floral consultation the topic of roses always come up. Now, I am not going to bash the traditional and typical rose because all flowers are beautiful in their own ways, but I have to tell you that I believe the English rose blows them out of the water. When brides peruse our floral fridges they are surprised to find out that the collection of English garden roses are actually roses. They assume they might be peonies or something else and are elated to learn differently. English garden roses are often used as a 'face flower' in our floral creations because of the attention they command and can be spotlighted with even the simplest of greenery. Some of my favorites to use are 'Juliet' to add a swirl of light peach to the bouquet, 'Miranda' for a hot pink pop and 'Claire Austin' for a clean fluff of wedding white. Not only are English garden roses visually stunning and scented but they also hold up better as a cut flower. You can add life to a cut garden rose by snipping it at an angle so that it can take in more water. Your roses will thank you if they are then placed in lukewarm water. Re-cut every two to three days and refresh the water every time. Keep your stems cool by keeping them out of direct sun rays.

Maybe you want to revisit your wedding day by planting one of these English garden rose varieties in your garden or perhaps you want to plant them just because you love them. Most of the English roses can be grown in weather as cold as zone 5 with ease and will be a prolific bloomer with some extra care and attention. The pruning of a rose bush is dependent on the type of rose you select. English roses bloom continuously during the growing season and require pruning of any spent flowering stems to provide the plant with the energy to push out new growth and blooms. If you do choose to plant one of these beauties and you live in a colder climate, most English roses will want to be pruned low, to 10 inches, in the early spring as the harsh winters can kill the exposed canes. They prefer full sun, though some can be grown in a part shade. Make sure there is airflow around the plant as to not promote mildew. Even though they have a distinct old-fashioned characteristic, they can readily be used in a modern garden, in a mixed border or as a specimen container plant. The scent and beauty that has stood the test of time as one of the most romantic flowers has made its comeback and i suggest you let these new varieties take center stage, whether it is in a floral arrangement or in your backyard. They will definitely make you smile and smile and smile.