When I create a floral arrangement I begin my creative process with the backbone, or the spine, of the arrangement. The backbone is the chief support system of your arrangement in which to build upon literally and figuratively. You can push it to extremes or keep it restrained, asymmetric or balanced -- your skeletal choices will give your arrangement purpose and direction. Much like a painting, a floral arrangement is meant to stimulate the viewers imagination. The composition of a painting is as important as the brushstroke and/or coloration.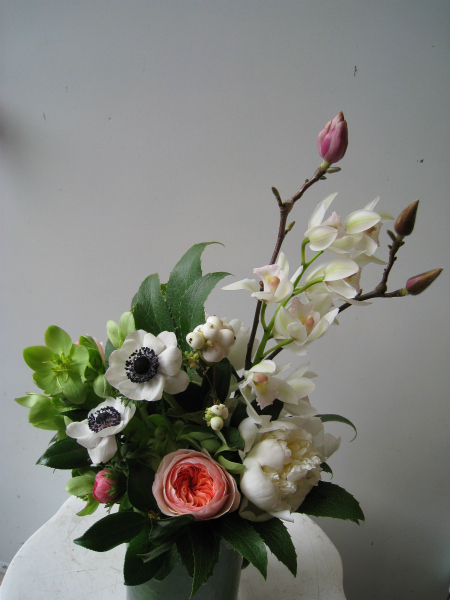 When teaching floral classes, I like to emphasize the importance of the backbone by touching on Ikebana. Even though Ikebana is guided by certain rules of construction it can be admired in its basic principles. Not only is it a practical application, but it also serves as inspiration when one looses site of the most basic principal of flower arranging. Its formal methods prefer line and movement as comparative to flower, forcing one to let the backbone of the arrangement be the primary focus. These same principles can be applied and expounded upon in contemporary arrangements.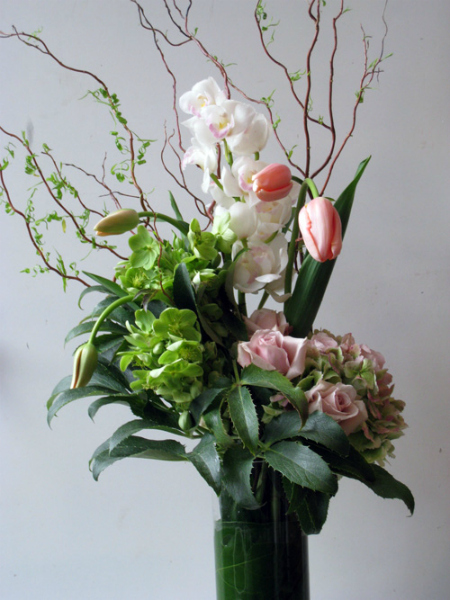 I realize that thinking about a 'backbone' of an arrangement might be challenging at first, but after you develop that skeletal structure the rest will easily fall in to place. There are no set architectural rules per say, unless you do want to base it on formal Ikebana methods which in most styles utilizes three triangular spatial groups (higher upright, intermediate slanting and lower inverted level). Think of the negative space between focal points -- this space will help elements in your arrangement to breath and connect, assisting the viewers eye to move around the three dimensional canvas. When purchasing your floral think about the directionality of the material in regards to how it will work in your arrangement. Keep in mind its natural direction and if it will work with your concept. Do you need some horizontal branches or naturally arching floral to reiterate an asymmetric backbone? Or do you need a visually heavy flat topped flower to pull the viewers eye up? If you want your arrangement to have more drama in regards to a far reaching display make sure to utilize a rigid material to build your backbone. A woody selection such as curly willow or dogwood branch would do nicely, but you will be relegated to its natural form as you will not be able to manipulate it other than pruning. If no woody material is available make sure that you select something that is rigid and does not need support.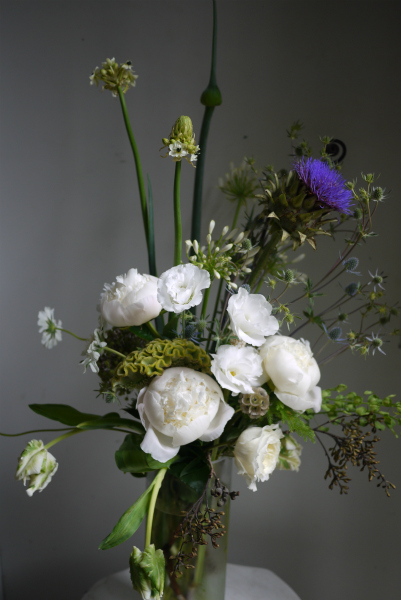 The more you train your eye to see and recognize the 'backbone' of a floral arrangement, the easier it will be to manipulate the visual context of your own creations. Put on your x-ray glasses and see if you can trace the geometry.
All Photos Courtesy of Sprout Home