Hakonechloa, or Japanese Forest Grass, have blades that flow at a different angle than other ornamental grass species. Native to Japan, this clumping grass can brighten and add textural contrast to any garden, even those that aren't by definition Japanese. This cascading style grass grows wider than it does tall and has paper-y stalks that can sometimes reach several feet across. The leaves are reminiscent of bamboo and its fine nature makes it moves readily in the wind, soft and cascading. There is also an inconspicious flower that blooms in the summer from the end of the leaf. The most common and fastest growing varieties are a rich green but there are other variations that exist with varying colorways, and some cultivars even turn colors in the fall. Although Japanese Forest Grass looks delicate, it is actually quite easy to grow and tolerant of many environments, with most varieties being able to grow even in zone 5.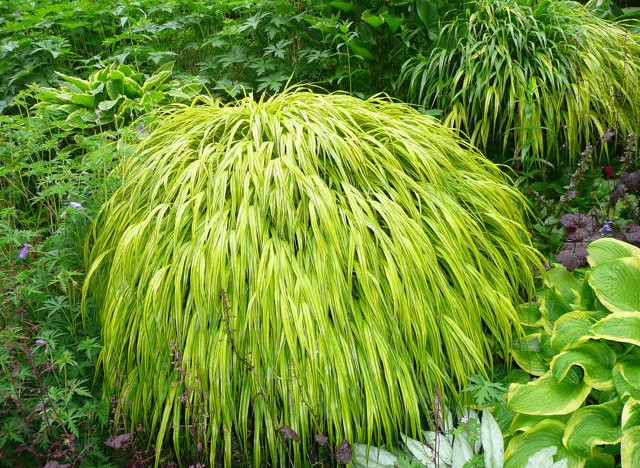 Photo by Flickr user MeganEHansen
Japanese Forest Grass can handle a variety of growing conditions including an array of light scenarios but for the most part prefer part shade. They can even tolerate a wide range of soil conditions. This makes them a highly versatile plant for almost any landscape design. They are slow growing and although they might not reach full size for three years, they'll stand out against the dark colors of your house, building or deck. They bring color to dark spaces and draw your attention with their smoothly flowing blades.

Besides being an asset in the garden they make for a good container plant, adding a rounded buffer to any leggy plants sharing the pot. They also look amazing as a solid planted row in a container mimicking a long limbed shag carpet. So what are you waiting for? It's time to plant up your patio or dress up your deck!