Last week, I had the opportunity to walk through the woods on a friends property in Connecticut, and I came across something unexpected. At the bottom of the undulating natural landscape was a maze! I walked into a clearing in the trees and out of nowhere appeared a path leading to a kept and tightly packed grouping of plants and shrubs forming this winding attraction. The only thing I could do, other than smile, was to take a few moments to have a seat and admire the discovery. So unexpected and oh so welcomed -- for a moment I felt like Alice and the Queen of Hearts might have been on the other side of the forest.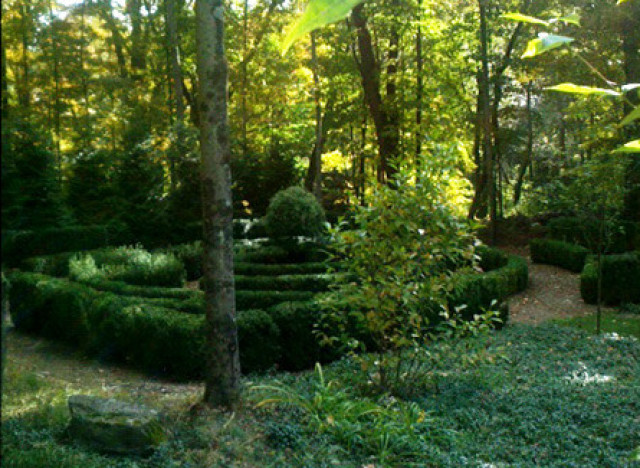 Photo by Sprout Home
Garden mazes have a deep history. The earliest records depict Italian architects sketching these conceptual gardens as early as 1460, but they didn't make a real appearance in the gardening scene until the 16th and 18th century when they started popping up all over Europe. Some were intended to be a true puzzle, while others were more gentle in inspiration and meant to be a place of contemplation and perhaps romance. There have been many adaptations throughout the centuries, from single path hedge mazes to modern interpretations with clear plexiglass bridges and panels blocking the way. You would expect a formal manicured maze in the backyard of a palace or in the middle of a children's fable, but when it is taken out of context and suddenly appears in the middle of a birch-filled forest, it is much more precious.
The magical and child-like quality of garden hedge mazes makes them appealing to all and they are an excellent addition to any yard, big or small. If you are looking to create a garden maze, it's a good time of year to start one. Most garden centers are having fall sales to clear out stock so watch out for evergreens that can serve as good hedge material and get them in the ground to have your maze take shape. With a little inspiration and imagination you can surprise even yourself.
Have something to say? Check out HuffPost Home on Twitter, Facebook, Pinterest, Tumblr and Instagram.