I recently discovered that west isn't necessarily best when it comes to skiing.
New Hampshire receives an annual average of 80 inches of fresh snow every year and offers a number of off-the-slopes activities that include snow shoeing, dog sledding, snow tubing, zip-lining and much more. Avoid the expense, crowds and long lift lines of Vail and try New Hampshire's many ski areas for your next winter getaway, especially if traveling with little learners a.k.a. ankle biters.
I have been skiing since I was four-years-old, yet I had never skied in New Hampshire until this season when I experienced an amazing family-friendly trip in the White Mountains of North Conway and Jackson, New Hampshire. The area is incredibly charming and laid-back. It was as if we traveled back in time to a simpler family fun getaway.
Below are some family-friendly tips learned from our recent trip:
Where to Ski
Black Mountain is an independent, family-owned and operated mountain for more than 80 years. This no-frills mountain was like a throwback to when I learned to ski in the 80s - I immediately fell in love with it. Family is the focus at this hidden gem, from the terrain, to the staff, to the skiers and riders. The area embodies the tranquility and beauty of classic New England skiing with a rustic lodge for après ski enjoyment. The mountain's southern exposure provides protection on windy days and lots of sun during the day to take the edge off of the cold temperatures. It was 30 degrees, but not once was I uncomfortable thanks to the sun shining down. Black's peak rises to 3,303 feet with wonderful scenic views of Mount Washington and the Presidential Range.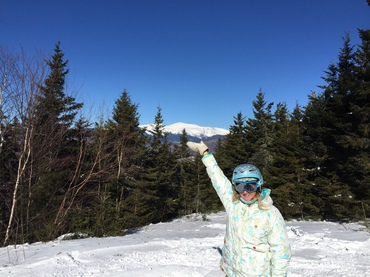 Their ski-school for little ones is a great place to start your kids off and also has a day care center. I loved witnessing how the staff all knew the local kids by name and out-of-towners from the season before. I can't wait for my boys to experience that. We were there during a holiday week, yet I never had to wait in line for a chair lift, it was incredible! Best of all, it's affordable for families too.
Oh, and apparently the mountain is great for singles as well. My ski instructor was telling me about the mountain's annual Valentine's Day Chairlift Speed Dating event. How fun is that? Apparently, one couple who met a few years ago during it are even married now. I think that might trump my "I met my husband on the New York Subway' story. Hmph.
There are also several other mountains in the vicinity including Wildcat Mountain and Cranmore Mountain. For boarders and those with older children you can also check out the nearby Attitash Mountain Resort, which offers two distinct mountains, Attitash and Bear Peak and all terrain parks.
What to do beyond downhill skiing
Dogsledding excursions, horse-drawn sleigh rides, snowmobiling, maple sugaring--in New Hampshire, skiing is far from the only outdoor winter pursuit.
We took the opportunity to go snowshoeing for the first time on a two hour instructional Nature Tour on snowshoes with an expert guide who pointed out trees, animal tracks and shared local history along the way. A total of four kids were on the tour and it was hard keeping up with them and their little speedy legs during the active trek. The Jackson Ski Touring center offers 45 kilometers of trails specifically for snowshoeing, but be sure and make a reservation for a nature tour and shoe rentals prior to your trip. This year Snowshoe Magazine rated Jackson #1 for snowshoe-friendly Nordic Center. The nonprofit organization also maintains 150 km of trails of the finest cross-country ski trails in the Eastern United States and offers rentals and lessons as well.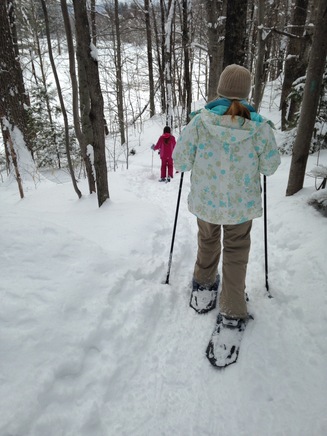 TIP: Bring sunglasses and dress in layers, because it gets pretty toasty while snowshoeing and Nordic skiing. I'd also recommend grabbing a sandwich or salad before or after your tour at the quaint and friendly J-Town Deli & Country Store just across the street.
You can also enjoy tax-free shopping during your visit to New Hampshire and splurge at the Settlers Green Outlet Village in North Conway.
Next time, we also plan on checking out Mount Washington Valley Children's Museum in North Conway, which serves children from birth to 7 years old! Thus, plenty of activities to entertain young children. Their was even a little play area at the Portland, Maine airport, which is where we flew in to.
Where to Stay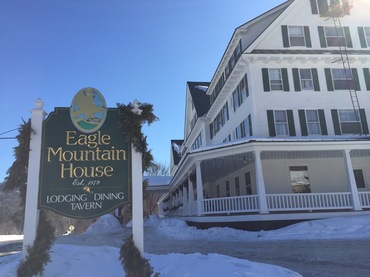 Just miles away from several ski resorts, the Eagle Mountain House is located in the quintessential Mount Washington Valley village of Jackson, NH. It is one of the few original grand resorts still remaining in the White Mountains and is celebrating its 135th year. We enjoyed that it had the cozy feel of a B&B, but 10x the size. Hot cocoa, coffee and tea are available in the lobby along with a roaring fire in the adjacent library. For kids, there is a large game room downstairs, snowtubes can be borrowed for sledding and at night smores are roasted outside by a bonfire and a family movie is shown inside. It also has earned the designation of Historic Hotel of America and is listed on the National Trust for Historic Preservation. Each morning we enjoyed their continental breakfast (not included) in their dining room before embarking on our different activities for the day.
Although we didn't stay there, there is also a Hampton Inn & Suites in North Conway, which has an indoor waterpark and complimentary hot breakfast.
Where to Eat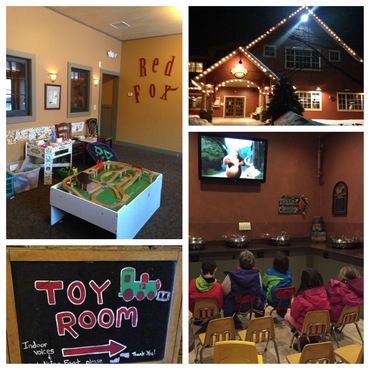 The Red Fox Bar and Grille has to be the best family-friendly restaurant that I've ever been to and bonus, the food is amazing too. The extremely large restaurant offers five different dining rooms - including a room for those who prefer not dining with kids, thus keeping alleviating stress from families and keeping all guests happy. We ate in the Fox Den with comfortable seating next to a warm, cozy fireplace. It is also right next to the Kid's Room, which has toys, games and a little movie theater - the perfect place for kids to enjoy themselves. For an appetizer, don't leave without ordering the Wood Oven Garlic Parmesan Mussels.
For more information on a winter vacation in New Hampshire go to www.visitnh.gov for more information. Have fun!