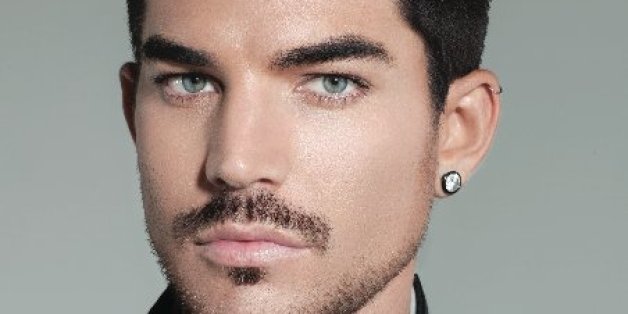 We predict plenty of screaming when glam-rock singer Adam Lambert hits the stage for a 40-minute concert at the 19th Annual InterContinental® Miami Make-A-Wish Ball, being held Saturday, November 2. We are speaking for ourselves, of course, having been a Glambert since the exceptionally well-coifed, Grammy-nominated performer first captivated the nation when he appeared on the eighth season of American Idol.
From his 2009 debut album, For Your Entertainment, with its smash single "Whataya Want From Me" and his 2010 Glam Nation World Tour, to his critically acclaimed second album, Trespassing, in 2012 and recent collaborations with Queen and Avicii, the Indiana-born, California-bred Lambert is living his life in overdrive. "I'm a firm believer that life doesn't just happen to you," he says. Indeed.
After a long day on the set of Glee -- Lambert will be making his Glee debut on Thursday, Nov. 7, covering Lady Gaga's "Marry the Night" (set your TiVos!) -- Lambert took a break on Halloween eve to talk about his upcoming Miami performance, his favorite rock deities, juicing and a lot more.
And while tickets to see Lambert perform at the InterContinental® Miami Make-A-Wish Ball have been sold out for months, there are a limited number of tickets still available for the official after party -- the InterContinental® Miami Make-A-Wish Nightclub, where designer Traver Rains will be debuting his new 1930s burlesque-inspired collection. And since Adam is friends with Traver, there is a very good chance that Mr. Lambert will be making a cameo appearance. At least we're hoping as much. (For ticket information, see here.)
Tara Solomon: There are a lot of Glambert fans who can't wait for your performance at the InterContinental® Miami Make-A-Wish Ball on Saturday night. There might be a lot of screaming [laughs].
Adam Lambert: I think it's an amazing charity. It's so hopeful and I love what they do. I've worked with them before and when this came up I jumped at the chance. I thought it would be a great thing to be a part of.
TS: It's rather fitting that the Ball falls on Halloween weekend, and has a theme of Old-World Magic. Any hints as to what we can expect on stage?
AL: I hope I can create some magic. That's what it's all about! Definitely going to be doing some of my songs and probably a few covers as well. I have a great band and I hope we give everyone a great show.
TS: Will you be performing any of your songs from collaborations with Queen or Avicii or from Glee?
AL: You'll have to come and find out!
TS: What is your favorite song from your Queen collaboration?
AL: It's hard to name a favorite, there's so many great songs. I think my favorite out of the more obscure ones was "Dragon Attack." It's one that I fell in love with. I don't know if I could name a favorite. I mean, I think "We Are the Champions" is genius, "Who Wants to Live Forever" is amazing. I love singing "Another One Bites the Dust." That's probably my favorite up-tempo. And "We Will Rock You." I mean, I can't name a favorite -- they all have their own character!
TS: How have these collaborations influenced your music thus far?
AL: I think everything that I've been fortunate enough to do over the past 10 years really, even before Idol, has made me a better artist and a better performer. Getting to work with the rock legend of Queen, it's taught me a lot and I've learned a lot about them. I've heard stories and when you work with different people you evolve. And Avicii, also. Avicii is super gifted. He's considered a DJ but I consider him a composer. He's very gifted, a great musician. It's interesting, 23 years old and he's got it. He's got his finger on the pulse. Trusting his ear and his vision has been really educational as well. And working with Nile Rodgers with Avicii -- Nile is another legend. He's produced major iconic records for people. I just try to, as much as I can, be a sponge in the situation and pick up as much as I can.
TS: Fashion designer Traver Rains, a friend of yours, is debuting his new 1930s burlesque-inspired collection at the InterContinental® Miami Make-A-Wish Nightclub, which is held immediately after your performance. Traver always does the best runway shows.
AL: You know it's funny, I've never actually gotten to go to one in person, but I've seen, with his old collaboration with Heatherette, a handful of his runway shows online and I always got a kick out of them. I've known him for years socially and I'm really excited to see what he brings to the runway.
TS: Miami couldn't get enough of you when you headlined the Fifth Annual Gay Pride Miami Beach Parade and Festival in April of this year. Anything about the Big Orange that you were particularly fond of?
AL: I love the weather and the humidity -- great for a singer. And I love the hotels and restaurants there. They've got a vibe, they've definitely got flavor.
TS: OK, now for some random, Tiger Beat-esque questions. You once tweeted about being obsessed with your new juicer. What's your go-to recipe?
AL: You know, I was doing a lot of juicing at home, and I kinda got burned out. I found a place that's not far from where I live that does it for you (laughs), so I've been going there. I usually try to get juices or smoothies with a lot of greens in them.
TS: Fave rock deities?
AL: Freddie Mercury is probably the one. And also Robert Plant is definitely a god. Jimi Hendrix is a rock god. Those are probably my top three. And Elvis!
TS: Your book d'jour?
AL: You know, I haven't been reading lately, I've been watching a lot of great TV. I don't know if I have a favorite book. Maybe someone needs to recommend one to me! I could use a good recommendation.
TS: Patti Smith's Just Kids, her autobiography of her friendship with Robert Mapplethorpe, is genius. The perfect read for you.