Everywhere we went last night, on day three of Art Basel, we just couldn't escape Andy Warhol -- in image, anecdote, Factory protégé or even flash mob (more on that later).
The night started on an altruistic note atop Dream South Beach for the RISE art event at HIGHBAR, benefiting Next AID (honoring World AIDS Day) and something called Environmental Coalition of Miami & the Beaches (who knew?), where we relished the crisp, humidity-free night air.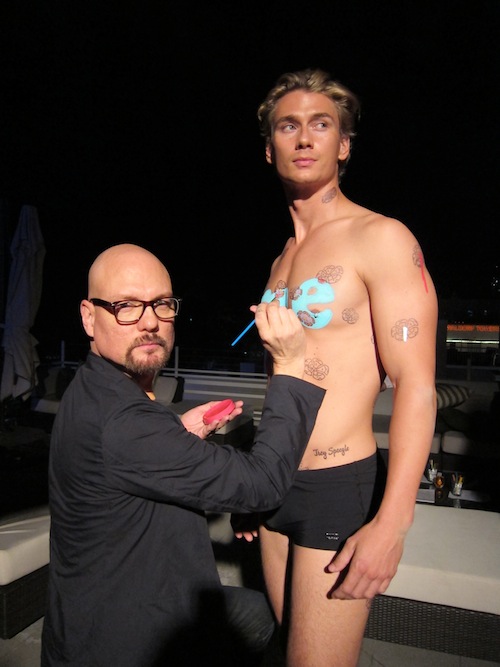 Trey Speegle and model at Hotel Breakwater
Two blocks over on Ocean Drive at Hotel Breakwater, New York-based artist Trey Speegle was body-painting "by numbers" a pair of hunky, shirtless boy models, cleverly named "Me" and "You," after two of his trademark paint-by-numbers paintings. His signature was stenciled cheekily just above the models' razor-sharp hip bones.
"You know body 'art' can be tough," Trey shared, as he filled in a buff pec with turquoise paint. "The only tattoo idea I had that I could ever commit to was getting Andy Warhol to sign me and have it inked so I could be a Warhol. But 25 years after he's been gone, it would be cheating to do it now, right?"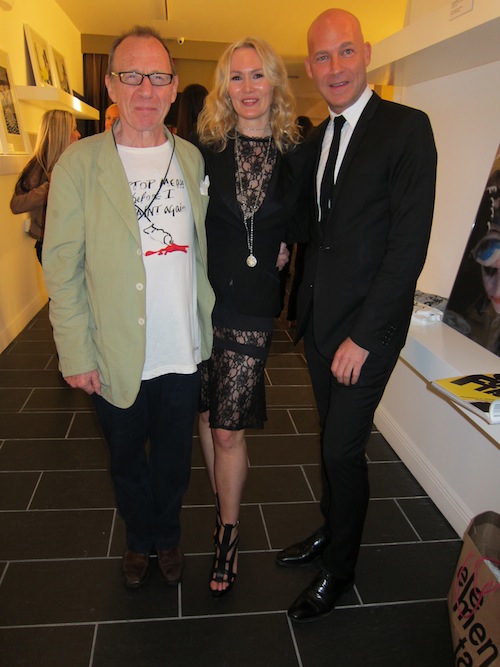 Anthony Haden-Guest, Tatijana Shoan and Scott Fishkind at Fendi Casa
Later, at Fendi Casa in the Miami Design District, celeb photographer Patrick McMullan hosted the launch of photographer/publisher Tatijana Shoan's oversized art/fashion magazine, AS IF, with guests including LA-based fashion designer Corey Lynn Calter and author and Warhol contemporary Anthony Haden-Guest.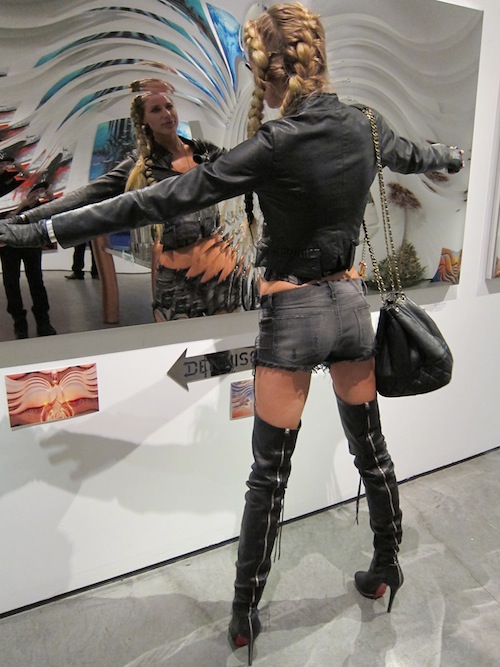 Rebekah Keida in front of Dennis Carbee mirror work at Miami Art Space
A dozen blocks south, in Miami's Wynwood area, Miami Art Space hosted "Elements," a 10-artist showcase that featured Miamian Henrique Souza's ethereal underwater photography. In the back courtyard, the popular Ms. Cheezious food truck was parked (galleries with food trucks have emerged as one of this year's most welcome Art Basel trends), along with two vehicular tokens of modern culture -- a vintage chocolate-brown Schwinn bicycle and Copper Mike's "Steampunk," a tricked-out chopper with leopard seat and headlights formed from vintage submarine warning lights.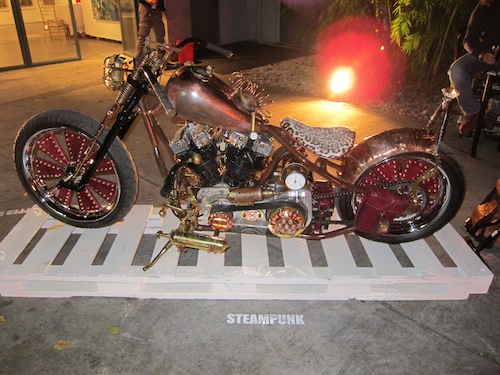 "Steampunk" motorcycle by Copper Mike at Miami Art Space
We could have used one of those bikes to navigate through the streets of Wynwood; instead, we inched our soccer mom SUV (a hybrid, but of course) through the traffic clog at a pace that afforded us quality time to take in some of the graffiti murals lining Wynwood Walls along NE 2nd Avenue. We ran head-on into unintentional political performance art, as a posse of (very loud) young men worked the street on foot and from the back of a honking pickup truck, hoisting hand-scrawled "Occupy Miami -- Give us back the money!" signs, one featuring a drawing of an American flag with its stars replaced by corporate logos.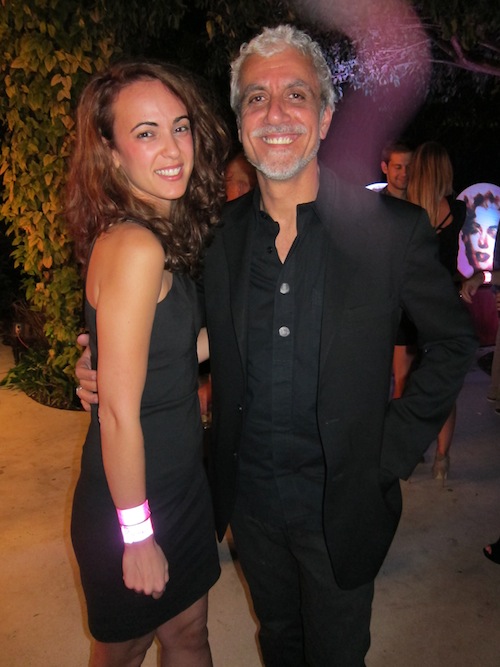 Anna Plaks and Ric Pipino at Cafeina
Rolling up to Cafeina lounge/gallery on NW 23rd Street, just past the studio of prolific outsider artist Purvis Young, we arrived at the Refinery29 Miami launch party where we were greeted by a door girl with hot pink polka-dotted lipstick (actually a temporary tattoo by Violent Lips, applied for guests inside the party). Andy Warhol was in the house, to be sure, represented by an exhibition of never-before-seen portraits of Andy by photographer Karen Bystedt, taken in 1982 at The Factory and shelved for 27 years.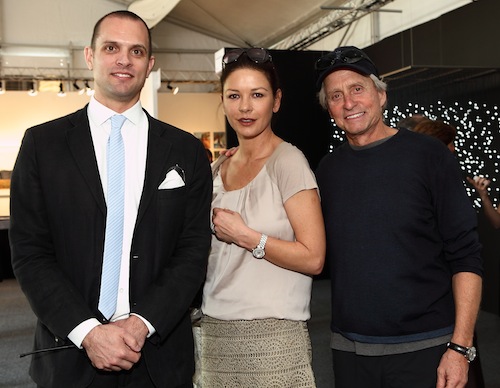 Cornell Dewitt, Catherine Zeta-Jones and Michael Douglas at PULSE Miami
The legends included some great Andy-isms: "I collect jeans," begins one of the Warhol quotes. "I have a Calvin Klein, a Jordache, a Studio 54. I don't wear them. I collect them. The fun thing is to walk down the street and see if you can pick out whose jeans someone is wearing by the design on the back."
My Lord, how we wished Andy were still with us. (One of our few regrets in life -- besides not buying property on South Beach in the late 1980s -- is not saying hi to Andy when we saw him at the 6th Avenue/26th Street flea market in New York one Sunday many light years ago. He was looking at curios on a table one minute then, poof, he was gone.)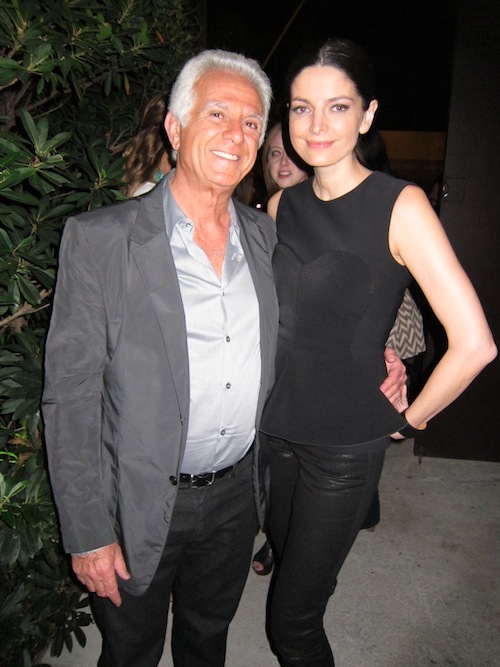 Maurice Marciano and Cio Soler at Cafeina
There were lots of fashion girls at the Refinery29 event, of course, with short-shorts and heels winning out for most-worked look. Guests included coif king Ric Pipino and Maurice Marciano of GUESS?, arm-in-arm with sleek girlfriend Cio Soler, whose vision will be shaping the fashion house's direction, he told us, beaming with pride, before he was whisked away for less impromptu interviews.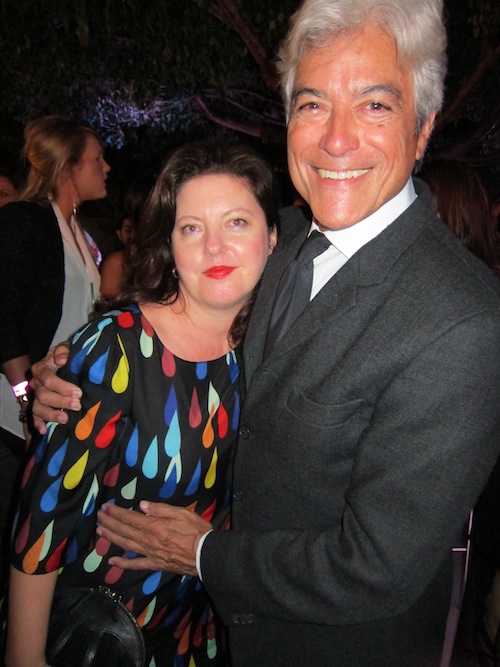 Petra Mason and Ausbert de Arce at Cafeina
Back in the car, we caffeinated en route to The Standard for the night's final stop, the Interview magazine party, co-hosted by the Andy Warhol Museum. Held outside on the breezy bayfront deck, the soiree drew hundreds of artsy souls, including polo-playing entrepreneur Peter Brandt; filmmaker Michael Holman, whose Gray: Live at the New Museum is being shown Sunday at Miami Beach Cinematheque; and Suzanne Mallouk, the "widow of Basquiat," now a psychiatrist in private practice. A preview for a lost Warhol film from 1968, San Diego Surf, to be released next year, looped on a projection screen.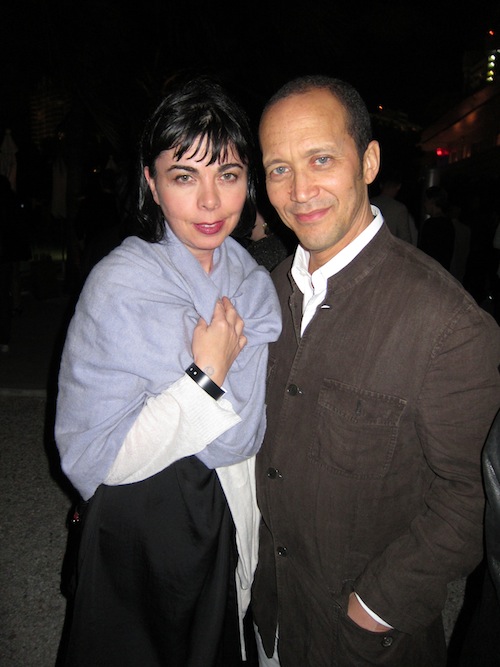 Suzanne Mallouk and Michael Holman at The Standard
At one point we glimpsed a vision of strawberry blonde bouffant, which turned out to be legendary Warhol protégée Holly Woodlawn, star of Warhol film Trash. Woodlawn, now in her 60s, grew up in Miami Beach and -- pop culture tidbit for those born during the Reagan administration -- inspired the Lou Reed lyric "Holly came from Miami, F-L-A." She'll be doing a special cabaret performance tonight at WALL at The W South Beach, which we can't wait to witness. 
Eric C. Shiner, Stacy Engman and Holly Woodlawn at The Standard
Just when we thought our night was complete, the perfect nightcap: A small army of white-wigged "Dancing Andys" flash-mobbed to "Walk on the Wild Side" under the night sky. Andy would have been proud.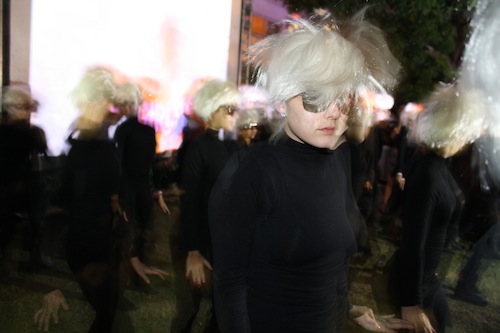 "Dancing Andys" flash mob at The Standard