We Miamians love Art Basel for many reasons, one of which, at least for me, is that our microcosm of cool feels that much hipper, electrified with an influx of global freshness. Art and parties, both subjects we're passionate about, multiply and intensify to levels even the most hardcore of us find daunting. This year, Art Basel's 10th anniversary year, we want to go everywhere, see everything and Basel so hard that we wind up on Monday morning, post-deadline of course, in a quiet room where a nice lady brings us juice.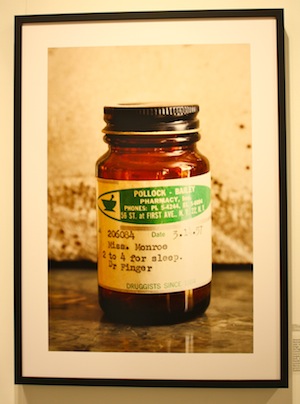 Todd Selby's Marilyn Monroe pill bottle at Art Miami
Having attended Art Basel since its inaugural year, we have high hopes for the week ahead. Last night, certainly, did not disappoint.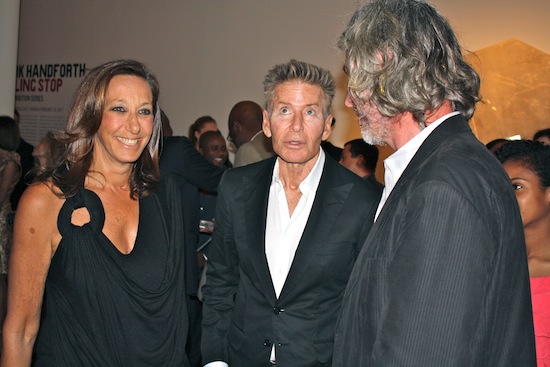 Donna Karan, Calvin Klein and artist Mark Handforth at the MOCA/Vanity Fair party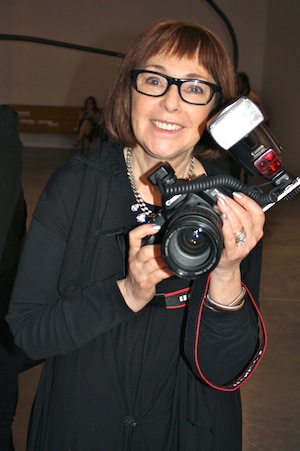 Roxanne Lowit at the MOCA/Vanity Fair party
The night started at 6 p.m. with the opening of Design Miami, one of our favorites due to its small scale, flattering lighting and great mid-century design such as Flintstonian Paul Evans furniture. The evening wrapped after midnight at Soho Beach House, where Jay Jopling's White Cube party was an orgy of glamour on the sand, complete with disco music and lithe creatures in gauzy gowns and fur wraps (a sudden "cold snap" saw temperatures dipping down to 60).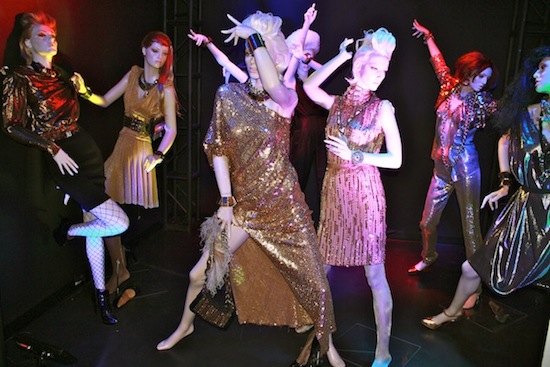 Lanvin's disco tableau at The Rubell Family Collection
Our favorite art event was artist/chef Jennifer Rubell's "Incubation" installation at The Rubell Family Collection, in which nurse-y milkmaids dispensed yogurt from behind a neo-natal, glass-walled incubation room. The yogurt, a tart Bulgarian variety, the cultures of which were imported from Canada, was quite tasty; the honey dispenser, dripping from the ceiling for guests to catch in their yogurt jars, was a genius touch.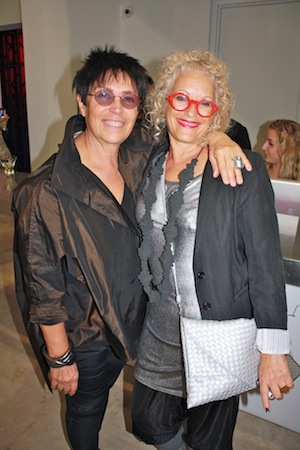 Mera Rubell and Tami Katz-Freiman at The Rubell Family Collection
"It's about creation," explained Mera Rubell, Jennifer's mom. "Incubation and creation have always been synonymous." What a brilliant tribute to motherhood: Jennifer, who truly was glowing, is three-and-a-half months pregnant with her second child.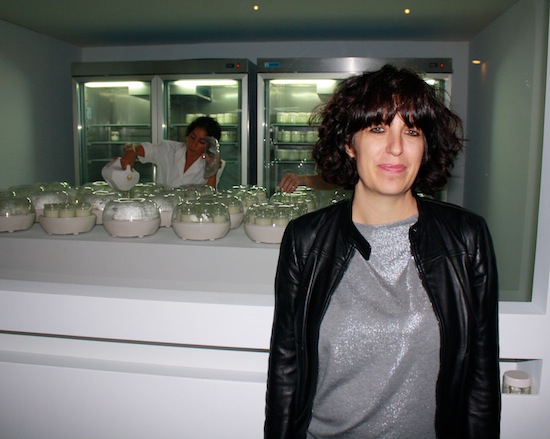 Jennifer Rubell in front of her "Incubation"