The Kenneth Cole brand is associated as much with cause-related activism as it with fashion. For American designer Kenneth Cole, championing causes he is passionate about such as homelessness and finding a cure for AIDS -- Cole was the first designer to publicly support the fight against AIDS, in 1985 -- has been the foundation of his 30-year fashion empire.
"I reached a point when it all started to become a little empty...I knew that if I were going to continue to give so much of myself I would have to find a way to make it part of something bigger," Cole wrote in an essay published by Harvard University.
And make it bigger he did. Kenneth Cole Productions -- whose name was derived from Cole's triumph in challenging a New York City law that granted permits for trucks parked street-side only to film productions -- has given us one heck of a show, raising eyebrows as it's raised awareness. The designer's controversial T-shirt design emblazoned with "I have AIDS" and "We all have AIDS" in the mid-1980s was just the start.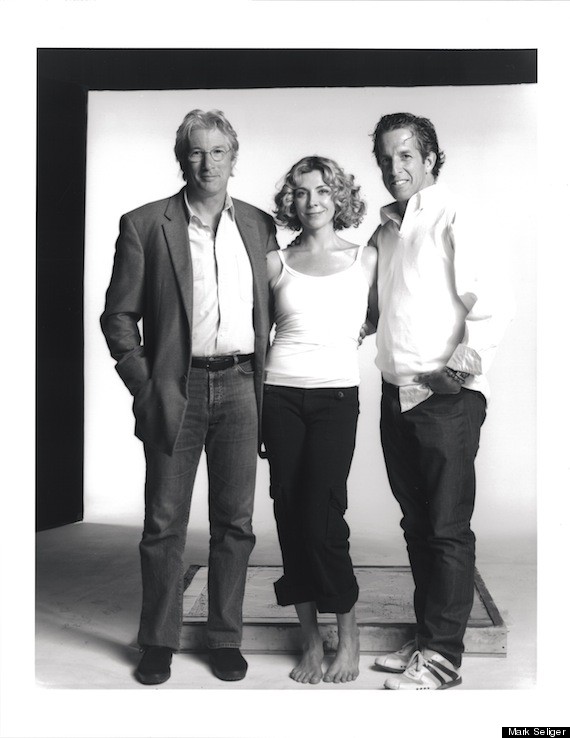 Kenneth Cole with Natasha Richardson and Richard Gere, circa 1990s.

Thirty years later, Cole has documented his life of style and substance in a glossy photo book, This Is A Kenneth Cole Production (Rizzoli, $75, with 100 percent of sales benefiting amfAR). The designer's South Florida leg of his national book tour includes a series of college pep rallies and culminates with a personal appearance at Bloomingdale's in Aventura Mall from 2 to 4 p.m. on Saturday, November 9.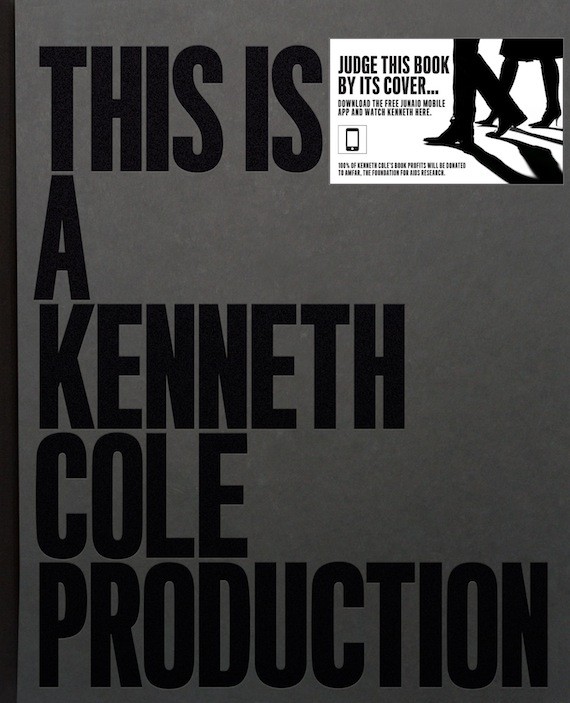 We were able to steal a few moments with Cole, the man responsible for our platform wedge loafer phase.
Tara Solomon: This Is A Kenneth Cole Production documents your 30-year history in the fashion industry, including your brilliant and provocative print campaigns. We imagine that somewhere you have a shoebox full of scribbled cocktail napkins that have you've collected over the last 30 years.
Kenneth Cole: I have always chosen to speak about important social issues and sought to construct relevant messages that captured public attention and left them thinking. From the very beginning we have always found ourselves at the forefront and speaking out in response to many of these social issues that no one else was at the time and all of a sudden what we were doing started making a big difference. As a result as a company it all became part of a bigger agenda than just making great clothes.
TS: In September during Fashion Week you launched the digital version of your book with various multimedia features -- a very savvy move. You're very new media-friendly.
KC: Today, digital is part of consumer's everyday consumption. Content is shared, pinned, tweeted and of course viewed -- both online and on their mobile devices. With so much rich brand content we felt it was important to provide viewers with an enhanced experience that augmented the traditional print content.
TS: One hundred percent of sales of This Is A Kenneth Cole Production will benefit amfAR. How did this come about?
KC: I have been involved with amfAR since 1985, and became chairman in 2004 so this was a natural decision. We are at a critical time in the fight against HIV AIDS and amfAR needs more support now than ever. Marrying my philanthropic convictions with my business has always been really inspiring.
TS: You've been out off the runway for seven years. What made you decide it was time to come back?
KC: The format no longer made sense to me. It had become an obstacle with what we were trying to do with the business. Runway was not consumable -- not enough people had access, and much of the product never made it to the store. It became frustrating more than inspiring. With the introduction of social media, the runway experience has evolved. In the past, people consumed products by purchasing them or aspiring to purchase them. Today 98 percent of people viewing fashion shows have no intention of consuming the product. But they do consume it in other ways -- by shooting it, posting it, tweeting about it and blogging about it.
TS: You got your start selling shoes as a teenager for the family business. What lessons did you learn back then from working directly with the customer?
KC: At the end of the day the customer knows what they want -- my job is to give it to them in a way that they do not expect it. People don't empty their closets at the end of each season, so as a designer you need to make clothes that are constantly new, relevant and accessibly priced.
TS: Who are your favorite designers?
KC: Giorgio Armani and Ralph Lauren. They have stayed true to who they are for countless years. They've resisted trends and they've continued to deliver a specific, quality product with a consistent point of view.
TS: What are the strongest looks from the 1990s? Do you predict a comeback for them?
KC: When I think of the '90s, I think grunge and Harlem chic. Both of these trends served as inspiration behind our recent spring collection.
TS: Finally, an excuse to resurrect my Kenneth Cole wingtip Granny brogues!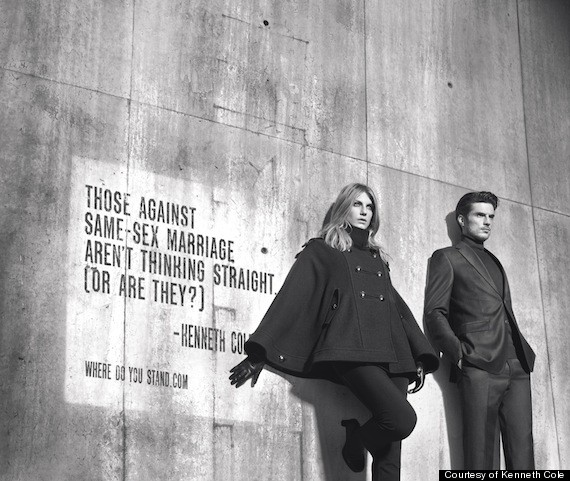 Kenneth Cole print ad campaign showing where he stands on same-sex marriage debate.