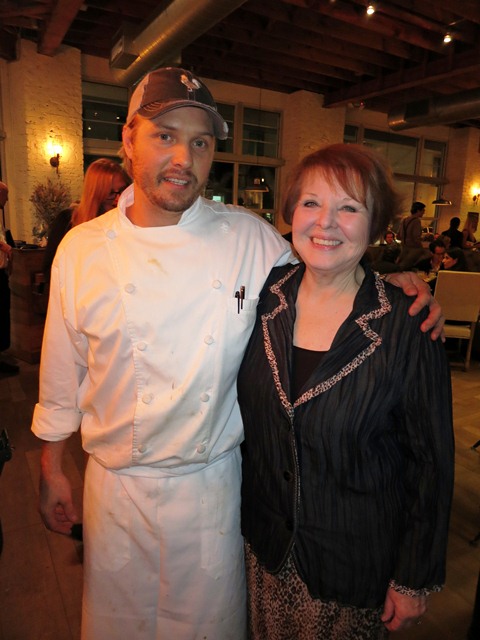 Jeff McInnis, Chef-Partner of Yardbird Southern Table & Bar, with Sue Johnson Langdon, Executive Director of the North Carolina Sweet Potato Commission
We never did quite catch why February is National Sweet Potato Month, but, when the occasion lent itself to a full-on feast at Yardbird Southern Table & Bar honoring the Ipomoea batatas, we were not one to ask questions. Charismatic chef-partner Jeff McInnis -- a James Beard nominee and Top Chef Season 5 finalist -- proved to be quite adept at plotting a multicourse carbocide that seriously made us rethink the merits of the humble sweet potato.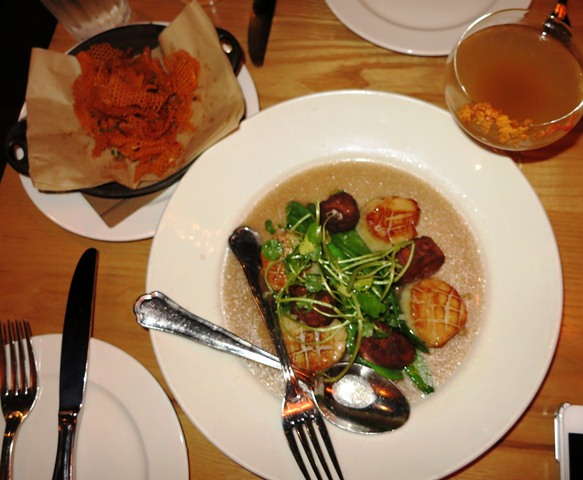 BBQ Sweet Potato Waffle Chips, Pan-Seared Scallops and "Yam"-hattan
As soon as the first few classic dishes hit the table, it became apparent why McInnis earned a Food & Wine "Peoples' Choice Best New Chef" nod. Crowd-pleasers included BBQ Sweet Potato Waffle Chips, House Biscuits with Sweet Potato Butter, and Sweet Potato Soup with Pan-Seared Pork Belly & Smoked Crème Fraiche. Entrees were bolder -- the inclusion of sweet potato unpredictable yet very welcome -- and included Rib Eye Steak with Sweet Potato Hash, Pan-Seared Scallops with Snow Peas & Spice-Crusted Sweet Potatoes, and Twice-Baked Sweet Potatoes with Chili Butter, Smoky Pecans & Black Pepper Marshmallow.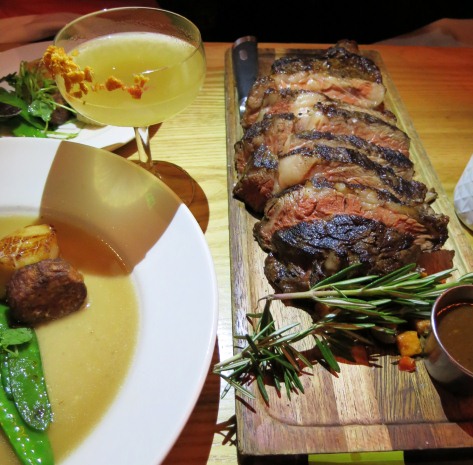 Rib Eye Steak (not pictured: accompanying Sweet Potato Hash)
The "Yam"-hattan was another hit, combining sweet potato-infused Buffalo Trace Bourbon, Dolin Sweet Blanc Vermouth, and Chocolate Mole Bitters with Crushed Sweet Potato Chips. After somehow finding room for dessert of Sweet Potato Pie with Cinnamon Ice Cream, we were near-comatose and about ready to be wheel barrowed out -- but not, of course, without brown-bagging a slice of Sweet Potato Pie to accompany our morning coffee.
McInnis will appear as one of five chefs featured on the "Beyond Food Porn: The Social Chef" roundtable, taking place February 18, as part of Social Media Week Miami, which coincides with the 12th year of the South Beach Wine & Food Festival.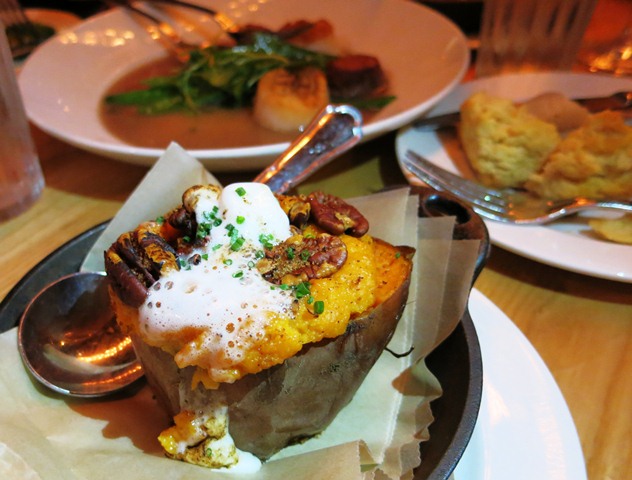 Twice-Baked Sweet Potatoes with Chili Butter, Smoky Pecans and Black Pepper Marshmallow