On February 12, I turned on CNN and watched my childhood home burn down. "Surreal" is an insufficient word. My Dad was sitting in his living room in New Smyrna Beach, Florida as we watched the thick black fumes rising from the San Bernadino pines. "They're burning down our cabin," he said over the phone. "I put a lot of damn work into that place, you know. Your Mom is probably looking down at all of this and laughing." I admire his ability to find humor in humorless places.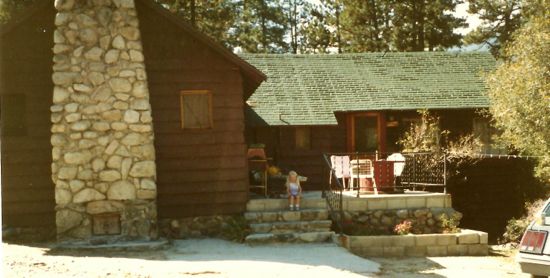 Christopher Dorner -- a laid-off LAPD police officer who killed four people and aired his fury in a rambling 6,000 word "manifesto" -- barricaded himself in our old house in what became his final standoff with San Bernadino police and a heavily-armed SWAT team. I read a news report that confirmed the finding of his burned body. I wonder what might have been going through his mind in those final minutes; what room in our home he might have occupied as the entire country watched the beginning of his end. But none of that really matters. Today, a killer isn't killing. That is the only important headline.
Anyone driving past 40700 Seven Oaks Road today will find a pile of wet, black ashes and a charred husk where a cabin once stood. For Dorner, it was his final refuge. For me, it was where I learned long division. Sitting at our long dining room table with Dad, I would cry in frustration over sheets of math homework. Dad insisted I pick up my pencil and work the problem again. He was endlessly patient; something I deeply appreciate 20 years later almost as much as I appreciate my calculator. (I've since forgotten how to do long division.)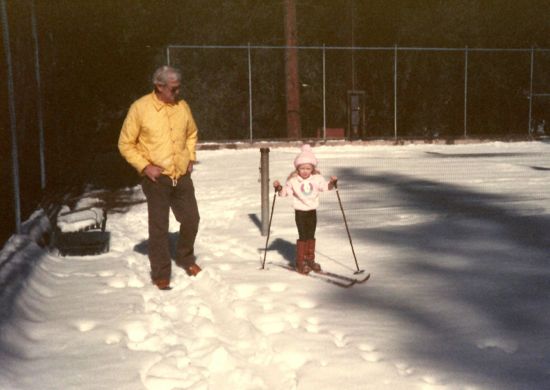 The cabin living room was where I forced my older brother, Matthew, to endure endless screenings of Lady and the Tramp. I'm pretty sure the Internet was a concept reserved for the nerd elite at that time, and we didn't have cable either. What we did have was a top-loading VCR and a crowded bookcase of recorded Disney VHS tapes. I haven't seen my older brother in more than fifteen years, but when I eventually make my way to Gilbert, Arizona where he lives, I might suggest a proper reunion over beers and animated tramps.
The "office" (just off the living room where my video library lived), was where hikers and Los Angeles weekenders would sign the guestbook and claim their rental key. My parents ran 7 Oaks Mountain Resort as a two-person wonder team, overseeing six vastly creakier cabins on our five-acre forest property. On Sunday mornings, I begrudgingly helped Mom clean the recently vacated rentals. We'd strip the beds, trash the empty Budweiser cans, Lysol the bathrooms, and -- if we were lucky -- score a forgotten deck of cards or a doggeared paperback.
The perpetually empty tennis court across our driveway was where I strapped on my first pair of skis and "ski-walked" in full winter-wear. Dad and Matthew humored me with a few circuits around the snowy court, and for an embarrassing number of years afterward, I regarded that experience as nothing less than "my first skiing adventure." I haven't worn a pair of skiis since. As a Washington State resident, it's not something I'm proud of.
My parents' wood-paneled bedroom was my haven when our cabin settled and creaked in the night. My ears worked especially well between 9 p.m. and 2 a.m. Nightmares never followed me to mom and dad's bed, but the very act of arriving involved careful tip-toeing through their hallway... a harrowing journey because of its proximity to our dusty, abundantly frightful attic. I breathed easier between their sleeping bodies, but to this day I'm convinced that one of my "nightmares" was, in fact, Barney, paying a visit to their window. In addition to waging war on my nighttime peace of mind, Barney and all 500 pounds of his bear body also enjoyed dumpster dining. He and my Dad shared a sporadic but memorable relationship.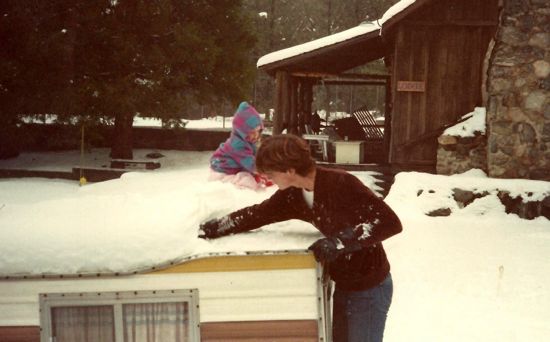 The kitchen was the best room. This was especially true in the winter mornings. A perimeter of windows and accompanying window seats allowed the early riser (me) a hauntingly pristine view of untouched snowy landscape. With an oversized t-shirt stretched over my knees and a slumbering house around me, I would fog the cold panes with my breath and survey our own private wonderland. The watching only stopped when Mom's eggs were scrambled and steaming in my breakfast bowl. Mom died of lung cancer in 1997. I still think of her and those cold panes when I watch snow fall. I wish my son could have known her. He is named after her and has never seen snow.
Our cabin -- once an old post office -- was built in 1894 and constructed like so many other cabins: with wood and nails and sweat from callused hands. But the thing that made 7 Oaks special was that, for just a minute, it belonged to us. Beneath the yellow kitchen tiles and inside the wood-paneled hallways were the invisible fibers of my family's memory. These are the fibers that make any house a home, and in that space we dwelt.
I won't bother crying for the cabin that no longer remains. In my mind it remains still.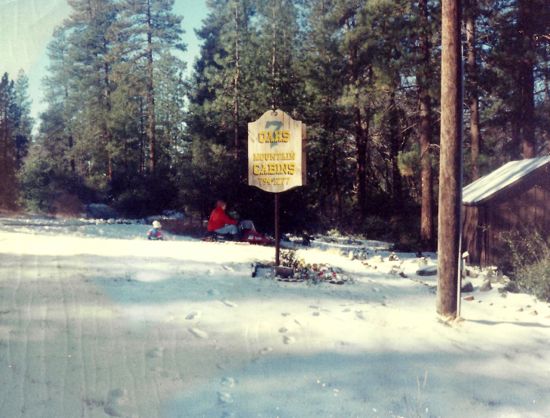 Tara Spicer is a freelance writer living in Mountlake Terrace, Washington with her husband, son, and two lazy housecats.