The moment I read of Estela, it shot to the top on my list of places to dine. I have been a fan of Ignacio Mattos's food since his time at Il Buco. On The Lovage, I raved about my experience at Isa in its infancy, when Mattos was still presiding over the once intriguing menu there, and my curiosity was peaked when I heard he was opening his own place in Nolita with Thomas Carter -- the former wine director of Blue Hill Stone Barns -- on a wonderfully seedy stretch of Houston.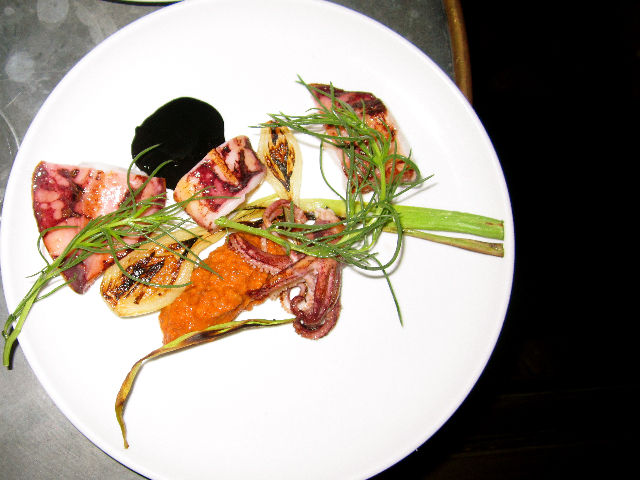 The location itself, above partner Mark Connell's dive bar institution, Botanica, and beside Milano's, is something of a revelation -- a stubborn lily growing up between two slabs of concrete. The interior is inviting but masculine in its minimal decoration, and on temperate nights, the restaurateurs leave the windows flung open to the growl of motors and drunken shouts of Houston below which meld with the jovial bustle of the restaurant.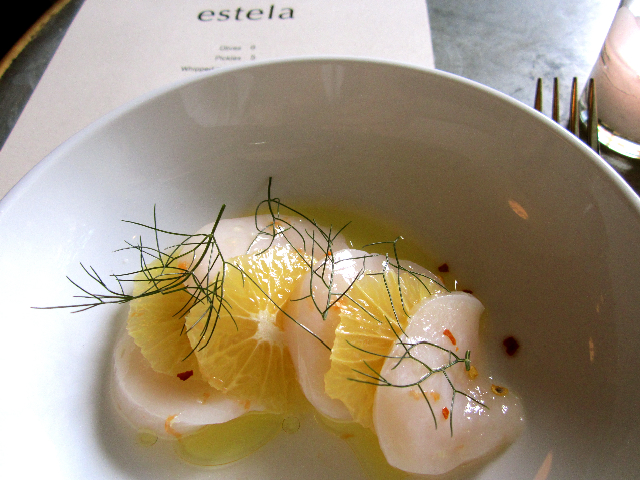 Then, at the core of it, there's the food; dishes meant to be shared. The menu descriptions are deceptively simple... or are they? A tomato and melon salad with basil and perslane, is exactly that -- an acid trip of ripe fruit, seeds clinging in a delightfully haphazard composition. But "mussels escabeche on toast" turns out to be five plump marinated mollusks with aioli on charred soldiers, sitting in cilantro juice and brightened with that glorious herbal workhorse, parsley. The point is, that whether Chef chooses to list them or not, every mouthful is a celebration of the ingredients, disparate but glowing together by his restrained golden touch.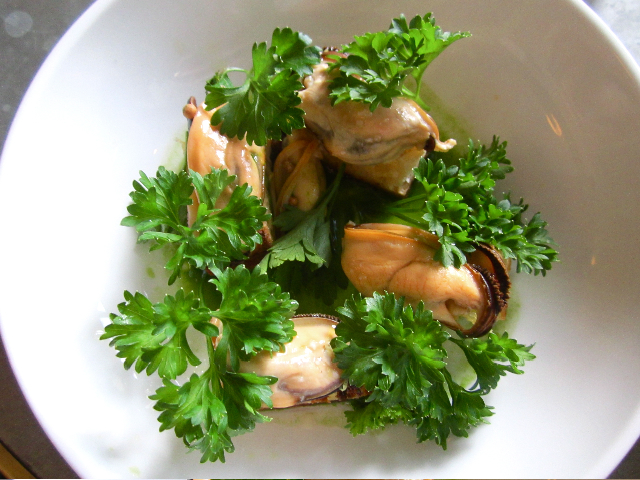 As one friend who eats there often commented, it's as if Mattos is secretly Japanese, referring to his deft restraint and instinctual sense that less is more. Slices of raw diver scallops laying with fresh yellow grapefruit and bronze fennel fronds are little Venuses, tasting of the sea and sun-kissed flesh -- deliciously unadorned, clean and graceful, like a girl even prettier for her lack of jewelry or makeup.
The featherweight blood sausage croquettes with borani are fragrant, tarragon-laced and so much more than the usual deep fried vehicle for some weighted sauce. Beef tartare is happily bereft of the typical mustard, ketchup or capers, and instead is clean and rich with the beef's own flavors, nuanced by sunchoke nuttiness and juniper berries.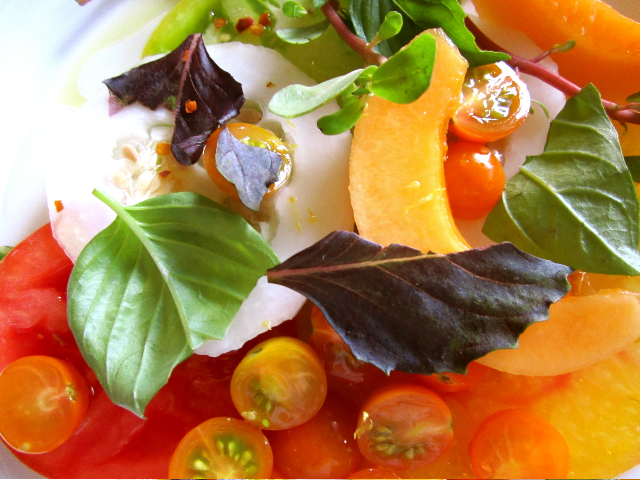 Lustrous purple-hued calamari, cooked à la plancha and served with charred onion, romesco sauce and a sprig of salty samphire tasting of the sea, is the best dish of the night, and like the steak with eggplant, leeks and anchovies, every bite uses char to season and balance.
The only blemish for me was cod with pickled chanterelles and cabbage in a yuzu broth. Here was the rare instance where there seemed to be too much of the same thing going on: everything was wet and sour, the pickle overwhelming the subtlety of the cod. I wanted some crisp skin or the mushrooms sautéed in sweet butter to balance the sharpness of the citrus and cabbage.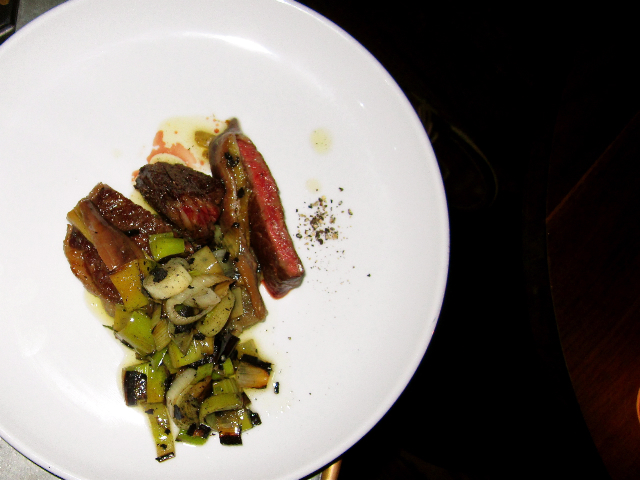 On my first visit a bottle of shockingly acidic Chablis suggested by our sommelier (not Carter) seemed like a mistake until I sipped it with the herbaceous croquettes and the tomato melon salad. Anything less bold wouldn't have stood up to the acidity and richness of the ingredients. A 2006 Arpepe Nebbiolo blew my mind with its light-bodied minerality and washed the steak down with almost too much ease. On another visit, Carter chose some biodynamic gems to pair with the ever evolving menu... It will take many visits to work my way through the impressive and varied wine list (though I'm not off to a bad start).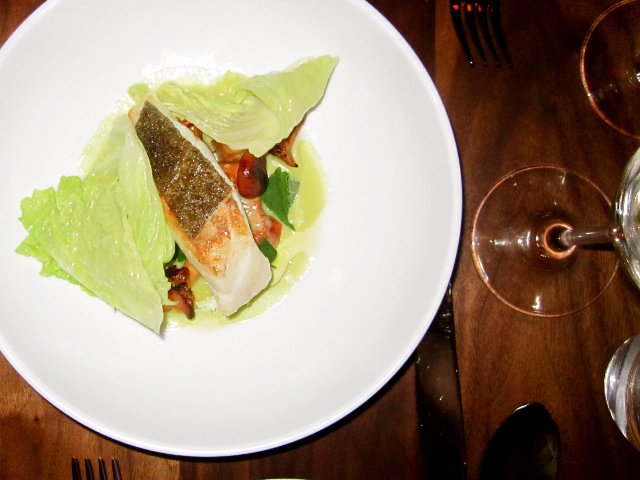 Dubbed 'Estela' because it's the only name that the three restaurateurs could agree upon which could be from any (or all) of their heritages, the moniker couldn't be more apt. I've said it before and I'll say it again, Estela, you're a star that shines brightly.
This post was originally published on The Lovage.