I was walking on the bike path in Burlington, VT when I started thinking about ways to help the hungry. I thought making a cookbook that benefits people who can't afford food would be a great way to do that. I immediately thought about Phish and their amazing community and that was when the name "PhanFood" popped in my head. Who better to work on this book with me than Phanart's Pete Mason of course! Shortly after, SUNY Press and layout master Britt Nemeth got on board.
We were a little nervous that all the recipes would be grilled cheese and burritos, but the recipes we got were so original! The response from the Phish community was impressive and we gathered over 100 recipes to be included in the book, ranging from the simple to chef's caliber. We selected 84 recipes in the end to be included in PhanFood: From the Kitchen Pot to the Tour Lot.
We discovered that Phish fans are as passionate about their food as they are about Phish's music. Phish fans are creative and unique and this is evident as the recipes contained within PhanFood are too. Both the music and the food combine multiple styles from around the country and world and can be improvised upon greatly to suit tastes.
Since food and music go together so well, we decided to have the contributors compare their recipes to songs and shows, adding a personalized factor to each recipe. It gives you something to read when you are preparing the meal. Even if you don't cook you will still love this book as many of the recipes are simple to create, from simple sandwiches to basic meals.

Additionally, PhanFood is also a wholly nonprofit endeavor, with all net profits being donated to the Chittenden Regional Food Bank as well as food banks and charities in the cities where Phish plays each tour. The first cookbook by Phish fans and for Phish fans (as well as anyone else who likes good, healthy food), PhanFood aims to benefit the Phish community and to give back to the communities Phish fans visit as they follow the band to the next great show!
Recipes: (click for larger versions)
Slave to the Colorful Quinoa Salad (p. 46-47)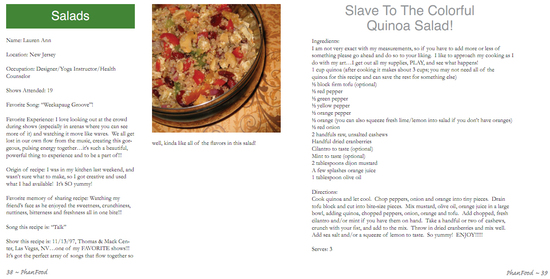 The Guyute Sandwich (p. 70-71)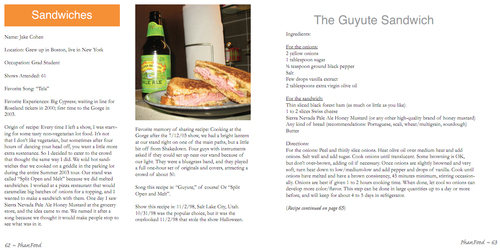 Ain't No Time to Stash the Chicken and Sausage Gumbo (p. 120-121)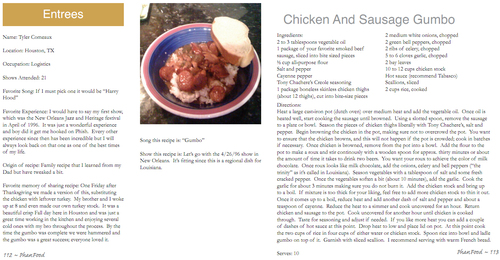 Don't miss out on these deliciously unique recipes -- pick up your copy today!