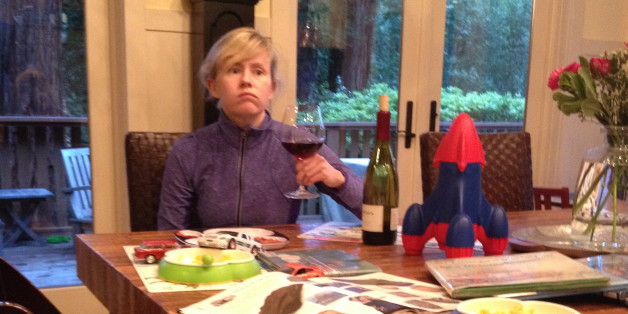 At both of my sons' annual checkups, our pediatrician asked me the same question:
"Do you have family dinners together?"
At first, I thought this was a coded question about the latest episode of "Vanderpump Rules," but after an awkward silence, I stammered, "Um... well... a couple of nights a week, I guess." Whereupon I was immediately informed about the documented benefits of eating together and how important it was for the children. Then I did that thing where I smiled with great understanding and got very serious and said, "Oh, I know."
Kind of like this:
The funny thing is, I do know! I am the proud product of family breakfasts, lunches and dinners! What can I say? I come from a family of big eaters and big talkers and what better place to do both than at a table? Even as little children, my brother, sister and I would sit like docile lambs and shovel -- with utensils, no less! -- whatever was placed before us. My mother would simply call, "To the table!," and we would gather from far and wide (but mainly the living room couch), like little Pavlovian dogs salivating at the sound of a bell.
But I also know what family dinners are like with my two boys and wanted to document the reality for you:
THEY SUCK.
I know that this is temporary and this too shall pass, but right here? Right now? Family dinners with two boys -- ages 2 and 5 -- are not easy. That doesn't mean, of course, that I don't start each dinner out with hope and optimism, those two unrequited emotions that never quite get the hint. Tonight, I think, tonight will be the night where four people will eat together in an enjoyable manner! And so like my mother before me and Julia Child before her, I call, "To the table!" At least 10 times. With increasing volume. And then I pile books and toys and trucks on the table and lure the kids to these things called "chairs" for what I like to call "active sitting."
That's when the endless game of one-on-one defense begins. I'm in charge of the 2-year-old, my husband is up against the 5-year-old and together, we have a very small window of time before it all goes to hell. You know they're going to score on you, it's only a matter of when. We're like the Lollypop Guild from The Wizard of Oz guarding Shaquille O'Neil.
The toddler, while a ravenous eater, is picky and, let us not forget, completely irrational. Speed is of the utmost importance when you're being outmaneuvered by a pint-sized Kim Jong-il, and it is my job to feed him as fast as humanly possible, but not anything that would unhinge him. Like a blueberry.
On the other side of the table -- so close, yet worlds away -- the 5 year-old holds court with stories about ancient warfare, meat-eaters of the late Cretaceous, how Boudicca poisoned herself. You know, standard pre-K stuff. He couldn't give a damn about food or forks, and it is my husband's job to remind-cajole-threaten to "use your prehensile claws and eat, for pete's sake!"
In our highly-focused, defensive positions, there exists no adult conversation. To err on the side of "How was your day?" would be to lose a quarter to a half of The Family Dinner participants to the train table or the scooter.
Perhaps the scooter could go in the garage during The Family Dinner? Point taken.
But that's not to say that there is complete silence at The Family Dinner table! Sometimes in between story-telling, the older son will say something like, "I peed a little in my pants" or "My teeth hurt because I ran into someone's head." More often than not, it is the constant question, "Are you listening to my story? Are you listening? Are you listening?" The background beat to this song comes from the 2 year-old chanting for milk.
When there is a moment of silence, it is usually because they are both picking their noses at the same time.
I believe it was Bette Midler who said, "Dinner is divine" (or maybe she said "Are you going to eat that pork chop?" I can't remember). But the key word is dinner, which usually involves eating, but not in the instance of The Family Dinner. Let me crunch some numbers for you:
1. Only 50% of The Family Dinner participants actually eats their dinner.
2. Guess which 25% I am.
3. Guess which 25% performs a burp symphony.
4. 100% of The Family Dinner participants consider "dinner" to be the appetizer before cartoons.
Now, a lot of moms pride themselves on not being short-order cooks, living by the motto, "Let 'em go hungry if they don't want to eat!" Me? I lost my pride a long time ago around 3 a.m. with two hungry children. Which leaves me with a lot of grease stains and a full compost bin from the 2-3 meals I cook a night for the 2-year-old. When I pass by the mirror in the hall, I can't help but see a hapless John Belushi from the Olympia Cafe: "Cheeseburger, cheeseburger, cheeseburger, two chip!"
On the occasion that The Family Dinner ventures out to a public eating establishment, things fare slightly better, as the kids are thrilled hat John Belushi isn't cooking for them. It's less "Saturday Night Live" Greek diner and more "Mad Money's" lightning round. I mean, just how fast CAN a person eat? Fast enough to not let the kids burn the place down with the candles. Fast enough to place the order and ask for the check in one sentence. Fast enough to play three games of tick-tack-toe, fill four bellies and skeedaddle before the people next to us have taken a leisurely bite of their burrata. I am the Apolo Ohno of speed eating.
So yeah. We do The Family Dinner a couple of nights a week.
But most days, it's a cattle drive. I do a lot of herding, try not to die in a stampede and avoid inviting the animals to join me for a nice dinner around the chuck wagon.
Come on, people.
That happens at 8 p.m. when the wranglin's done.