It's not often that you just walk into a high quality restaurant run by a star chef... especially a chef who has worked and trained under a Michelin star chef in Paris. This is Chef Hiram Cassar's first venture out, aptly titled Chapter One in the St. Julian's bay area of Malta. Tucked away in a corner, probably in a former family home, you would be forgiven for missing it and just walking by. But of course an all-start chef would know how to draw your attention and to lure you in. As a foodie, and someone who is always on the lookout for a good meal, you can't miss the sign that reads 'Michelin Star trained chef.'
As soon we saw the words 'Michelin Star', my wife and I were hooked! We had to do this. We were in the country to celebrate our wedding anniversary; as if that five-day sojourn was not enough of a treat, we decided to pamper ourselves further with a 'nice' meal. Our only hope was that we get a reservation on the spur of the moment. The moment we walked in and noticed that it wasn't a particularly big restaurant, our hope turned in to a prayer: 'Please have a spare table... Please let there be a spare table... oh gods of food, have mercy on us and allow us to get a table...' The gods were definitely not going to disappoint us on our first anniversary. Ask and you shall receive, they say. And receive we did. In no time we were seated on a table in the patio of this little restaurant, enjoying the cool breeze on a pleasant summer evening.
Chef Cassar likes to keep his guests coming; he probably also likes to keep them guessing. It's a seasonal menu, he says, that is based on the ingredients available at the time. Rightly so maybe, given that Malta imports 80% of its total needs, including food. Fish and seafood are in abundance, as you would expect with an island nation. On one of our tours of the island, the guide informed us that the quality of tuna and other seafood was so high on this island, that some of the best and most famous restaurants in Japan import their fish from this island for their sushi.
With that kind of information at hand, neither my wife nor I could resist the urge to sample some of this local fare. It was going to be tuna ceviche and oysters for us to kick off the meal. And then we understood why the Japanese did what they did -- why they imported so much of their seafood from Malta... the quality of the seafood was so good; so fresh; so amazing. When the food did come to our table, we were a bit surprised. For some reason the chef had decided that the tuna wasn't going to be served in ceviche form anymore and it was going to be a tartar; No worries... It was probably just as delicious. In fact, my wife, who is not a big fan of raw seafood actually preferred the tartar version. The oysters, as you can see in the picture below, were massive. They were probably on steroids! Whatever the case, they tasted fresh, as though they had just been caught, shucked and brought to the table; you could almost taste the sea in them. To add a bit of finesse and a touch of additional flavor to them, the oysters were topped with caviar. I wouldn't say I was necessarily a fan of that touch, but it was worth the try. I wouldn't penalize the chef for his attempt at creativity; after all, that's probably the skill and training you pick up at a Michelin star restaurant... It's probably what gets you the Michelin star, right?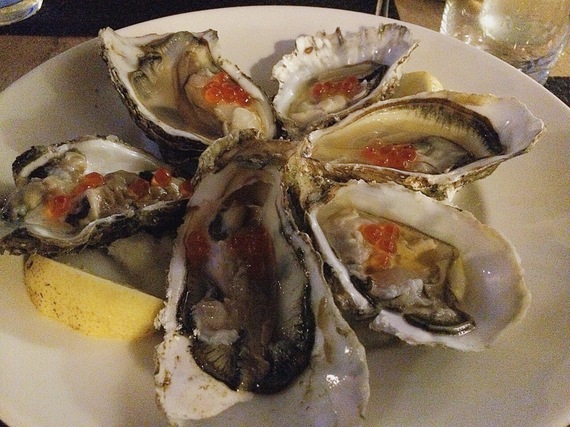 Next up was a steak and lamb for my wife and me, respectively. Lamb, a supposed delicacy on the island of Malta, was cooked to perfection. A little pink in the middle and chewy on the outside, it was grilled to perfection. It was served over a bed of ratatouille, and garnished with mint leaves. The meat was cooked just beautifully, treated with as much love and care as a rarity should. It was as though the chef knew of its exalted status on the island and was giving it just the delicate and special treatment it deserved.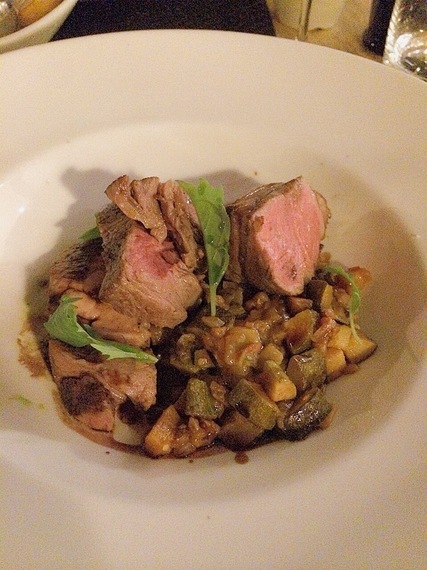 On the other side of the table, my wife went for her favorite option - the Holy Cow! This one though was brought over from the grasslands of Argentina. A medium-rare sirloin steak was her choice for the main course. And without tasting it, but just based on the drop in conversation over the next several minutes, I could guess that the steak was delicious. It was done to her liking, and all I could hear was the chewing and the soft sighs of satisfaction from the other side of the table. Score another victory in restaurant selection for us...
We were stuffed and satiated. We were still tempted for more though. We had come this far and couldn't leave without some dessert. We asked our server for her recommendation. "My personal favorite is the chocolate brownie with salted caramel powder. And it's all made in-house. If you like chocolate, and salted caramel, I would go for this." We took her word for it. It wasn't the best brownie we had ordered and could have actually skipped it. The homemade ice cream that came with the brownie was actually quite delicious and we hoped there was more; the brownie on the other hand had room for improvement... a bit more moist, a little more chocolatey maybe? Maybe pastry and dessert are not their expertise and it might be a good idea to bring in someone with that skill set to improve that aspect of the meal?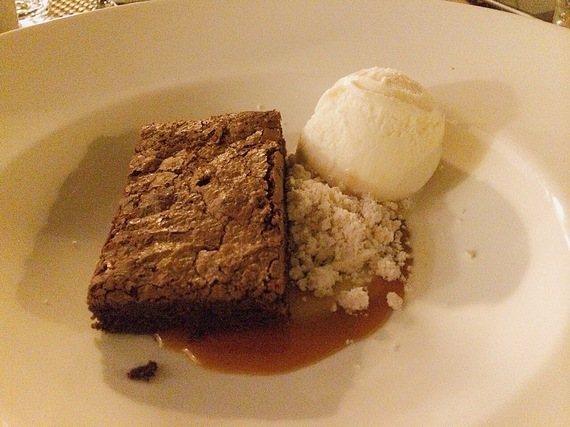 Our other main complaint for the night was the service. Two servers, running about, up, down, left, right... attending to the front of the house, taking orders and serving the food. Even for a small restaurant, it was probably way too much for them. It meant that our meal took a long time to arrive, and we spent a lot of time listening to our loud neighbors' idle and rubbish chatter. Jokes about the chef running out to catch the fish or to slaughter the lamb were becoming the topic of conversation on our table. When it comes down to that, you know it's not a good sign and there's significant room for improvement. Even to get something as simple as cutlery, you had to wave one of the scurrying servers down and wait... and wait... and hope that they came soon, so you could dig in to that deliciousness in front of you. If it wasn't about being civil and maintaining some degree of decorum in a quality restaurant, I would have just dived in, hands et al.
Despite the high quality of the food, and the exquisite tastes, we left a little disappointed. Nobody should have to wait for so long between courses. However, conscious of the shortcomings that evening, Chef Cassar came up to personally apologize for the long wait and time to service. At least he knew, and we were very appreciative of the gesture. It made us feel good; it made us feel wanted and valued as customers. Despite his training and high quality of the food, he was still modest enough to come apologize.
In our brief chat with him, Chef Cassar asked us where we were from and how we had found his restaurant, because as he said, "It is a long way to come from London and find us... We don't really publicize all that much." Well, Chef Cassar, a word of advice, given your Michelin Star quality food at non-Michelin Star prices, you definitely should publicize a lot more. And for those of you who happen to find yourselves on the island of Malta, take a break from the sightseeing, the beaches and the sea, and stop by this hidden jewel.
After that meal and the entire experience, all I can say is that I am hoping and curious to see if there is a Chapter Two in this talented chef's culinary journey! Possibly in London?