We had to shut the cameras down for a moment. The testimony of the two New Orleans sisters, Kenyatta, 15, and Kennisha, 17, was too surreal, too emotional and too raw.
Kenyatta was involved in a fight at school that she didn't start. Because of "zero tolerance" policies adopted at their high school and many others in America, Kenyatta was handcuffed, arrested and expelled. Kennisha, who tried to break up the fight, was also expelled. Both girls are stellar students with high grade point averages.
Kenyatta and Kennisha are two of the faces and stories you'll see and hear in "Education Under Arrest," which premieres tomorrow, Tuesday, March 26, on your local PBS station.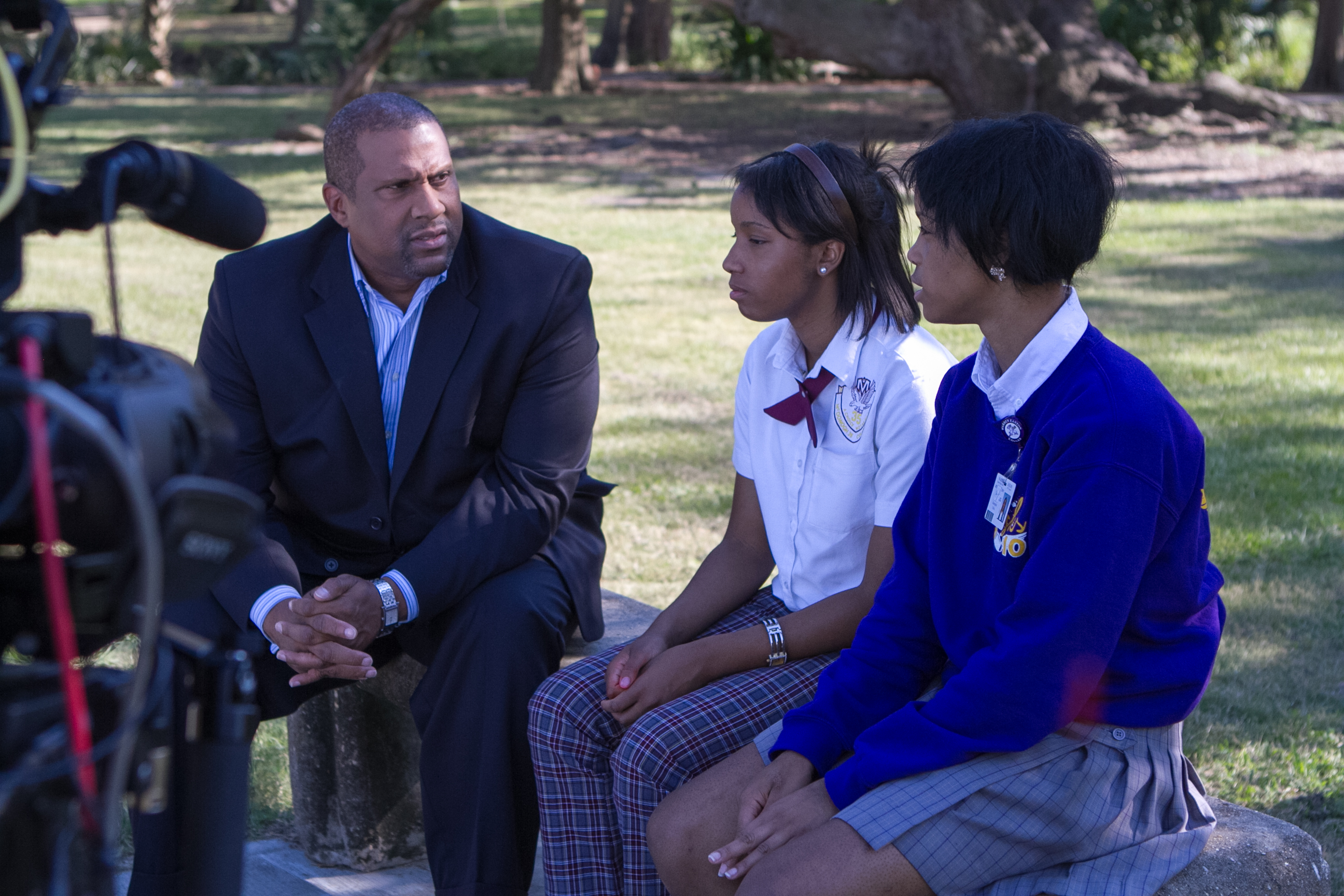 One of every three teens arrested is arrested in school. It's a punitive system based, in large part, on "zero tolerance" policies adopted in the late 1990s after the shocking school shootings in Columbine; a system that's built a highway into prison, but barely a sidewalk out.
We took our cameras to Washington State, Louisiana, California and Missouri to meet and speak with those involved with educational and juvenile justice reform. Through their expertise and experiences we get a definitive look at how arresting children in school, sending them to court and then locking them away in jail impacts America's dropout rate.
We shut the cameras down briefly after Kenyatta, with voice cracking and tears flowing, described her ordeal with a school district's unyielding policy and her encounter with the juvenile justice system:
"It was completely unfair. I felt all of this was so wrong. How come, out of the whole situation, I was the only one put out of my comfort zone?"
I hope that Kenyatta's words and the sincere and honest comments of other youth we feature in this special takes America out of its collective comfort zone. The conversation about "education reform" seems to always be about money, teachers unions, teacher training, charter schools, administrators, teaching to the test, etc. Rarely do the feelings, concerns and challenges students face get to the top of the education agenda.
I was riveted by Deven, 17, a youth detained in the Juvenile Detention Center in Spokane, Wash. Deven, because of his drug and alcohol addiction, has been in and out of the center. He caught me off guard when I asked if he has any intention of staying clean:
"I do and I don't," he responded. "You know what an addiction is... while you're in here, you're not thinking about it at all until you get home and you're surrounded by it, all of it... the drugs and alcohol. It's like a way of life, you know, and it's hard to pull yourself out of it." Sad, but honest.
I've done a number of these primetime specials on education for PBS, but I must confess that this one, in many ways, was the most depressing yet inspiring one that I've produced. When you look these kids in the eyes and discover that they've been expelled from school or locked up for things such as gum-chewing, truancy, talking in class or alcohol and drug abuse, your heart bleeds. Schools have literally become gateways to prison, instead of gateways to learning. When we wrapped filming, I kept thinking to myself, "There has to be a better way." Thankfully, there is.
In the documentary, you'll also meet bona fide agents of educational reform such as Dr. John E. Deasy, superintendent of the Los Angeles Unified School, and education advocate Charlaine DeWindt. You'll be at my side when I talk with the young law students from Stand Up for Each Other, an organization staffed by Loyola and Tulane University law students. It was this group that came to the defense of Kenyatta and Kennisha.
How could I not be inspired while meeting the students and walking the halls of Innovative Concept Academy in St. Louis? This is a school founded for "at-risk" youth by a juvenile court judge Jimmie Edwards. During our interview, Edwards stressed his staunch belief that locking up an 11-year-old for any length of time is not only traumatic for the youth; it holds dire consequences for families, our communities and indeed America's future.
We traveled the country to see if this "zero tolerance" policy was just a black or brown phenomenon. To the contrary, we found that white kids get into just as much as trouble, are just as truant and have just as many drug issues as children of other races. In other words, this is not a color-coded crisis, it is an American catastrophe.
In "Education Under Arrest," advocates, experts and our youth detail an escalating national calamity. It's time for national, state and local policy-makers, thought-leaders and influencers -- not just students like Kenyatta -- to be shaken out of their comfort zones and moved to action.
The sixth episode of TAVIS SMILEY REPORTS, "Education Under Arrest," premieres tomorrow, Tuesday, March 26, 2013, 8:00-9:00 p.m. ET on PBS. It is part of American Graduate: Let's Make It Happen, a public media initiative supported by the Corporation for Public Broadcasting (CPB) to help local communities across America find solutions to address the dropout crisis.