In light of the recent Wildfires in east Tennessee, I wanted to take some time to reflect on what an amazing place Gatlinburg is. On Monday, November 28th, 2016, high winds blew a wildfire too close and severely damaged the Smoky Mountains, local businesses, and hundreds of Gatlinburg homes. A mandatory evacuation was issued in hopes that locals and tourists would be out of harms way. While most of downtown has fortunately survived, there's no denying that the city will never be the same.

www.Gatlinburg.com
Gatlinburg can be found about an hour east of Knoxville, deep within the Smoky Mountains. The area is known for being a popular tourist destination, in conjunction with nearby Sevierville and Pigeon Forge. The trio attracts millions of visitors each year because of their fun tourist attractions and beautiful scenery.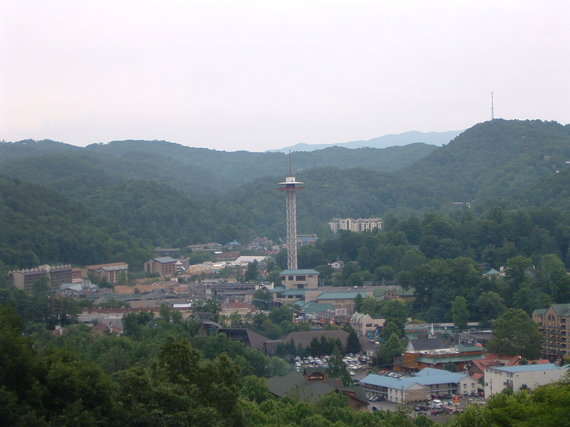 Wikimedia Commons
Those visiting the surrounding area for the first time may not know much about Gatlinburg, or maybe weren't originally planning on stopping by. I know plenty of people who planned a visit to Dollywood and had no idea what kind of a place Gatlinburg is. Upon seeing it, they were absolutely blown away and quickly fell in love.
Every time I visit, the more and more I enjoy myself. I can't express enough how one should take time out of their day to make the short drive up the mountain to see Downtown Gatlinburg. It's simply one of a kind.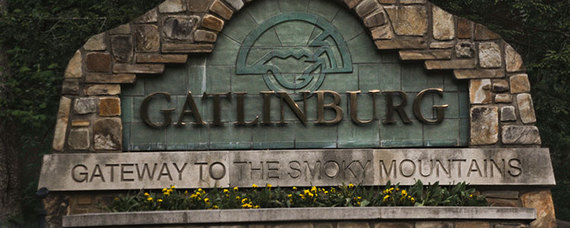 PigeonForge.com
When driving from Pigeon Forge into Gatlinburg on Parkway, the first thing you'll notice is the cute Little Pigeon river running up alongside the road. This is the first instance where you'll see how much nature has been embraced. If you were to continue driving all the way through Gatlinburg and kept going, you'd enter into Smoky Mountain National Park, which features awesome hiking trails with spectacular scenery. At the time of this article's is publication, it's unknown how much of the park has been damaged and if it still retains its natural beauty. At this point we can only hope.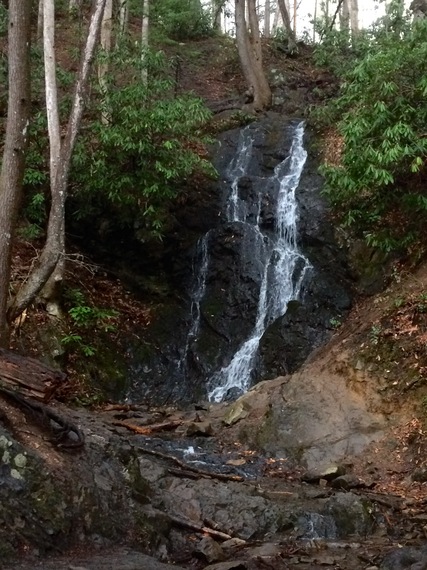 Upon entering downtown Gatlinburg, you'll first notice the sheer amount of roadside attractions, hotels, and pancake houses. Lots and lots of pancake houses.
The first notable attraction I'd like to point out is the Gatlinburg Mountain Coaster. Located on Parkway at Traffic Light #2, this is a must do attraction. Riders board a single person sled and ascend up the mountain on a slow lift hill. Once you detach, you'll start to build up momentum and travel down a series of exciting twists and turns, all while controlling your own speed. It's a perfect ride for everyone in the family. And if you're feeling adventurous, try it at night where at times it's pitch black out, and at other times the track is all lit up with Christmas lights!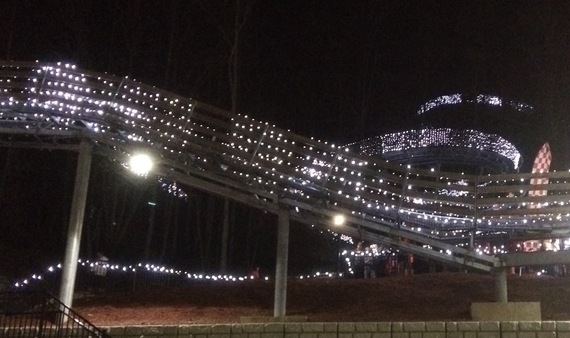 Nearby you'll find a true Gatlinburg classic; Hillbilly Golf. Players ride a sort of tram like vehicle up an incline up the mountain, and then putt-putt all the way back down to the bottom. Those who are looking for a true golf course will find enjoyment in the Bent Creek Golf Course, which is not located in the main section of downtown Gatlinburg. There is also another course located in Pigeon Forge, along with more mini golf. Ones thing's for sure, it's that there is no shortage of golf in Pigeon Forge and Gatlinburg!
As you work your way further into the the city, the road splits off into two main sections. Parkway continues to the left, while River Road begins on the right. Should you stay to the right, you'll find many popular attractions, such as Ripley's Aquarium of the Smokies. Over 10,000 sea life reside in this large facility, including sharks, penguins, rays, and turtles.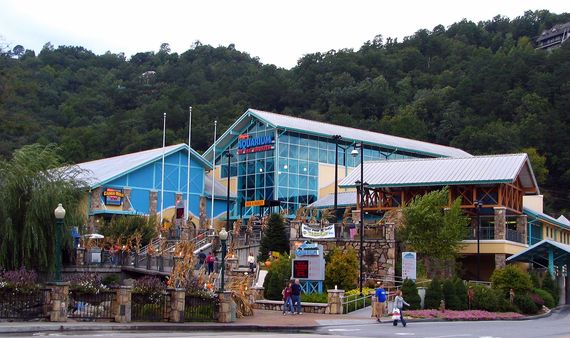 ©Brent Moore. Wikimedia Commons.
While the aquarium is certainly a large time commitment, what's great about most of the attractions in Gatlinburg is that if you so choose, it wouldn't be hard to do more than one in a day. Those who may be on a tight schedule will appreciate simply how close together these attractions are situated. On top of that, their presentation is well done too, so it doesn't just look thrown together on the side of the road. Each attraction has its own personality and fits into the city in its own unique way.
Attractions such as Earthquake: The Ride, Ripley's Believe It Or Not Museum, and the Guiness Book of World Records Museum are all great examples of things the whole family can do together. And really, that's the one thing that Gatlinburg focuses on. Sure, you may argue with your family members about which attraction you should do, but the bottom line is that no matter what you pick, you'll have a blast.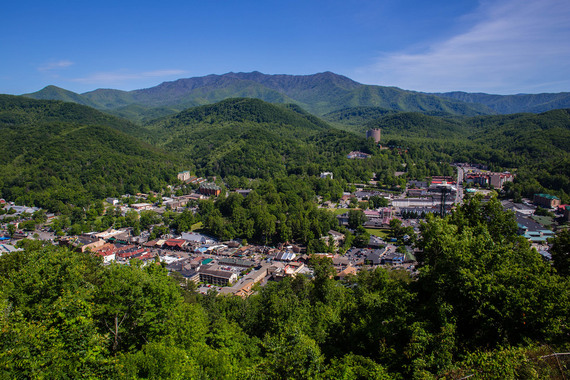 ©Brandon Shea
The final attraction I wanted to highlight is a favorite of mine- Ober Gatlinburg. What makes this place unique is the experience you get from visiting. Because it's located at the top of a mountain, just getting to there is part of the fun! At the end of River Road is the entrance to Ober Gatlinburg, where you prepare to board a sky tram that will take you up to the resort! This by far was one of my favorite parts of the place, as you have 10 minutes to take in the incredible view from the 120-passenger cabin.
Once at the top, depending on the time of year, are two different options. In the summer, waterslides are open. In the winter, it becomes a ski resort (the only one in Tennessee). All year long, you can see animals, take a ride on the alpine slide, chair lift, or their new alpine coaster. Inside are also a bunch of cute shops and restaurants for you to enjoy.
A couple years ago I threw together a little video of what Ober Gatlinburg was like after my first visit. It certainly isn't the greatest quality video, but it gives you an idea of what to expect.
I wish I could cover every attraction, but if I did that then we'd be here all day! Unfortunately I've only visited Gatlinburg a few times, so I'm not one to really talk about "hidden gems" in the area, so I'll leave that to the locals. Based off of my experience, Gatlinburg truly is one-of-a-kind. There simply is nothing else like it. For this reason alone, I do what I can to visit as often as possible. My next visit is in mid December of this year, but will be unlike any visit, simply because of how the fires have impacted the city.
I pray that the recent fires will soon be smothered, and that Gatlinburg will get plenty of rain. Anything to prevent further harm to this lovely city. Enough damage has been done already, and it's a miracle that downtown has escaped relatively unscathed. I'm especially thankful for all the firefighters who have worked hard to keep this place safe.
My hope is that the fires won't stop people from visiting Gatlinburg. I fear that the tourism industry will be badly affected by the forest fires, damaging local businesses even more. So to those who are thinking about visiting or would like to, I encourage you to stop by. Gatlinburg needs it now more than ever, and you won't regret it.
-Taylor
Want to learn more about Gatlinburg? Visit http://www.gatlinburg.com for more.
Subscribe to Coaster Studios: https://www.youtube.com/user/TheCoasterguy14