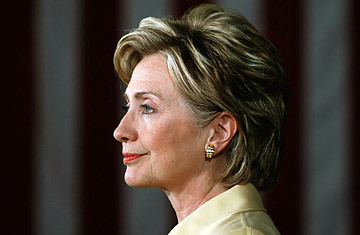 Applause breaks out in the Senate chamber.
"At last" seems to be the theme of the day, with a nod to John McCain for strongly suggesting a unanimous consent, though Republicans ignored him, demanding a full roll call vote. In straining to send a message to President Obama, Republicans only managed to prove why they earned their place in the wilderness. There was never a doubt of Clinton's confirmation, so making a point that they wouldn't be pushed around, Republicans do what they do best, obstruct. Led by Senator Cornyn, even though he ended up voting for Clinton, who is also blocking Eric Holder's confirmation, Republicans lost again, managing to seem small in the process.
This is yet another great moment for President Obama and his administration. Secretary of State Hillary Clinton brings to the job deep intellect, passionate curiosity about the world, as well as a reputation and presence around the globe, which will serve President Obama well.
Secretary of State Clinton will be a fierce advocate for President Obama's policies. It's yet another proud day for Democrats, for the people of America, as well as for women around the world. We could not have a more fierce advocate than Secretary of State Hillary Clinton.
President Obama signaled today that one of the first things on his list was the Middle East, through the news that former Sen. George Mitchell may be appointed as an envoy to that region. The message an appointment of Mitchell sends is one of fairness to both sides, something that will no doubt make some nervous. But it's the correct move. Mitchell did intense good work in Northern Ireland. His diplomatic skills are proven.
Secretary of State Hillary Clinton will make a strong partner for President Obama's diplomatic outreach and an invaluable partner for Mr. Mitchell.