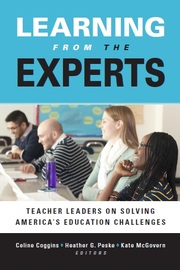 This month, we're celebrating the release of the first book authored by Teach Plus teacher leaders!
Published by Harvard Education Press, Learning from the Experts: Teacher Leaders on Solving America's Education Challenges is a celebration of teachers as change makers. In it, readers will hear from 17 teacher leaders whose ideas and tenacity are transforming urban classrooms and schools nationwide.
This week, read this excerpt from Chapter One: Creating and Using Data in Schools by Michelle Morrissey and then check out a new essay by Shane Donovan.

Unacknowledged Truths: Testing Speaks—Are We Listening?
Michelle Morrissey
I had lots of opinions about teaching when I was twenty-four and first stepping into the classroom in New York City's public schools. Here was one of those opinions: testing was undoubtedly, terribly bad. Bad for kids, bad for teachers, bad for schools.
It was the early days of No Child Left Behind back then--like the Wild West, but in my case, Brooklyn.

Then a funny thing happened: I prepped my students to take their high-stakes (read: BAD BAD BAD) Global History and Geography Regents Exam, and then I prepped them to take the U.S. History and Government Exam. By and large, they passed, and they passed because they had learned some history. And they took that learning very seriously, because passing those exams meant they could earn a high school diploma.
Then I moved to Massachusetts, where there is no required testing at all in history, and I miss it.
A lot of people--teachers, parents, administrators--feel that testing has been the end of all good things. It's true that the tests themselves are imperfect (it's hard to argue with talking pineapples, as we saw with last year's controversy over a nonsensical question in an eighth-grade reading exam in New York--thanks for that one, Pearson); their results largely reflect back to us our own systemic social inequalities. If misused, they can narrow the curriculum or the range of students that schools focus on. And some education advocates seem determined to create reigns of testing terror that can push teachers and administrators to lie, cheat, and steal in order to preserve their own livelihoods.
I hear these concerns, but I still can't imagine our schools without these tests. Because here's the thing, the thing that I think often goes unacknowledged: these tests aren't very hard. If a school isn't preparing the vast majority of its students to do well on them, that's a problem. It means that most of their students can't read, write, or do math to an extent that would certainly be unacceptable to me if it were my own child taking the test. And it shouldn't be acceptable to any of us, for anyone's kids.
Morrissey is currently a history content specialist for Boston Public Schools. Until this fall, she taught history at the Academy of the Pacific Rim High School (APR) in Hyde Park, Massachusetts, where she chaired the history department and served as a member of the school's Academic Council. Morrissey also currently sits on the Boston Foundation's Teacher Advisory Board and is an alumna of the Teach Plus Teaching Policy Fellowship.
Want more from Learning from the Experts? Read an excerpt from the introduction by Teach Plus CEO Celine Coggins.
From Learning from the Experts Teacher Leaders on Solving America's Education Challenges, edited by Celine Coggins, Heather G. Peske, and Kate McGovern, published by Harvard Education Press, 2013. Learn more.