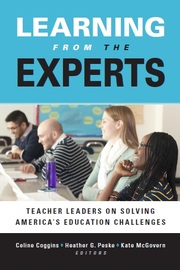 This month, we're celebrating the release of the first book authored by Teach Plus teacher leaders!
Published by Harvard Education Press, Learning from the Experts: Teacher Leaders on Solving America's Education Challenges is a celebration of teachers as change makers. In it, readers will hear from 17 teacher leaders whose ideas and tenacity are transforming urban classrooms and schools nationwide.
This week, read this excerpt from Chapter Six: Building School Leadership That Facilitates Great Teaching by Allison Frieze and a new essay on school leadership by Jon Alfuth.

I Wasn't Ready to Stop Improving:
Why Irreplaceable Teachers Need Irreplaceable Leaders
Allison Frieze
When I was rated "highly effective" by IMPACT, the District of Columbia Public Schools' (DCPS) evaluation system, I received a one-time salary bonus of $15,000. While the extra money was welcome, there were costs to this distinction. My rating acted as a permission slip for my school to cut off the coaching support that had helped me improve my teaching in the first place. For the evaluations that followed, I was videotaped rather than observed in person, and I received my scores in writing rather than during a feedback-driven conference. As far as my school leadership was concerned, I was a great teacher, and I could carry on with business as usual.
But I wasn't ready to stop improving--so I found a school where the leaders would still push me to do that.
I started my career teaching special education in a "low-performing'" district public school in Anacostia, the neighborhood with the highest unemployment and violent crimes rates in Washington, DC. Last June, I left to take a job at E.L. Haynes Public Charter School to teach the same grades and students with very similar needs. I'm a teacher the district lost.
I'm not alone in this. According to TNTP, nearly two-thirds of highly effective teachers who leave their teaching positions do so to teach in nearby schools in similar or identical roles. In other words, most of us aren't leaving for other careers, or even "easier" teaching jobs. Our school leaders just aren't giving us reasons to stay.
The impact of these moves on students can't be overstated. In their 2012 report, The Irreplaceables: Understanding the Real Retention Crisis in America's Urban Schools, TNTP found that when a high performing teacher leaves a low performing school, only one in eleven potential replacements will be of similar quality, almost guaranteeing that when a great teacher leaves, his or her replacement will be less effective. And great teachers matter: a highly effective teacher imparts five to six months more learning per year than the average teacher.
At the time of this writing, Frieze was the fourth- and fifth-grade math inclusion teacher at E.L. Haynes Public Charter School in Washington, DC. Previously, she taught third- to fifth-grade special education students in the District of Columbia Public Schools. Frieze was a 2009 DC Teaching Fellow and received awards, including Finalist, Fellow of the Year and Highly Effective Educator, under DC's IMPACT system. Frieze was a Teach Plus Teaching Policy Fellow in the 2012-2013 DC cohort. She currently teaches in Denver, CO.
Want more from Learning from the Experts? Read an excerpt from the introduction by Teach Plus CEO Celine Coggins, or an excerpt from Chapter One: Creating and Using Data in Schools by Michelle Morrissey.
From Learning from the Experts Teacher Leaders on Solving America's Education Challenges, edited by Celine Coggins, Heather G. Peske, and Kate McGovern, published by Harvard Education Press, 2013. Learn more.