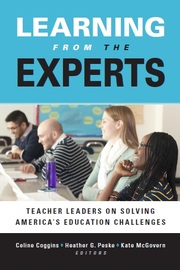 This month, we're celebrating the release of the first book authored by Teach Plus teacher leaders!
Published by Harvard Education Press, Learning from the Experts: Teacher Leaders on Solving America's Education Challenges is a celebration of teachers as change makers. In it, readers will hear from 17 teacher leaders whose ideas and tenacity are transforming urban classrooms and schools nationwide.
This week, read this excerpt from Chapter Five: Engaging Early Career Teachers in the Union by Karen McCarthy. Then read responses by NEA/Teach Plus Future of the Profession Fellows Rob Powers, Stephanie Molloy and Jane Rezos.

Unionized and Excellent:
Transforming My Beliefs About Teachers Unions
Karen McCarthy
Today I see teacher unions as an important collective voice for teachers in our nation. But we could do more. I am frequently disappointed and frustrated when I see unions appearing to undermine themselves. We often react instead of lead and miss opportunities to define ourselves as leaders in the effort to strengthen education.
I do not want to perpetuate the belief that if we value our contract, then we do not value children. Despite much negative framing of unions in the media, I believe there is no conflict between the interests of teachers and positive outcomes for students. We need to clearly connect the work of our union with the values--such as equity, quality, and innovation--we hold most dear.
We must reframe our message and our policies and take back our image as a union of professionals dedicated to advancing our field. Because of our failure to fully showcase these values and to clearly show how we build policies based on these values, a good deal of the media, policy makers and interest groups--and even some parents and teachers themselves--focus on a vocal minority in the union that is resistant to change. No teacher wants to be associated with "rubber rooms." We want teachers and our union to be associated with professionalism and excellence.
To accomplish this, both the union and teachers like me, who now see value in the union, need to engage a broader membership. We need the ideas and the passion of both new teachers who are eager to embark on this career and veterans who will share their skills and experience. We need teachers of different backgrounds, perspectives, and experiences if we are to harness our collective strengths to create a sustainable teaching profession that respects teachers and serves its students.
Karen L. McCarthy is a National Board certified high school English teacher and special educator in the Boston Public Schools, and was recently named interim principal of an elementary school in Boston. Previously, McCarthy taught for eleven years at Brighton High School, where she served as a teacher leader, a Boston Teachers Union building representative, and on her school's Instructional Leadership Team and School Site Council. She has been a recipient of the Sontag Prize in Urban Education and the United Way's 2010 Teachers Rock award and is a former Teach Plus Teaching Policy Fellow.
Want more from Learning from the Experts? Read an excerpt from the introduction by Teach Plus CEO Celine Coggins, or an excerpt from Chapter Six: Building School Leadership That Facilitates Great Teaching by Allison Frieze.
From Learning from the Experts Teacher Leaders on Solving America's Education Challenges, edited by Celine Coggins, Heather G. Peske, and Kate McGovern, published by Harvard Education Press, 2013. Learn more.