In celebration of Teacher Appreciation Week, Teach Plus interviewed six of the many inspiring teachers we know. Meet them right here in the Teach Plus Teachers' Lounge throughout the week.
In the Lounge today, meet Mary Balla, who teaches Spanish at Anacostia Senior High School in Washington, DC. She is a Teach Plus Teaching Policy Fellow.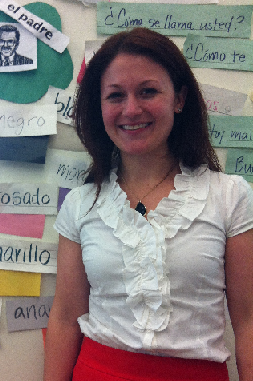 What inspired you to become a teacher?
Both of my parents are retired teachers. When I was little, I told them, "I'm going to be a veterinarian/ballerina/lawyer/firefighter ... anything BUT a teacher!" That mindset changed when I was in high school. I began tutoring at Montefiore Special School in Chicago as part of an Urban Studies class. By the time I was a high school senior, I knew I wanted to teach in a high-needs school.
What do you like to do in your "spare" time (if teachers have any)?
Well, as a language teacher, I consider travel a "professional obligation" of sorts. I am always planning my next adventure. In the past year, I have traveled to Brazil to practice my Portuguese, to Quebec to attend French immersion camp and to Puerto Rico to go bioluminescent bay kayaking.
Tell me about a former student who made you proud.
I had a student my first year teaching that was also a member of my boxing club. He struggled in school, but found success in sports. He started out boxing, and then joined the football team the following year. Football and boxing invested him in coming to school every day and his grades improved dramatically. He graduated last year and received an academic scholarship to a four-year college.
Can you tell us more about those after-school boxing partnerships you've started?
I started boxing programs at both Roosevelt Senior High School and KIPP: College Prep. I saw a need for an extracurricular club that provided a different outlet for our students. I formed partnerships with local gyms and would take students to the gym to spar and work out. Many of the students that did not feel successful in the classroom felt successful in the ring, and that ended up being what kept them involved and coming to school.
Do you box?
I boxed at the University of Michigan on their Women's Boxing Team. In high school, I had been the only female wrestler on an all-boys team and the skills used in boxing are similar, so boxing was an easy transition. I credit both sports with teaching me discipline and boosting my confidence a tremendous amount.
Do you have any nicknames in your class?
When they're trying to be funny, my students call me "Señorita Baja" instead of "Señorita Balla." ("Baja" means "short" in Spanish). I am five feet tall. I have heard just about every variation of short joke.
What drew you to teach Spanish as opposed to other subjects?
In school, I loved my Spanish classes. For whatever reason, language just clicked for me and I felt very successful at it. I continued to study Spanish language and literature in college and practiced my language skills by traveling to Spanish-speaking countries. I have always loved meeting new people and enjoy the social aspects of learning a new language.
So you were a founding teacher at a charter school? What was that like?
Being on the founding staff of a school is extremely challenging. The entire experience made me better equipped to deal with change and remain flexible in the face of obstacles.
You've worked in charter and district schools, right? What are some of the differences between those experiences?
From my experience, the needs of public schools are much greater. I have taught at a traditional public school, a charter school and a turnaround public school, and have found the turnaround school the most difficult by far. An overwhelming percentage of our students are in crisis in some form or another and they have basic needs that have to be met before learning can happen.
I hear you're a teacher-mentor for the FIRST robotics program. What does that involve?
The FIRST robotics program is literally a program where students build robots and compete against other schools' robots. I accidentally volunteered to be a teacher-mentor of the robotics team my first year teaching and got hooked. I am now a robot enthusiast!
What experience in teaching has broken your heart or made you the most angry?
It is difficult seeing students as old as nineteen enter my classroom without awareness of sounds the letters make in English, let alone in Spanish. The fact that the educational system has failed these students so egregiously for so many years is both heartbreaking and infuriating.
What are you most proud of as a teacher?
I am most proud of making my students consider other cultures and countries in the world that they never thought they could access before. Many of my students have never left their neighborhood in Washington, DC. If my students leave my classroom with a genuine curiosity about the world and an increased cultural awareness, I feel like I have done my job.
Here's what Teach Plus DC Executive Director Candace Crawford has to say about Mary:
Mary brings a unique perspective as a teacher who works in one of our toughest high schools, a school she sought out because she wants to teach where she is most needed. As a Spanish teacher, I know she has to work hard to help her students see the relevance of learning a foreign language. She approaches this task with passion and determination because she knows that Spanish is one subject where all students, no matter their background, often start in the same place as novices. She brings this tenacity and feistiness to her role as a Teaching Policy Fellow. She does not shy away from raising tough questions and challenging her fellow cohort members.