In celebration of Teacher Appreciation Week, Teach Plus interviewed six of the many inspiring teachers we know. Meet them right here in the Teach Plus Teachers' Lounge throughout the week.
In the Lounge today, meet Abby Taylor, a kindergarten teacher at IPS 106, the Robert Lee Frost School in Indianapolis, IN. She is a Teaching Policy Fellow alumnus.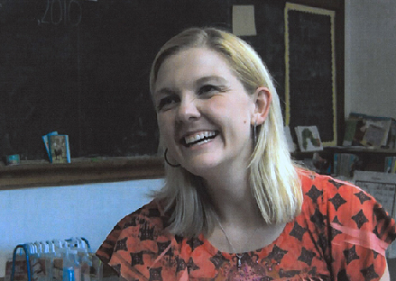 What inspired you to become a teacher?
My 6th grade teacher Mr. Mars. He noticed that one of my classmates, Brad, was struggling getting D's and F's so he asked me to help him out. Next thing you know Brad was getting A's and B's. Mr. Mars told me that he thought I should really look into teaching.
Because of "last in, first out" layoff policies, you and your husband were both laid off in the same year. What happened?
In the spring of 2009, my husband, who also taught in Indianapolis Public Schools (IPS), and I were both laid off. This came when I was pregnant with our first child and we'd just purchased a new home. The timing couldn't have been worse. He left the district to teach in a charter school, but I stuck it out and was eventually rehired. So we both had jobs, but we were sad to leave the students and families we already knew and loved. Because of RIFs (reductions in force), I have changed schools seven different times in six years.
That must be devastating. What did you do about it?
I only want this to be as fair as possible. While it would of course be sad, I wouldn't mind losing my job if it is in a fair manner and to another awesome teacher. I want my layoff to be based on my ability to teach. Every teacher knows there are rock stars and there are those who are letting students down every year. If I lose my job to a rock star, I can take that. What I can't live with is losing my job to someone who makes our whole profession look bad. I wanted to make layoffs in IPS fair, transparent, and about what the students need.
I was a Teach Plus Policy Fellow, so I worked with other Fellows, the Indianapolis Education Association, and the District to come up with an alternative to "last in, first out" layoffs -- one that makes sure that great teachers don't get laid off, even if they don't have seniority. Then we worked to change the law in the state. It is important to me because now I know I will not be RIFed anymore just because I am the youngest teacher.
You grew up in a small town, but have said that teaching in the struggling Indianapolis Public School District is your calling. Why?
While I was at Taylor University I went on a mission trip to Bolivia and taught in an international school. When I returned I knew I needed to find a place like that, and I knew it not was in the rural little town where I grew up. I enjoyed students who were of many different ethnicities and cultures. You can't find all of these things in small town in the country. I also knew I wanted to impact as many people as I could -- and what better place than in an urban setting? Now, I have lots of families who invite me to their family functions because they feel like I am a part of their family.
You are a kindergarten teacher. What are some of the hilarious things that these little people have done during your time teaching?
What haven't they done? Kindergarteners are the most honest people you will meet. They tell you like it is. If you want to know the truth, ask a kindergartener.
What is one thing you would like to change about the current state of the teaching profession?
One thing I would change is to get rid of all the excuses. Those aren't going to go away, so we better start working with what we have.
Your husband teaches in a public charter school and you teach in a district school. What differences do you observe?
In a district, there can be a union that represents the teacher's rights, and in a charter you are alone as a teacher representing your own rights.
What experience in teaching has broken your heart?
What has broken my heart the most is having to leave a school where parents were crying because I was leaving, students were confused because they couldn't figure out what they did wrong to make me leave (when in reality they had done nothing), and leaving a staff who I had grown close to. Starting all over is hard because not only are you packing and unpacking all your things, but you have to get to know a whole new staff, parents and community.
What are you most proud of as a teacher?
The thing that makes me the most proud is watching the kindergarteners that come into my classroom in August with no experience in school and little knowledge about reading and math and by May and June they are reading books, writing sentences to each other and their parents, solving math story problems and playing with other kids and calling them friends. It makes me proud because I helped them learn some of the most important basic skills for later success.
Here's what Teach Plus CEO Celine Coggins has to say about Abby:
Abby is a passionate teacher whose commitment to students is unflappable. She has weathered several RIFs and been shuffled from school to school, but she found ways to continue to lead a classroom and do amazing things with children. She expands on the impact of her work in the classroom by being active in her local teachers' union. She has helped to bring about changes that create a better chance for students to have greater access to dedicated teachers like herself.