The Teachers' Lounge is an ongoing series of interviews with inspiring educators. Last month, Georgia teacher Shekema Silveri interviewed Sandy Hayes, veteran middle school teacher and President-Elect of the National Council of Teachers of English. This month, we interviewed Shekema.
Shekema Silveri teaches English at Mt. Zion High School in Jonesboro, GA. She was Georgia's 2011 Milken Educator and is the founder of Silveri Service Learning Academy, a 6-12 charter school scheduled to open in the 2014 school year.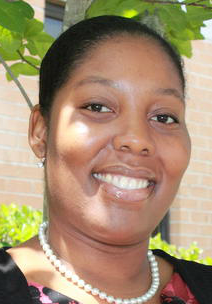 So tell me about how you came to teaching. Does it run in your family?
That's a long story! I never wanted to be a teacher, and it certainly doesn't run in my family because I'm a first generation college graduate. I headed off to college with a major in School Psychology. In my Freshman Composition class at Florida Southern College, Dr. Mary Pharr encouraged me to change my major. She said: "Little girl, you're in the wrong major. You're going to be an English teacher."
After almost 10 years, I finished my undergraduate degree at Georgia State University, but I still didn't want to be a teacher. By that time in my life, I had been homeless and was a mom of three, so I decided to establish a nonprofit dedicated to helping low-income girls ages 12-18 break the destructive cycle of teen pregnancy, poverty, and child abuse. I was born to a teen mom and had been a victim of the other two issues, so I knew that my pain would somehow inform my purpose. In 2003 I founded Rachel's Daughters and began delivering free afterschool programs like tutoring and mentoring to residents of Atlanta's public housing.
Then in the summer of 2006, I enrolled in Georgia State University's alternative certification program to obtain my Masters in Education. The rest is history.
What keeps you coming back every year?
I was born for this. I miss my students when I go home at night, which is why I'm always up tweeting and learning with them past 10:00pm every night. This is the coolest job in the world, and I'm amazed that I get to do this with my life. Just wow.
Yes, I've noticed that you communicate a lot with your students on Twitter. Can you answer all these questions in 140 characters or less? (Just kidding.) But seriously, what do you see as the role of social media in education?
Each day, my students have to tell me something they learned -- whether we're in school or out of school, whether they learned it in my class or not. We use the hashtag #TIL ("Today I Learned"). They reach out to me (and to each other) for help with homework and with life.
Social media has helped remove the boundaries of time and space and has the potential to reshape the way we conceptualize teaching. Imagine hosting a Socratic Seminar with students from all class periods at once, each of them able to add to the discussion. Learning to revise your essays by trying to tweet your topic sentences is also kind of cool.
I've heard that your AP classes are always at capacity, and that you enroll a lot of students who aren't on the AP track at your school. Why do you think it's important to have fully inclusive honors and AP-level classes?
There are some skills and unspoken rules for academic and social success that my students have never been exposed to. In Room 110, we delve into those things and each of my students develops a personal strategy for success. In that way, my AP classes are also life skills classes. I don't just increase the rigor without exploring the rationale. Education is a matter of life or death for my students. While I would love for everyone to score a 3 or higher on the AP exam in May, my goal goes far beyond that. My personal goal is to increase the number of college graduates from Clayton County Public Schools. I'm producing lifelong learners, not just excellent test-takers.
Tell me about the school you are currently in the process of starting up. Why did you decide to start a school of your own?
I decided to start Silveri Service Learning Academy after attempting to complete my Ph.D in Teaching and Learning. I bought the lie that to make a difference in the lives of the most children I would have to teach teachers. One day in my classroom, I looked out at my students and began to ask myself, "How do you know you're not teaching teachers right now?" That same year, I became Georgia's 2011 Milken Educator and the concept for Silveri Service Learning Academy (SSLA) was born.
SSLA will serve students in grades 6-12. We're designing the school as an early college of education. Our goal is to produce the next generation of critical, quality educators.
Our school is dedicated to providing access to technology, a healthy lifestyle, quality education (including childcare), and the arts. Middle grades will focus on service learning. They'll explore pressing social issues within their local and global communities. High school students will be offered several Career Pathways, each of them grounded in Teaching as a Profession. They'll theorize how education might be used to resolve the social issues they explored in grades 6-8. We're an Early College High School, so SSLA graduates will exit with two years of college already completed upon graduation.
For more information on Silveri Service Learning Academy, please visit our website: www.silveriacademy.org.
What would you say to teachers who feel they don't have a voice in transforming their own profession, and that many changes in education are happening TO them rather than with them?
I would say -- emphatically -- that if you wait for the right conditions, you'll never do it. Jump in and make waves, and remember that you're speaking on behalf of those who cannot speak for themselves. Whenever you feel afraid, encourage yourself by revisiting the stories of the giants upon whose shoulders we're currently standing. At the end of the day, always remember: "The great aim of education is not knowledge, but action" (Herbert Spencer).