To us, it couldn't be clearer. One of the biggest deterrents to getting girls in STEM is the messaging culture sends them. Girls need to be told that engineers are creative problem-solvers that matter -- and that they too, regardless of their gender, can succeed. That's why we at Techbridge Girls have decided to showcase the work our students will be doing together in the STEM fields during this year's Summer Academy, Girls Go Global, taking place the last week in June.
During this week, girls will take on the role of engineers working on problems from around the world. They'll be learning about challenges people in developing nations may face meeting daily needs related to water, food, energy, and sanitation. Through role model presentations and videos, they'll hear about solutions being created by people across the globe. And throughout the week, they'll design, build, and test their own solutions, such as biomass-burning stoves and LED lights.
We're hoping that images of these hard-working, diverse and creative students tackling some of the world's biggest problems will encourage more girls just like them to enter the STEM fields.
Check back each day June 24 through June 28 to see what new world-changing products our students are working on.
07/03/2013 4:36 PM EDT
Day 5
On Friday the girls reverse-engineered a solar-powered light designed for use in developing nations and presented their work and what they've learned to their families.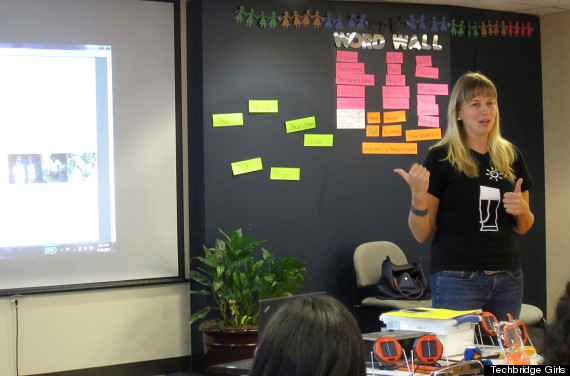 Girls listen to role model Karyn Boenker from the Lights for a Better Future project at Kopernik. The project works to bring d.lights (solar lights) to students in developing countries.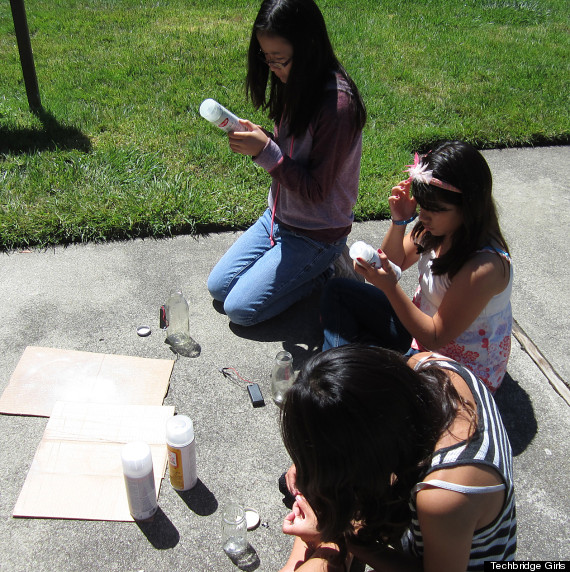 Girls building LED lights from recycled glass and plastic bottles.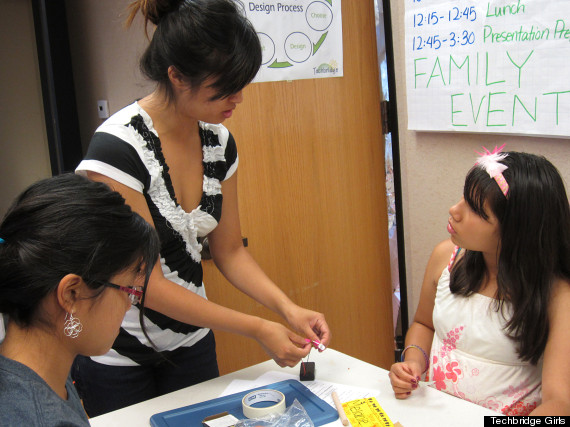 Techbridge program coordinator Erica Wong helps girls with the circuit for an LED light.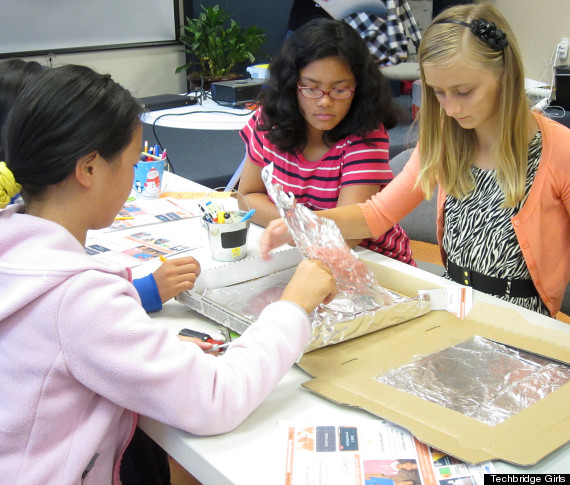 Techbridge girls build solar ovens out of pizza boxes and foil.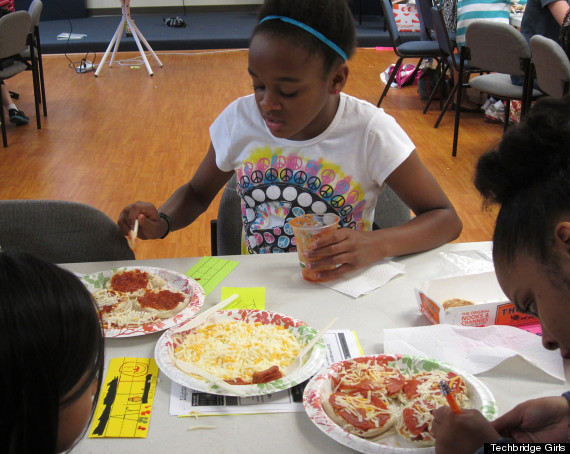 Making English muffin pizzas to cook in the solar ovens.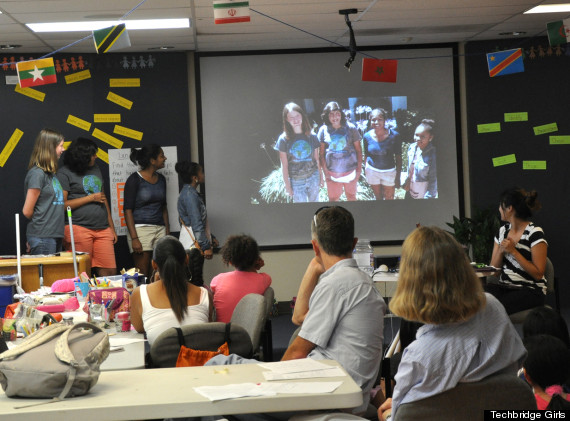 A team of girls share their experiences during the Girls Go Global academy at Family Night, an end-of-week presentation and celebration.
06/28/2013 1:59 PM EDT
Day 4
Yesterday girls designed, built, and tested water carrying devices as well as worked on mobile apps for use by children in developing nations.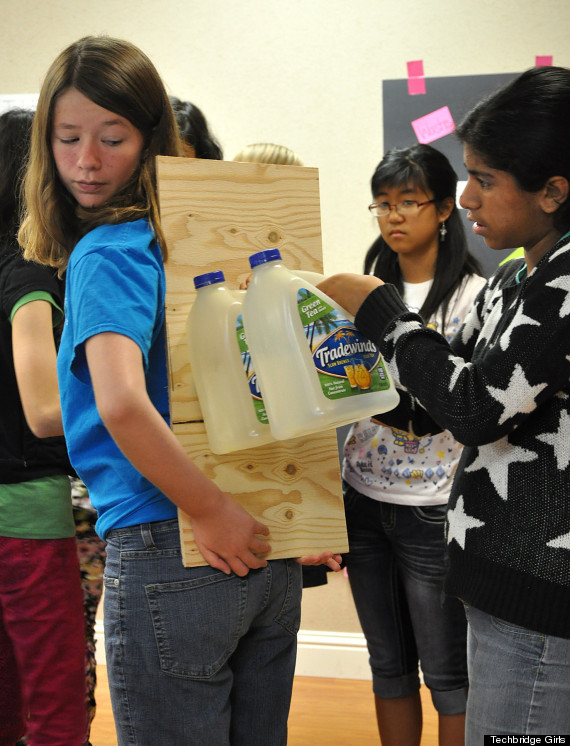 Techbridge girls brainstorming ideas for water carriers.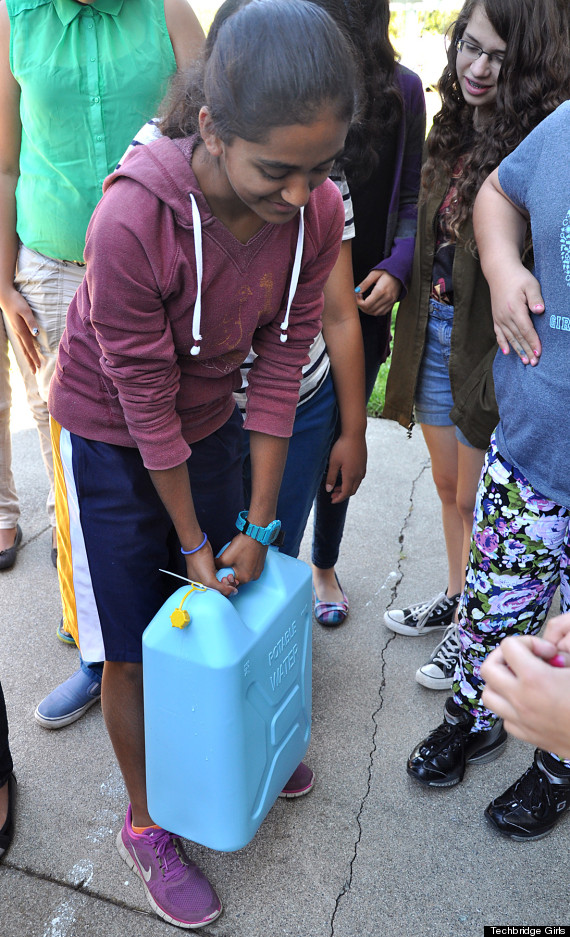 Lifting a jerry can, commonly used for carrying water in developing countries.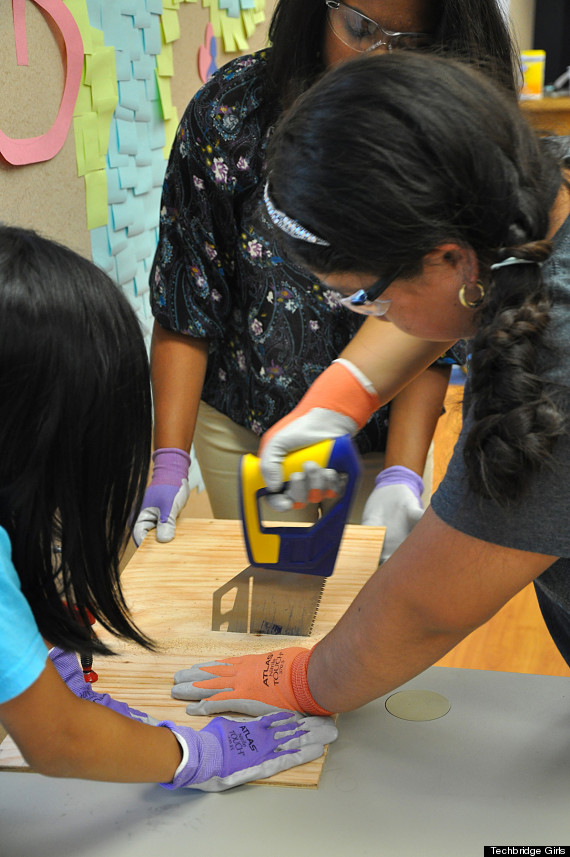 Sawing wood for water carriers.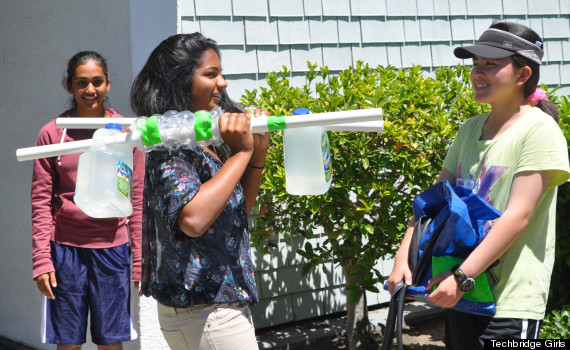 Girls testing a water carrier design.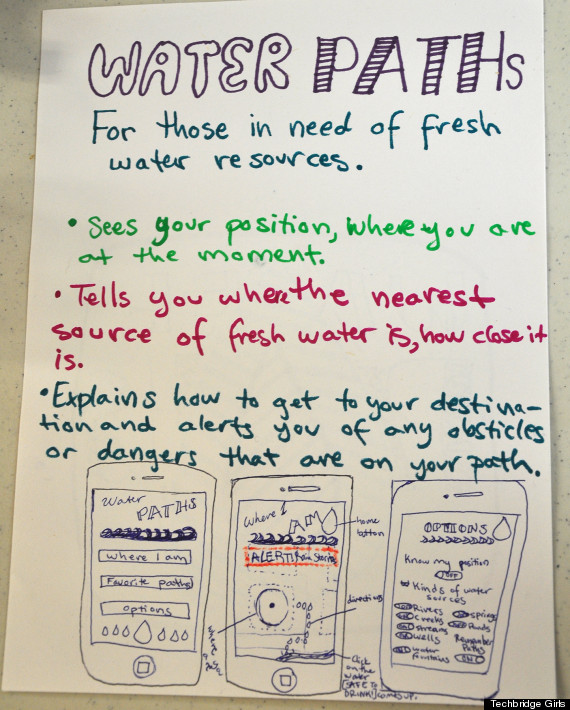 Description and user interface design for an app that helps people locate water.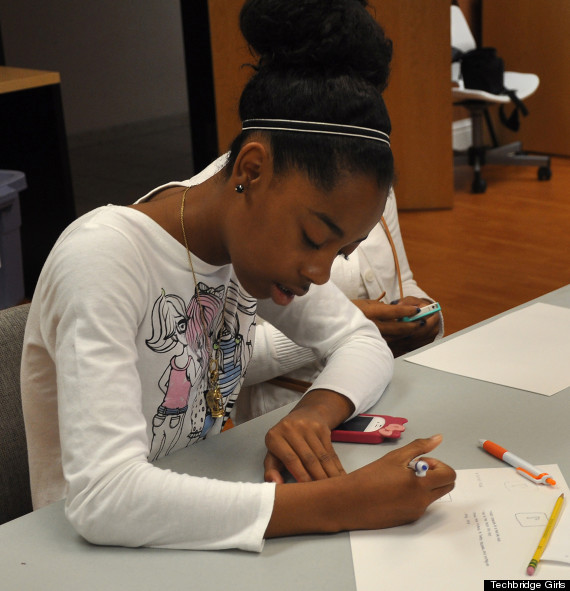 Techbridge girl working on an idea for an mobile app that could be used by kids in developing countries.
Today, during the last day of Techbridge's summer academy, girls will learn about challenges of lighting a home without electricity and design and build an LED light.
06/27/2013 12:41 PM EDT
Day 3
Yesterday, Techbridge Girls took a field trip to a local sanitation facility working on issues related to basic needs.
Here are some photos from their trip: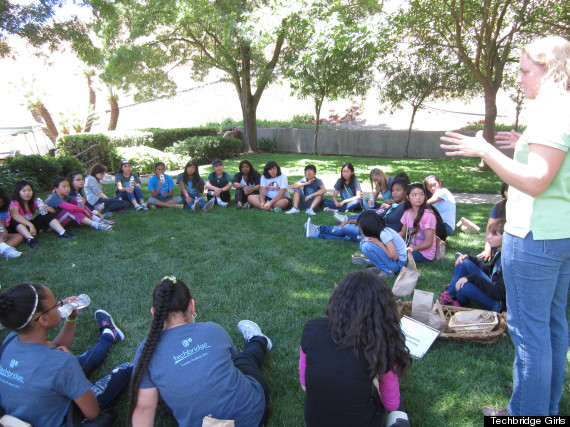 Techbridge girls learn from role model Tianna Nourot about the materials used in building a landfill and how they are arranged before waste is added.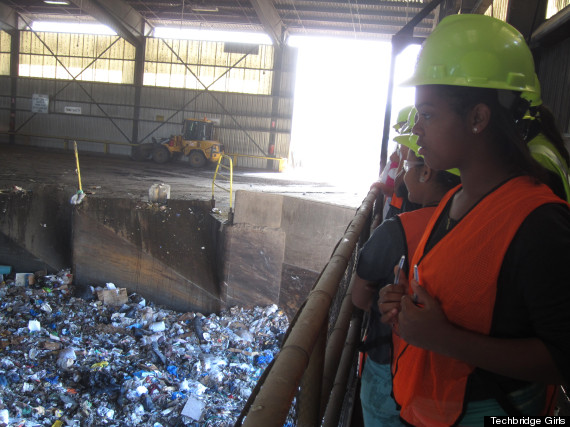 Overlooking tons of waste as it gets crushed and prepared for transport.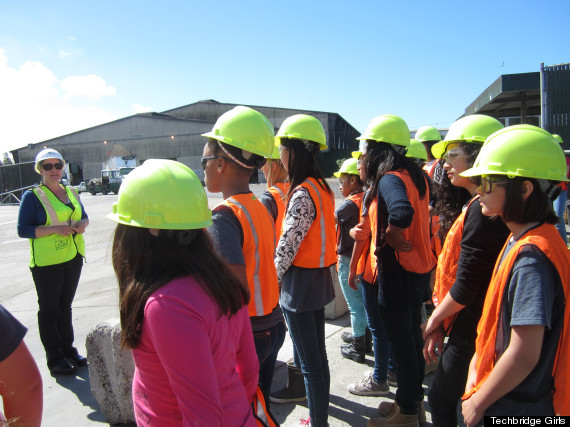 Girls taking a tour of the Davis Street Transfer Station in San Leandro, California.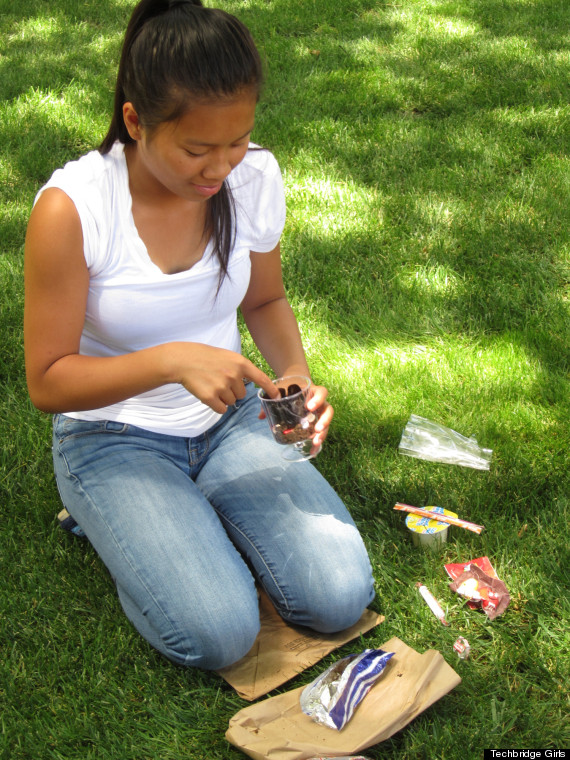 A Techbridge girl layering materials in an edible 'landfill' using pudding as 'waste'. The goal of the activity was to layer the landfill materials so no liquid reached the bottom of the cup.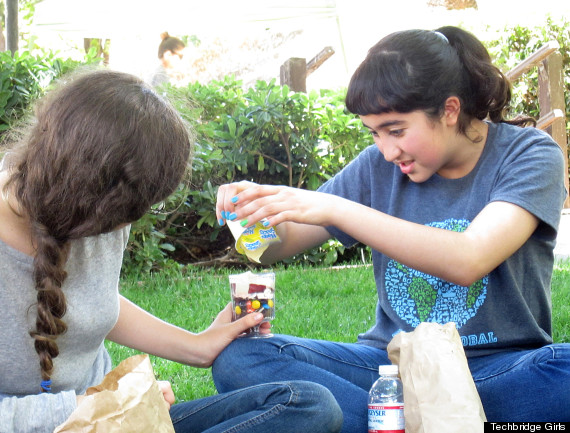 Girls testing edible landfills.
Today, the girls are learning about the challenges people around the world face in finding and transporting clean water and creating their own solutions to these challenges.
06/26/2013 12:47 PM EDT
Day 2
Yesterday, girls at Techbridge explored some of the dangers of using open fires for cooking and identified challenges related to water, sanitation, energy, and food in their own communities. They then developed solutions to these problems and made a video about their solutions.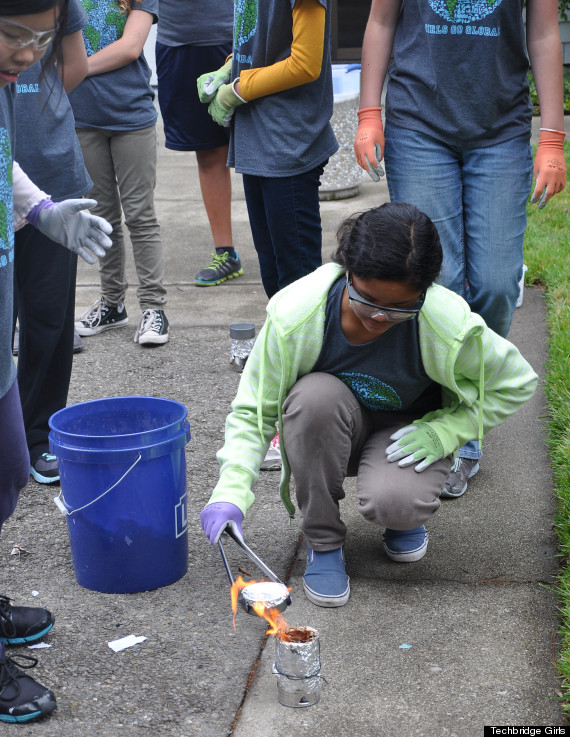 Techbridge girl adjusting her biomass-burning stove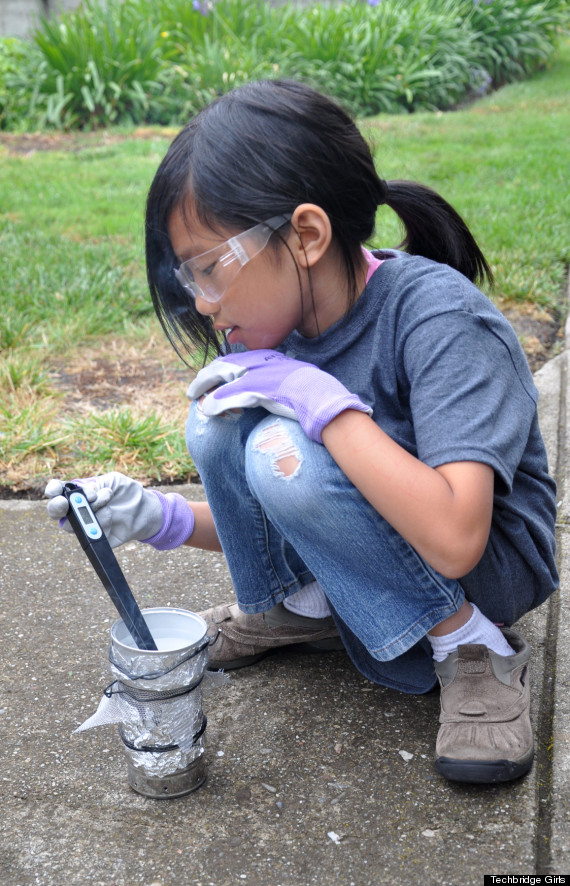 Techbridge girl measuring the temperature of water heating on top of her stove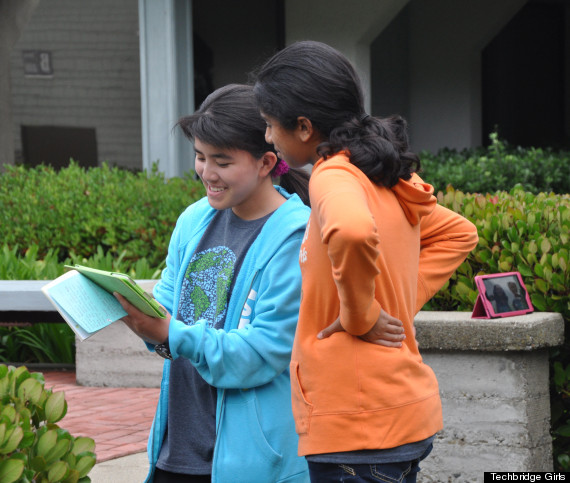 Girls recording a video about solutions to problems in their local communities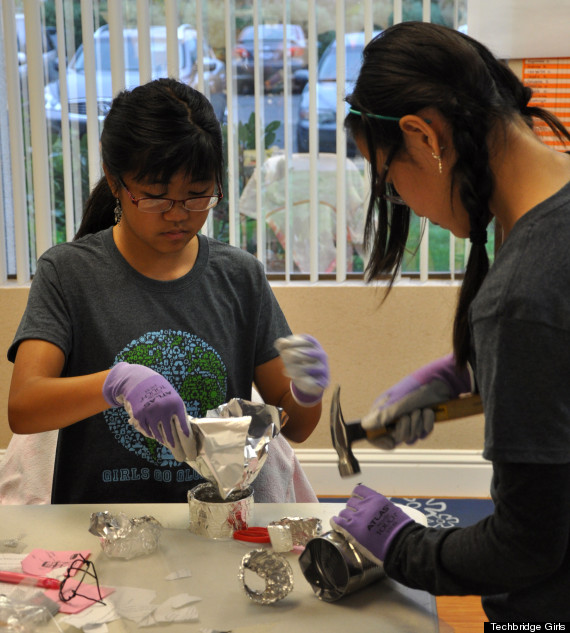 Girls working on their stove designs
A solution for food waste:
A solution for wasted water:
Today, the girls are going on a field trip to a waste management facility.
06/25/2013 2:55 PM EDT
Day 1
Yesterday girls at Techbridge learned about the difficulties people around the world face meeting their basic needs and explored some solutions to these problems. They were charged with creating a useful object from recycled materials and designing a composting toilet by first creating a 3-D model of it.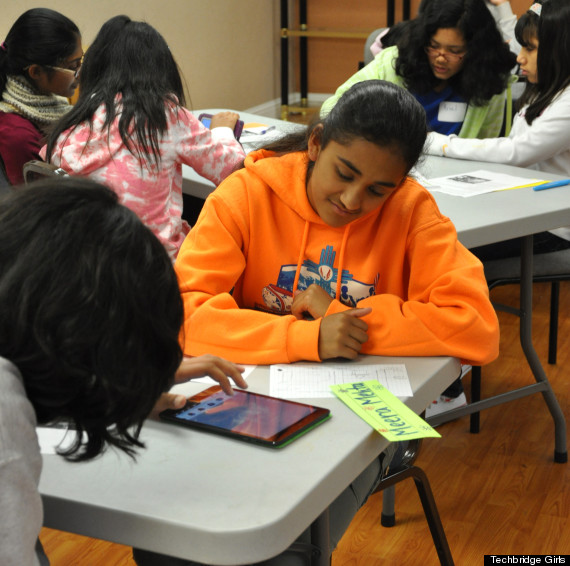 Girls making a 3D model of a composting toilet on iPad minis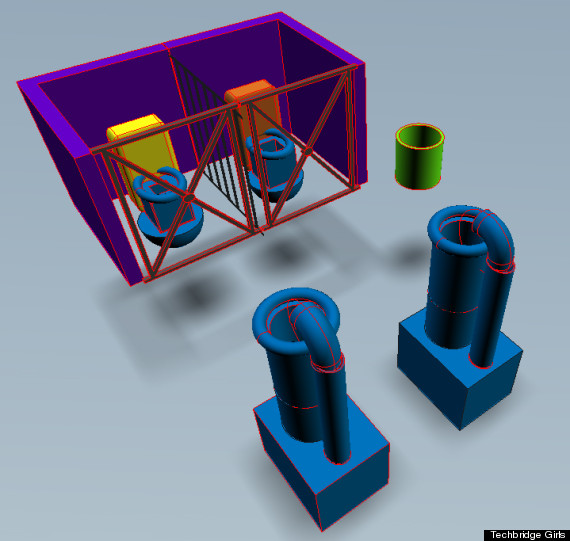 An image of one of the girls' 3D designs of a composting toilet, created in 123D Design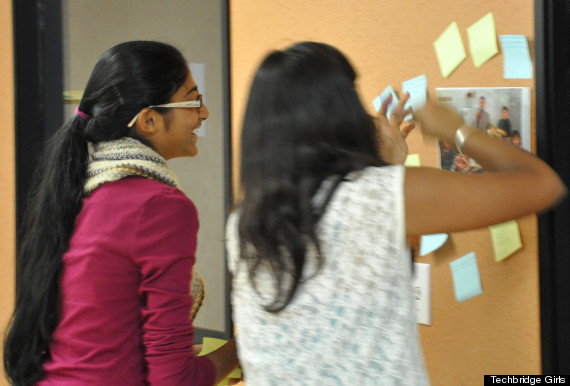 Girls discussing images from the book Hungry Planet, which shows families around the world with a week's worth of food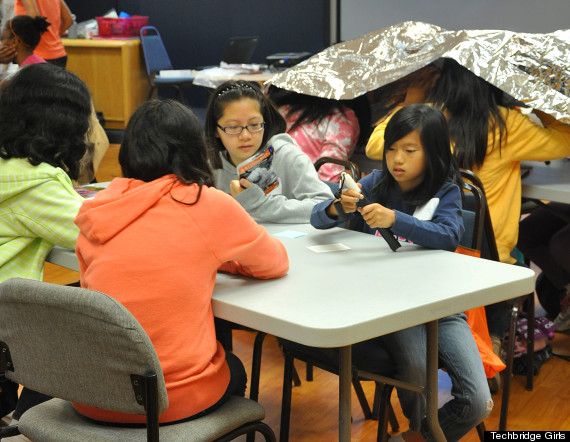 Girls investigating a personal water filter and other objects designed to meet basic needs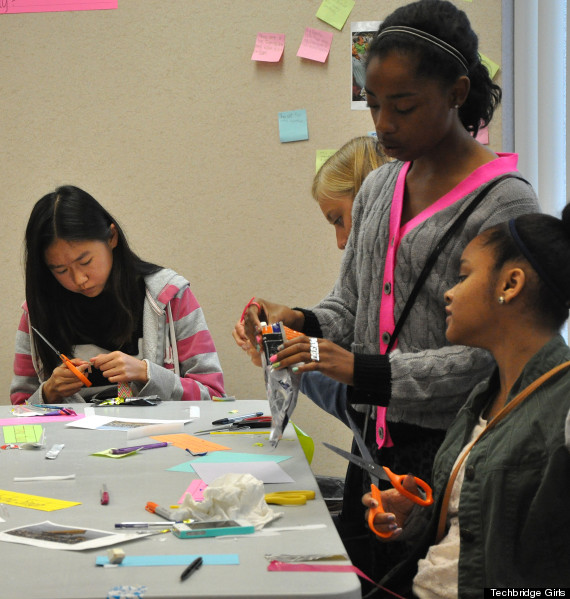 Techbridge girls repurposing recycled containers to make a wallet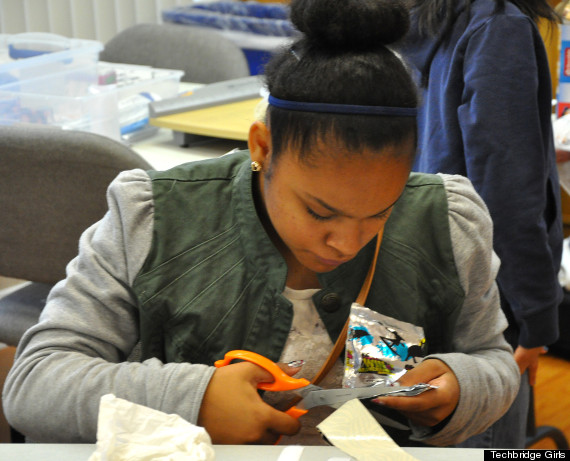 A Techbridge girl repurposing recycled containers to make a wallet
Today Techbridge girls are learning how people across the globe use biomass-fueled fires to cook food and will then be given time to design, build and test model cook stoves.