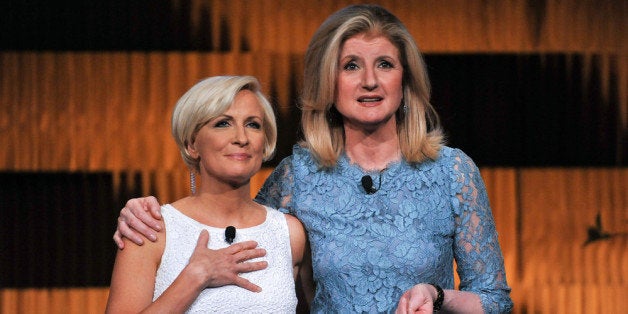 I felt drawn to New York. I couldn't quite explain it to my wife and colleagues, except to share inarticulately what I was feeling inside, what Arianna refers to as inner wisdom and what I have always called my gut -- that sense of knowing without being able to express your reasoning.
A few weeks ago, I purchased Arianna Huffington's book Thrive after my mother talked about it, sensing it contained something I needed to hear. When the book arrived, it sat on a table for a few days until a friend asked if she could borrow it when I was done. That night, I began reading and embarked on a journey both inward and outward, a journey I've come to realize is a perfectly-timed, much-needed personal awakening.
Since launching a social enterprise that began with investing in women entrepreneurs living in Baghdad, I have been on a path that seems defined by this idea of a Third Metric of success. I can say in all honesty that acquiring money and influence are not part of my present world. Creating a business model to help solve a social problem is my passion, and it's damn hard.
In a marketplace that seeks bargains and clamors for profit, I have reached burnout for different reasons than the first two metrics of success, but the result is the same. I struggle with time famine, sleep deprivation, inept multi-tasking, diminishing performance, rushing to be late for everything including my daughters' events -- all the things Arianna describes -- and a rapidly increasing level of unabated stress that led to a wake-up call of my own. There was no pool of blood, but it scared me just as much.
It was on the heels of this scare that I began reading Thrive, and I felt that eerie sense of "right time and right place" that really makes you wonder. This is exactly what I needed, at exactly the right moment, in exactly the right format. A week later an email invitation arrived for the live event in New York City -- the timing was uncanny, and I had to go.
The day before was a particularly tough one at work, and I woke up the next morning with pressure in my chest and angst about leaving. There was so much on my plate, and this trip suddenly felt ill-timed. On top of that, I had scheduled a breakfast meeting with a friend to seek her advice about raising capital. I was looking forward to seeing her, but it added to my stress level.
As I shared thoughts rooted in frustration, this friend listened patiently. Then she looked at me and said "stop telling that story, to yourself or anyone else." She suggested I write down on a piece of paper my vision for Prosperity Candle and keep it in my pocket. And I did. I wrote about compassion, creating beautiful gifts, investing in women entrepreneurs and artisans to create change and making a difference. As we stood to go our separate ways, she advised me to go to New York with my thoughts aligned with what I had written -- and what I hoped to find.
And that was the question: What was compelling me to attend the live Thrive event? I wasn't sure; I don't go to these kinds of things. As the train headed south, I tried to figure it out, and my conclusion was kindred spirits. I wanted to be in the presence of others with whom I could share this vision and who in return might embrace it, love it and be inspired to help create it. Turns out that was not what I found, not what I got out of it and not what I was really seeking.
The opening session was about connecting with others, tapping into inner wisdom and making changes in our daily lives to improve well-being. I listened intently, and the ideas fed a hunger I was feeling for a way to re-envision how I approach work, which in recent months has been stuck in overdrive. I drank it all in. Still, that night, I did not follow Arianna's advice. My phone was by my bedside, I had a glass of wine too late and I slept barely five hours. I awoke feeling that familiar pressure in my chest.
Arriving at day two, second double-espresso in hand, I was again unsure of my reason for being there. So while standing in line, I opened Thrive, and there was this now familiar voice sharing wisdom of the ages, from Marcus Aurelius to Andy Warhol, telling me about her own experiences and challenges and the need to constantly course correct. It resonated deeply. I started underlining passages.
And then, unexpectedly, I knew why I had come to New York. I wanted to hear these words and ideas in person. Powerful on paper, compelling on screen, I needed to hear them directly spoken so I could truly embrace them -- so I could believe in them and make important changes in my life.
As I climbed to the balcony level, a feeling of anticipation swept over me. I have never wanted to be in the audience of a talk show, and I don't recall having ever swooned over a celebrity. And yet here I was visibly swooning, as my seat neighbors can attest. I knew why I was there and couldn't wait for the curtain to rise. A woman asked me how it feels to be a man at Thrive Live. "Great," I said, "Really, really great."
I left New York later that day having had only a few conversations. I had not shared the vision of Prosperity Candle, nor connected with anyone who might be inspired to help create it. Yet I was heading home completely fulfilled. It was as if hearing the ideas contained in Thrive directly from the source, and from others who shared the stage, had solidified them inside me. As the train departed Grand Central, I felt one thing: overwhelming gratitude.
And something else: I started to wonder if perhaps I was seeking affirmation to be investing heart and soul into something that measures success so differently. If you prioritize this Third Metric in your professional life, will the other two legs of the stool appear, or will you topple over just as easily as those who prioritize money and influence?
I don't know yet, but at the Thrive event I rediscovered my belief that it's possible. This morning I tried meditating -- something new for me- - and felt an emerging awakening settling in. To listening to your inner wisdom, to the importance of well-being in the workplace and to never letting go of your sense of wonder. Thank you, Arianna and Mika.