Monday was the anniversary of Alfred Lion's death in 1987. The founder of Blue Note - the greatest jazz label of all time - Lion produced some nine hundred records, including Thelonious Monk's first recordings. As I shamelessly promote my book, In The Groove, which features one of the most comprehensive interviews Lion ever gave, I should note that he never took a production credit.
"Whenever you have a Blue Note in your hand," he told me, "and you don't see my name on it, that's the one I made."
Many producers will say they never made a record they didn't like, but perhaps none can say that with such verity as Lion. Inspired by John Hammond's historic "From Spirituals to Swing" concert in 1938, Lion made his first recordings with two of the stars of that concert, Albert Ammons and Meade Lux Lewis. He established the reputation of his fledgling company with Sidney Bechet's classic "Summertime."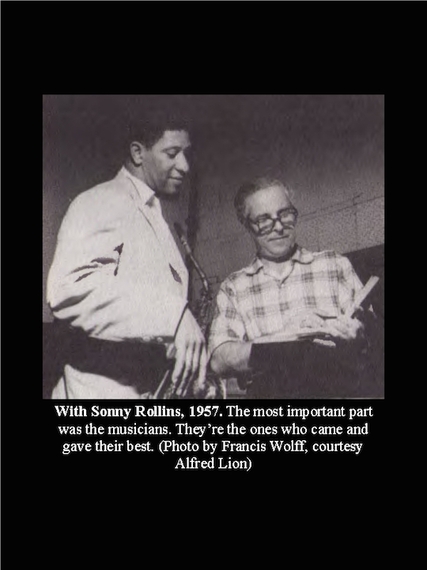 His friend from his native Berlin, Francis Wolff, barely made it out of Nazi Germany in 1941, with Lion's help. Joining with Lion, and guided by their friend and musical advisor, saxophonist Ike Quebec, they began to document the exciting new bebop scene in the mid-forties with Monk, Bud Powell, and young Miles Davis. Lion also recognized the genius of Art Blakey, and made all of the great Jazz Messengers hard bop classics.
Remarkably, and with characteristic self-deprecating candor, this Christopher Columbus of bebop told me he didn't really understand the new sound at first: "I didn't dig it all the way. I'm sorry," he recalled to me. "I didn't, and I'm not the only one who didn't. Then I started to hear...I love drummers. So when I heard Max Roach I said, 'Yeah it's different.' But I didn't know what it all was because I'm not a musician, and I could never read a note. All those years I had Blue Note I went by my ears and by my feeling. So I didn't know what they were doing with different timing and so forth, I just heard the difference. But it started to click for me. I could hear it better."
Many decades before the advent of college music production courses, and the Garage Band app, the founder of the world's most influential jazz record company started making records with absolutely no experience, nor technical know how. When I asked, he couldn't even remember where he made his first recording. "I had no ideas of going into the business yet. I just wanted to make those records," he said. Aided by bottles of bourbon and scotch he cut "the plates."
He liked what he heard and Blue Note was born: "I decided to make some pressings and go into the record business. But I had no idea about how it was done. And what was the competition? Victor. Columbia. Decca. That was all. The three big companies."
In 1953 he hooked up with a young man, Rudy Van Gelder, who would become the greatest jazz engineer of all time with a marvelous studio he built from scratch. At that time, however, Van Gelder was recording sessions in his parent's living room in Hackensack, New Jersey: "It was small. His equipment was limited, naturally," said Lion. "He had a separate booth where he sat behind the glass, and the musicians played out in the living room. We moved all the furniture out, of course. I never changed engineers after that."
In the fifties and sixties Lion and Blue Note started or nurtured the recording careers of Horace Silver, Herbie Nichols, Lou Donaldson, Clifford Brown, Jimmy Smith, and Kenny Burrell... then Jackie McLean, Wayne Shorter, Herbie Hancock, Freddie Hubbard, Donald Byrd, and Andrew Hill, among many others. He also explored the avant-garde with Ornette Coleman, Eric Dolphy, and Cecil Taylor.
"Did you intentionally try to create a group of people who would be associated with Blue Note?" I asked him.
"No, I didn't have that thought at all. It came very naturally. I used the men on the dates that sounded good to me. If the record came out really well, I'd say, let's make him a leader next time. I'd ask him if he had any good material. That's how all those guys developed at Blue Note. Herbie Hancock. Wayne Shorter. Lee Morgan. Now they say I was developing a repertory company, but I didn't dream this up."
Health problems forced Lion to sell out in 1966, and Francis Wolff stayed on until his death in 1971. Blue Note is now owned by a huge multi-national corporation. Lucky for us it has been - first under the brilliant stewardship of Bruce Lundvall, and now, Don Was - both very respectful and very intelligent about preserving and protecting Alfred Lion's treasured legacy. It's all there for us to enjoy today. They've even made sure to remain true to the groundbreaking modernist cover designs of Reid Miles, who, eerily, died six years to the day after Lion.
TED FOX is the author of Showtime at the Apollo: The Story of Harlem's World Famous Theater, the definitive history of the Apollo, and In The Groove: The Men Who Made The Music Business. He produces and manages Grammy-winner Buckwheat Zydeco and lives in upstate New York. Follow Ted Fox on Twitter.