I recently wrote about my crushing experience losing my longtime favorite Chinatown breakfast place. When last heard from, this eager HuffPost/50 blogger and Big Hungry Boy (all praise to Calvin Trillin,) was startlingly and suddenly left without my usual congee breakfast spot when it shuttered unexpectedly. It had been a wonderful long-term relationship, but I ended up feeling blindsided and dumped.

I knew I'd need to find someplace else that would give me that same wonderful feeling of comfort, satisfaction and pleasure I'd gotten all those years from my usual place. Tough though, because getting back into the congee game -- well, any game -- at this point in my life was bound to be a disorienting experience. I moped, felt a little sorry for myself, even lost my desire. But then, as it will for most of us, the urge returned.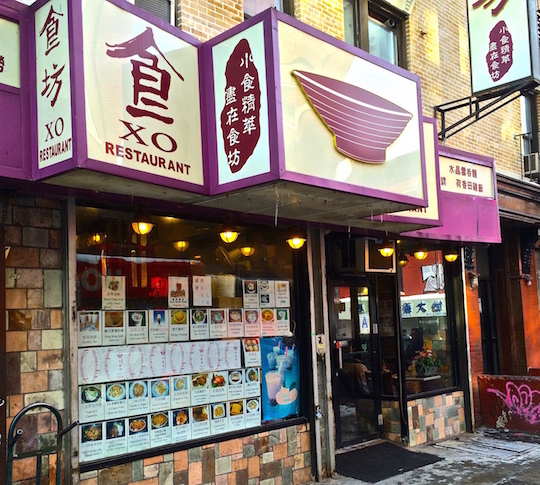 I made myself get back out there and find a new place. I walked the streets of Chinatown looking. I even went online, which these days is really the best way to find new loves. I guess I should know better by now, but I have to admit that on the rebound I made some of my old mistakes. Out of desperation I went into a couple of places that were clearly inappropriate, and was not proud of myself after.

I went back to my old longtime favorite, and first-ever congee spot, Big Wong, on Mott Street. That brought back some sweet memories and was nicely comforting -- they still knew how to put out a bowl of rice gruel after all these years -- but, you know, you really can't go back can you?

I even for the first time tried breakfast at one of my favorite Cantonese spots -- a place I've had countless big family-style dinners over the years. I shouldn't have mixed meals and gone there for breakfast. It was OK, but not really the way I like it. I had crossed a line that was now awkward to step back over. These days when I pass it by on my way to some other place, I feel ashamed. Don't look for your cheung fun in the wrong places.
But, for joy, life does go on, doesn't it? To paraphrase Confucius, "By three methods we may learn wisdom: first, by reflection; second, by imitation; and third, by experience." In this case I called upon all three. On a picture perfect New York morning, after conducting a bit of 21st century online research, I nosed out a prospect and, putting my best foot forward, gave it a shot...

This is one nutty place, on Hester Street just west of the Bowery. I've passed it a million times, but was always put off by the dozens of laminated color photos of intriguing, unusual and somewhat weird dishes, like baked minced beef over rice with cheese! Some prices were listed like one of those camera shops in Times Square that are always going out of business: "Was $9.95, now only $6.95!" One entire front window was covered with signs, and they were plastered everywhere inside. Pretty flashy for me.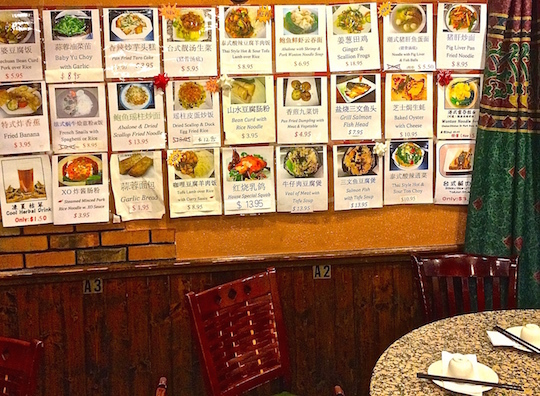 I took the plunge and tried the usual: Cheung fun noodles with dried shrimp came first, and they were superb -- plentiful, nicely chewy and briny. The noodles themselves had the perfect freshness of my former love, but were so much more substantial. Then came the congee. Wow! It was served in a volcanically hot small cast iron Dutch oven, and it was...fan-tas-tic! I've never had it like that before.
See? You can't keep guys like me down for long. We've been around. We always find a way to bounce back. The price was a bit steeper than my former spot: $8.11 vs. $6.25. But, hey, I'm a man of the world and nothing if not a sport.
Finally, guys my age generally pay close attention to the bathroom situation, especially after a well hydrated bike ride, a big bowl of soup and a couple of cups of hot tea. The men's room in this new place easily passed muster -- and had yet another laminated message about keeping foreign items out of the toilet signed "the administration." I'm dying to get to know "the administration," and the mad genius behind the great food, wacky menu, and iconoclastic marketing mentality. I think this may be the beginning of a beautiful relationship. As the great Sammy Cahn wrote, "love is lovelier, the second time around." By the way, the name of this new place is, I kid you not, XO.
TED FOX is the author of Showtime at the Apollo: The Story of Harlem's World Famous Theater, the definitive history of the Apollo, and In The Groove: The Men Who Made The Music Business. He produces and manages Grammy-winner Buckwheat Zydeco, is a co-owner of Mexicue, and lives New York. Follow Ted Fox on Twitter.