As president of fashion brand Citizens Of Humanity, Amy Williams's charge goes beyond selling more than a million pairs of jeans per year -- founder Jerome Dahan also enlisted Williams to guide Citizens in a direction that promotes a culture of creativity and philanthropy. To that end, the brand is launching "Just Like You," a video series profiling the creative journeys of eclectic cultural leaders, all of whom are participating entirely for charity and designing t-shirts that will be sold to benefit causes of their choice. I caught up with the former Gap and Lucky Brand executive about the campaign, which kicks off with dance legend Mikhail Baryshnikov and Dahan as its first two subjects.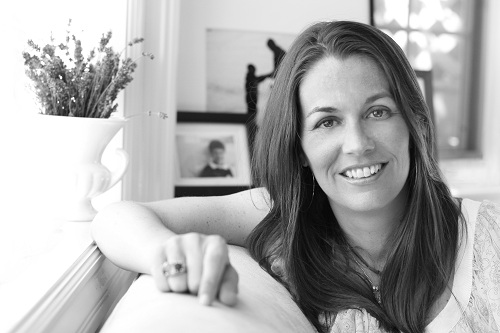 Tell us about "Just Like You" program. What is the goal?
"Just Like You" is a yearlong video series exploring the creative paths of visionaries who inspire our brand in the hopes of empowering the audience to realize their own creative potential. Each of these creative leaders, which include Michelin-starred chefs, artists, designers and athletes, will be sitting down to talk about their creative journey and will also collaborate with the brand on the design of t-shirts that will be sold to benefit of charity of their choice.
The campaign concept came from a conversation I had one day with Jerome and our director, Jared, who is a major documentary filmmaker and Creative Director of Strategic Branding. Jerome was talking about why he started the company and two things emerged; one, that we were really inspired by hearing about his creative journey; and two, that so much of the brand's DNA comes from Jerome's influences -- the creative community whom he calls "Citizens." So we thought that the best way to give the brand's audience deeper insight into who we are would be to share insights from our influences.
Our goal is to build a stronger community -- creatively and philanthropically. By sharing the insights into achieving creative success from "Citizens" like Baryshnikov, we hope to inspire that "they are just like me" moment in our audience to pursue their own creative passions. And of course, being a good "Citizen" means giving back, and so that's where the t-shirts and making donations to subjects' charities comes in. This also helps raise awareness and interest in these groups so people can get involved.
MIKHAIL BARYSHNIKOV: JUST LIKE YOU from Citizens of Humanity on Vimeo.
What is Baryshnikov's role in the campaign? Who else can we expect?
Baryshnikov is an inspiration. Clearly put, he is one of, if not the greatest, ballet dancer of all time. Even more so, he is an incredible person who has pursued his dream, regardless of obstacles he faced. As someone in her mid-40's, I can remember the news about his defection from the Soviet Union in 1974, leaving his country so he could dance and train as he imagined. His life as a dancer, choreographer, mentor, actor, and person are all equally inspiring. When you see the video of him, you cannot help but reflect on your own life and think deeply about becoming the best you can become. Humble, kind, a mentor to many, he is a true inspiration to us.
Baryshnikov now supports the arts through education at his Baryshnikov Arts Center (BAC), and we are so impressed by his ongoing efforts to provide for artists. He recognized what we were doing as a platform to help build a strong community and a better world.
There are a number of really inspiring, height-of-their-field, incredible individuals that we have filmed. The range of passions and fields is wide, but they all share lessons that inspire us. Each person leaves us thinking a bit more about the life we live and lessons to be learned. Each month, we will share two unique people and their stories.
JEROME DAHAN: JUST LIKE YOU from Citizens of Humanity on Vimeo.
What does the campaign have to do with fashion?
These creative leaders are major influences to us in every sense, from Jerome's design process to the environment we aspire to create at citizens. We see this program as an opportunity to tell a full story of who we are, what we do and what we love. This includes creating great product, aligning with talented partners and people, deepening our relationships with our sales accounts, creating and supporting interesting investments, and developing inspiring and interesting content.
Jerome, myself, and the team at Citizens share similar beliefs to follow your passions, overcome obstacles and be open to ongoing learning in all aspects of your life. "Just Like You" tells the story of those that inspire us and that we believe will inspire others.
What are some of the reoccurring creative lessons you've noticed from artists like Baryshnikov?
The overall theme that everyone speaks about is working hard and dedicating yourself to that pursuit; there are no shortcuts to success in any field; you have to be willing to accept failure and be able to push through it and find your strengths. It's also about doing what you do because it's a passion and that you couldn't imagine doing something different. The success (however that's defined) will come in time... but is secondary to doing what you love. And all of them see themselves as a part of the greater creative community -- there seems to be a real respect among this level of achiever for the people who have influenced them.