It's difficult to find low-cost children's toys that combine entertainment with education, but Christine Mladic has done just that with YoBlocks, small blocks with personalized photos. I spoke with the company's founder about her inspiration for the toys, their benefits for kids, and how she is growing her small business.
What inspired you to come up with YoBlocks?
Seven years ago, with my niece's birthday approaching, I set out to find her a unique and meaningful gift. Unimpressed with the mass-produced plastic cash registers, princess games, and TV-inspired figurines I found at toy stores, I began to think about trying to make something that could capture her interests and present real opportunities for learning through play. As a photographer and visual artist, I embraced the challenge. I looked to my niece for inspiration: she erupted with joy at the smiling faces of family and friends, adored pictures of herself, and she could stop crying -- instantly -- at the sight of an avocado. So I took photos from her own life experiences, photos of those closest to her and photos of her favorite animals and healthy foods, organized them by color, and attached them to the sides of painted wooden blocks. On her birthday, she crawled into the box and sat among the blocks. She picked them up one by one, turning them in her little hands, raising her eyebrows and smiling at each photo. At that moment, I knew that this concept -- which I've come to call YoBlocks -- was something special. Over the years, I've continued to make YoBlocks for friends and family members, and I've seen the scope of the idea deepen and expand. There is an extraordinary amount of creative license and possibility in both how the blocks are made and how they are used in play, which convinced me that this was a project worth pursuing. I've now launched a small business around YoBlocks, through which customers can design personalized photo blocks using images from our online photo collections and/or their own digital photos.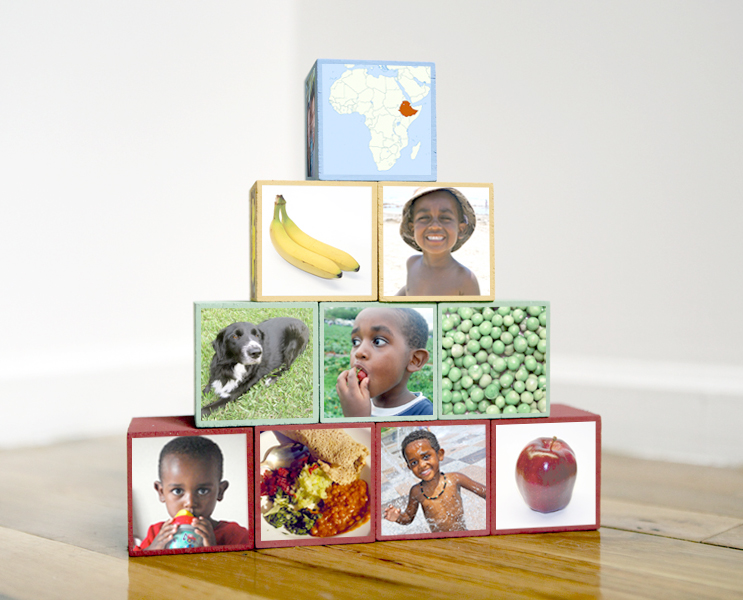 What benefits can YoBlocks have for kids?
Kids like to look at themselves. And kids have their own personalities--some are obsessed with elephants, others with school buses or frozen green beans. Because you can design YoBlocks using photos that speak to a child's personal interests, a different kind of connection can happen. For families that are spread out across the country and around the globe, photos of faraway grandparents, aunts, uncles, and cousins can be profoundly exciting, and enable a more interactive experience than just looking at digital photos on a computer. YoBlocks can be personalized to help a child with specific concepts through guided activities--of particular benefit for visual learners. Children with a multicultural heritage or families with an interest in promoting global awareness can benefit from international photos, especially when parents share in play. YoBlocks can spark speech, help develop language skills, and promote storytelling. Creative design of the blocks can introduce more ways of engaging with them: YoBlocks can be turned into puzzles, like the Manhattan skyline, and can depict sequences for ordering, like images of an apple being eaten. Such image sequence work is an excellent pre-reading activity. One preschool teacher told me that for kids, play is hard work; it's the way kids learn how to exist and behave in the world. Behind the imaginative acts of constructing pyramids, walls, and towers are opportunities for the development of motor skills, the practicing of counting and image sorting, and memory exercises.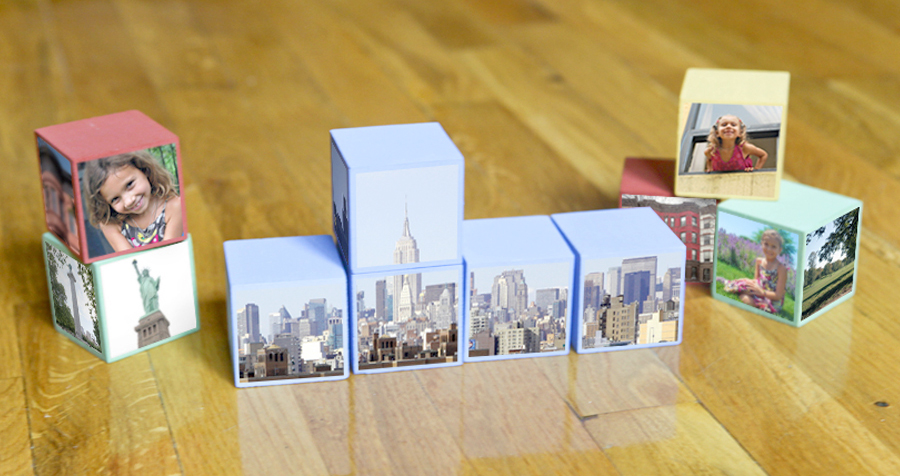 What made you want to start your own business?
At first, the notion that I could turn YoBlocks into a small business intrigued me. I could see from family and friends that the blocks are useful and long-lasting -- my niece still plays with her set seven years later. But with a background in art and communications (not in business), and a lack of capital to invest, I didn't think that I should pursue it. Many years later, I've changed my mind -- not necessarily because I now have sufficient business experience, but perhaps because I am more determined to seek out the appropriate information and resources. Another influence on my decision is the current economy. After listening to the multitude of reports about the sluggish job market and frustrating unemployment rates, I found myself among the many who are wondering how we should move forward, and who is responsible for our doing so. It seems unlikely that any one person, entity, or sector could solve these enormous problems, and it's clear that different proposed solutions express different values. While launching a business isn't for everyone, and can't be a general, recommended solution, I thought it would be an interesting -- although slightly risky -- experiment. I envisioned a business with environmentally-responsible practices, a pleasant work atmosphere, respectable compensation and health insurance for local area employees. Is this realistic? I'm not sure, but curious to find out. I therefore decided to start YoBlocks, and run this test: is it possible for someone with a formal education, professional experience in communications, an abundance of determination--but no formal training in business and limited capital -- to be a (very small, almost imperceptible) part of the solution by creating a small business that could lead to jobs? I guess time will tell.
How are you marketing YoBlocks?
We currently have a YoBlocks website and we post on Twitter, where we regularly share news about the adventures of running a business, give updates about our products, and post photos and videos. There is also a YoBlocks Etsy store, through which all purchases are made -- including gift certificates and pre-designed (not personalized) sets of YoBlocks. For those living in New York City, we are launching "Block Parties," in which one of our associates visits with a group of at least four customers to offer in-person technical and design guidance as the group prepares its personalized YoBlocks orders. You can also find us passing out info at local farmers markets and cafes around the NYC area.