I never would have imagined that I would find my children and myself facing homelessness. At the time, I was just barely making ends meet and in the month of December 2013 I was finalizing my divorce and was laid off from my job. I felt hopeless and uncertain of what tomorrow would bring, but one thing that I knew for sure is that storms will come, God was with us and one day it all had to pass.
Every day my children and I encouraged each other and made the best out of our situation. I have always encouraged others and found myself on the other side needing encouragement and thinking: What would I tell those that I encouraged every day? Would I tell them how horrible I felt and how my faith was growing weary or continue to spread good news? Now, I could have complained about my situation, but it would have only made matters worse, but instead, I immediately started writing and continued to encourage my peers, despite my situation; and in return, I found that I was also encouraging myself.
What I have experienced would have caused many to lose their mind, but I had to keep moving forward. Many of you may be at a place of despair and uncertain of what tomorrow may bring, but know it's at that moment when opportunity knocks. Trust that where you are is only temporary and your current situation will soon be behind you. Use each experience in your life as a road map to find your purpose in life, and use your story to inspire others; and in return, it will inspire you to keep going. While my children and I were in transition, I reached out to Arianna Huffington and expressed my dreams and the strong desire I had to inspire the world; and a few months later, Arianna responded and featured me in the Huffington Post and suggested that my first post be about redefining success.
It was then I was certain of my purpose, and that moment inspired me to keep going after my dreams and encouraging others to keep believing in their own. Know that regardless of what it may look like right now you are not alone and there is someone in some part of the world seconds away from taking their very last breath, so know that you still have a chance to live your best life. Each day you awaken, encourage yourself and make the best of each day for you will soon be well on your way to something greater. You must believe in yourself, and know that you are not a failure, but an "overcomer," that has just added another amazing chapter to your story.
I believe that each obstacle we face is only a reminder of how human we are and that there is nothing one can't achieve if only they believe and give this life your very best. While you are in transition from one season to the next, prepare for the very best and know that whatever you so desire will one day manifest into something one could only imagine. Stay positive and give what you can, I know many may say how can I give and I have nothing. Well I was once in a place of despair and even at my lowest: I gave what I could at that time because I knew it would return to me in ways that I didn't think of. Watch the words you speak and know that every word you speak has power and an energy to change your situation for better or for worse.
My friend, you are every bit of amazing and despite your trials know that you were created to win. There will be other storms ahead that you will face, yet take each trial as a lesson and share what you've learned with others. Remain humble and love like every day is your last. One day, you will look back at this moment in your life and be reminded of how amazing you really are because just when you were ready to give up; you chose to keep going. That is what I call redefining success!
Our storm is over and our faith was made even stronger because of it. I continue to go after my dreams and inspire others to dream big along the way. I pray that this message has encouraged you to thrive and dream big.
Thank you, Arianna Huffington.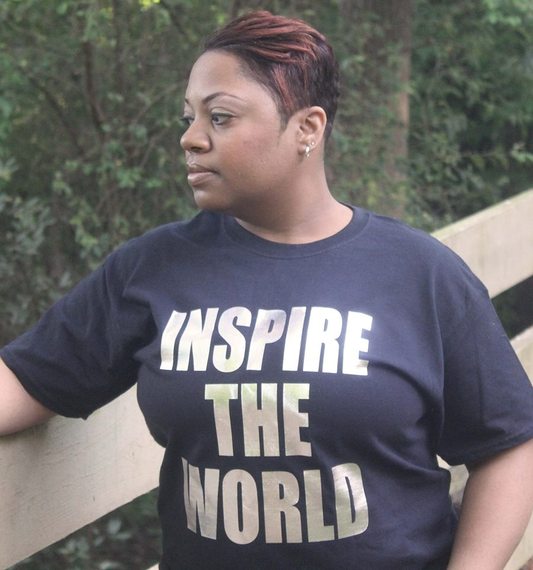 Tenille Livingston pictured here