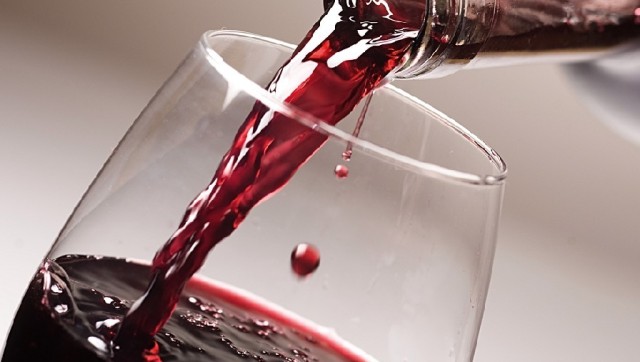 David Kennard leans lovingly over the glass before him, which is filled with the somber beauty of a vintage French pinot noir. He surveys the wine a moment, and then takes a sip, enjoying every sensation that it gives him. "We spent one full year with people who make wine like no one else in the world," he says, "and that's how we filmed A Year in Burgundy."
Kennard has made many signature documentary films. In 1973, he co-directed the remarkable The Ascent of Man, written and hosted by scholar and writer Jacob Bronowski. The senior producer and co-director of the 1980 series Cosmos, with the redoubtable Carl Sagan as narrator and host, Kennard succeeded in introducing a worldwide audience to the workings of the universe itself. He performed the same functions for the recent Michael Tilson Thomas Keeping Score music series, which, like the others, was featured on PBS. He has taken his camera to many, many other venues, the most recent being the famed Burgundy winemaking terroir.
"One place that had eluded me all those years was France," he says, "and not only France, but what they call 'le tissu rural,' the kind of cultural cloth that holds the soul of France together. The French love that idea. I wanted to make a film about it, and French wine was the way to do it. I love wine. Who doesn't?"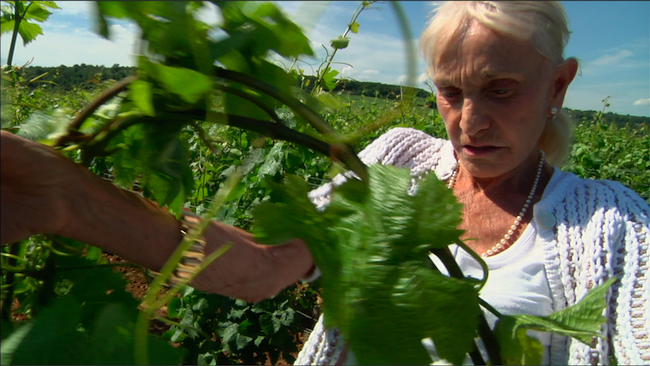 Lalou Bize-Leroy. Photo courtesy of InCA Productions. Used with permission.
So Kennard set out to introduce us to six Burgundian vintners, and to show what their lives are like through a single year of grape-growing, harvesting and winemaking. These are family-owned vineyards, not one of them larger than a dozen hectares. Some of the vintners are very old school, like Lalou Bize-Leroy of Domaine de la Romanée Conti and Domaine Leroy, who runs the tightest ship imaginable, personally supervising every aspect of wine production that comes from her vineyard's harvest. Others -- like Christophe Perrot-Minot of Domaine Perrot-Minot -- are more inclined to 21st-century technology and the latest methods for scientific analysis in the growing and harvesting of the grapes and the making of wine. But all the vintners shown in this film deeply love the processes involved, and find a depth of soul in the undertaking that comes across very clearly and with great charm.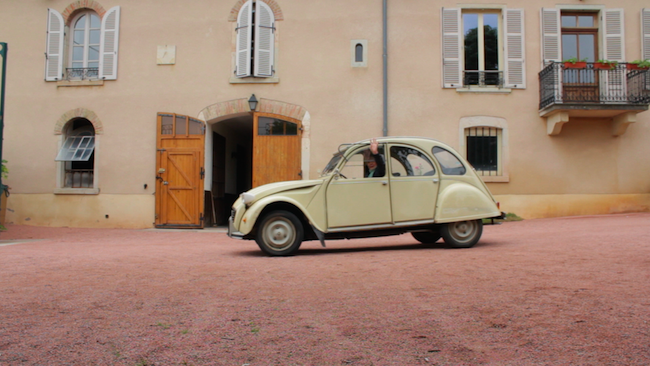 Martine Saunier in her 2-cheveaux. Photo courtesy of InCA Productions. Used with permission.
Kennard is guided in his search by the renowned San Francisco wine importer Martine Saunier, who was born in Burgundy and whose family still maintains a home there. "She has such style," Kennard says, "and such a puckish sense of humor that I thought she would be perfect for the film. And, of course, she really knows her wines." Kennard writes about the film that "we get to know our wine makers: they are artists whose personalities shape the flavor and style of the wines they lovingly craft. There is joy, fear, anxiety, triumph and laughter in their experiences. We get a sense of the deep history involved."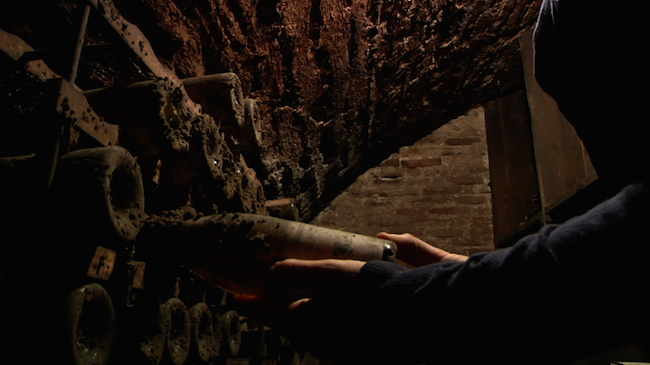 Photo courtesy of InCA Productions. Used with permission.
Winemaking in Burgundy suffered badly during the Middle Ages, so much so that in the 12th century the order of Cistercian monks founded their own operations. They needed sacramental wine for the Catholic Mass. Once they had constructed the vineyard itself (about 60 hectares) the monks built a sturdy stone wall around it, and two hundred or so years later, they refurbished a small chapel and a few other nearby buildings, adding to them in order to construct the Chateau du Clos de Vougeot, which was completed in 1551. The wall and the chateau remain the visual symbols of Burgundy's true eminence. Extraordinary winemaking throughout the region has been the continuous result.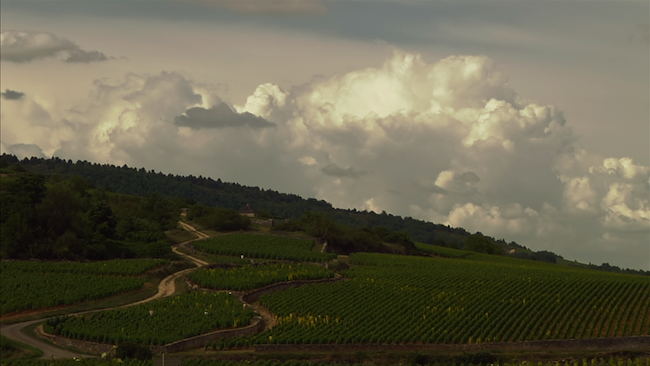 Photo courtesy of InCA Productions. Used with permission.
"From the very moment we arrived in Burgundy, in April 2011, I started shooting," Kennard says. "That wonderful pale light on the chateaux high up in the hills. And once we got to know our vintners, we discovered how incredibly connected they are to the weather, the seasons, the earth. The sense of place, and how deeply rooted these people are in that place. Above all, it's extraordinary to be among a community of people who are driven by a profound passion for something so life giving."
In one of its most affecting scenes, the film records a marvelous summer banquet held at the vineyard of Michel Morey and Fabienne Coffinet. The many guests are bathed in Burgundian light, the food is sumptuous and hearty (which in the context of French cooking means completely delicious) and laughter and fellow feeling abound. Naturally, there is quite a lot of wine as well.
"It's a business. It's demanding and difficult, like all businesses," Kennard explains, "but they feel incredibly lucky to be doing what they do, and I wanted to make as good and simple a film as what they do to make these great wines."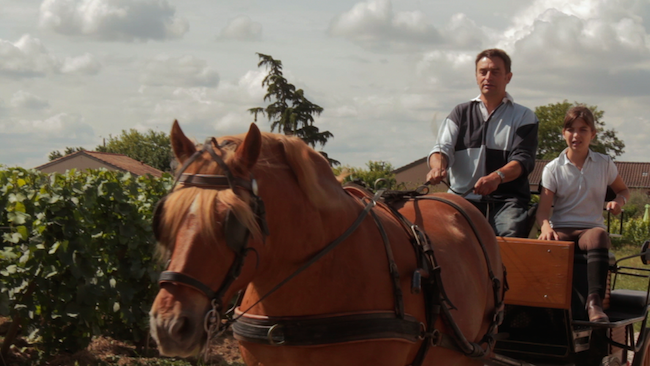 Dominique Cornin. Photo courtesy of InCA Productions. Used with permission.
About A Year in Burgundy, La Revue de Vin de France says, "The film lovingly describes the creation of the 2011 vintage: a poignant vision of the heritage of family winemaking," while Decanter Magazine declares, "This film is a paean to an ancient craft without a hint of bombast or polemic, gentle and old-fashioned and at some moments, like the closing scenes of autumn smoke rising from the pruners' fires, it's lyrical. Its triumph is to humanize everything it touches."
A Year in Burgundy will have its world premier at this year's prestigious Santa Barbara International Film Festival in California. Screenings will be on Saturday, January 26 at 1 p.m. and Saturday, February 2 at 7 p.m.
Terence Clarke's new novel The Notorious Dream of Jesús Lázaro will be published later this year.