When asked the reason for going into the business, many restaurateurs will reply with some variation of the phrase "Because you're nuts!" The sheer amount of time required to bring a restaurant or café to fruition, and then to maintain it, is numbing. Seven days a week, and long hours on each of those days, is de rigueur.
And then there's the money... no person whom I know who has actually opened a restaurant or café has claimed to have properly assessed beforehand how much it would cost. Then, after you open the door, your labor costs alone can drive you under. There is the cost of supplies, food and drink, plus equipment upkeep, insurance, janitorial services, plates, cups, silverware, napkins...
One could ask, "Is a great cup of coffee and a superb sandwich worth it?"
For Amanda Michael, founder and chef at Jane, the very busy café on Fillmore Street in San Francisco, one big "yes" drowned out almost all the "no"s. "I didn't want to look back years from now and think that I hadn't really done something. It's a matter of the heart. There's a window in life when you can do things, and I wanted to be able to look through that window, open it and see what was on the other side."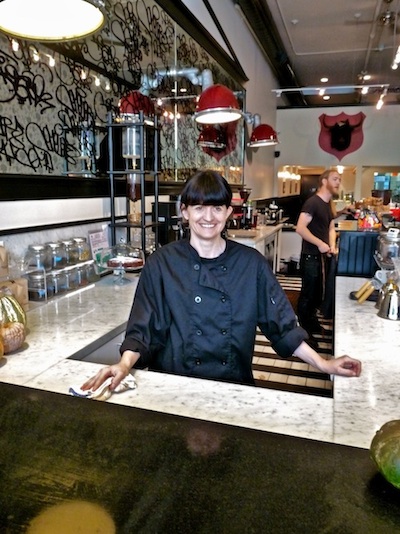 Photo courtesy of Terence Clarke
Standing at Jane's counter, Amanda recollects her own thoughts before she finally took the plunge: "It was something that I did think very seriously of not doing, because it's a terrible notion, really." She shrugs, patting the side of the light burgundy-colored La Marzocco espresso machine that takes a commanding position on one end of the counter. "Who would want to? No one who had any good ideas would do such a thing."
Few people would also have the idea of a scrambled egg panini with cheddar cheese and a specially made tomato chutney, or the roasted Diestel turkey and provolone panini with cranberry relish and arugula, early items on Amanda's lunch menu that remain patron favorites. There is as well the inestimable Mediterranean quinoa salad with spinach, ample amounts of tomato, peppers and cucumber -- a fresh delight that goes perfectly with Jane's signature tomato soup.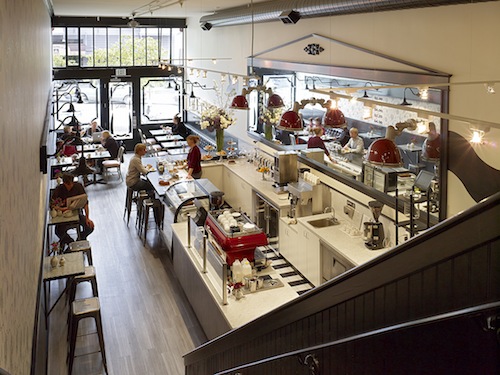 Photo courtesy of Matthew Millman
Amanda grins as she gestures toward one of the expansive windows of this Ken Fulk-designed café. "My husband Michael and I have known Ken for years. He's got such incredible taste. Sharp but comfortable design. People really enjoy it. So I never considered working with anyone else."
A large wall mirror parallels almost the entire length of the counter, reflecting white wallpaper that is printed with a finely silhouetted black floral motif. The mirror serves, seemingly, to double the café's size. Attached to it are three very large industrial light fixtures, each of which features a burgundy-colored metal global shade. Found at a Bay Area flea market, these fixtures, despite their original utilitarian purpose (they were built for use in shipyards), provide a kind of colorful swagger to the place that is unique.
Bright sunlight flows across the tables, all of which were occupied when I visited the café. The light reaches the counter also, where many more patrons sit conversing, enjoying their coffee, the pastries and the 1970s London coffee-house chic that so informs Jane's design.
And how did she know that the light fixtures and the espresso machine would be colored the same, in what appears to be another design decision? "The espresso machine sat in its box for a couple of months while we were building the café," Amanda says. "We had ordered a silver one. But once the mirror and the lights were in place, and the counter, we opened the box and saw that the color on the machine wasn't what we had ordered, but that it did match the lights. So we loved it. It fit right in."
Amanda attended Vassar College in New York and Mills College in California, and the jobs she held for extra money as a student were always in the food industry. "I liked it," she says, "I really liked it." Nonetheless, after graduating with a degree in English Literature, she went to work for a computer-industry magazine, writing reviews of hardware. "That I hated. Articles about hard drives? I could care less."
To revive her spirits after a day's work, she would cook. "And it got to be something I really looked forward to, every day. Something I wanted to do." She took some classes at Tante Marie Cooking School in San Francisco, although the light that drove her soul was her own, "Really, as a chef, I'm self-taught."
Eventually, she went to work at the Ritz Carlton in San Francisco and became the principal pastry chef at Plump Jack in Squaw Valley, California, before returning to San Francisco to do the same at Plump Jack in the city and at the storied Balboa Café.
After that, there were kids, Amanda's son Gus and then her daughter Jane, who are now 14 and 12 respectively. "I kept cooking the whole time," she says, and she began thinking a year or so ago about getting back into the business:
"I had volunteered at the schools. I'd done all sorts of fund-raising for charitable causes. I was good at all that, but there were still more 'no's than 'yes's. One thing I knew, though, was that I did not want to work for someone else this time around. I wanted to go out on my own."
Upper Fillmore Street in San Francisco borders the posh Pacific Heights neighborhood, and is a five-minute walk from the California Pacific Medical Center that dominates several city blocks nearby. The quarter-mile length of Fillmore from Jackson Street down the hill to Geary has been filled for years with shops, movie theaters, finely tuned little restaurants and book stores. But Amanda says "this was a neighborhood where there was a big hole in terms of coffee."
Amanda and Michael would regularly get on their Vespas (hers is black, his black and red) and go all the way to the Mission District, to Four Barrel Coffee, which was their favorite. Once her café Jane was under construction, Amanda's first choice for the coffee she would serve was Four Barrel.
"Also, there's no real bakery in this neighborhood. I myself won't eat stuff that's made in a factory, and I wanted to provide fare to a clientele that feels the same. I could hear people being unhappy about the fact that there were no good baked goods on the street. So that was another good reason to say 'yes' to the idea of doing Jane."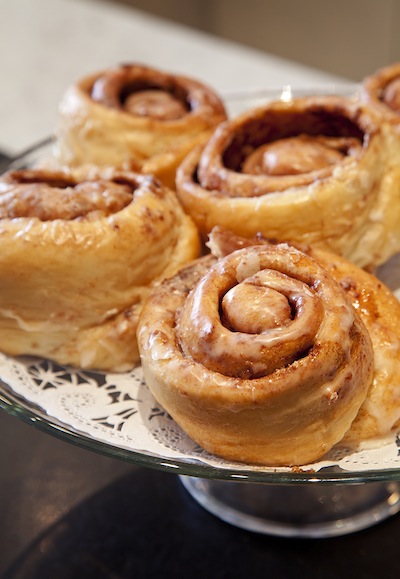 Photo courtesy of Matthew Millman
What Amanda wanted to provide was food that was "all healthy. No artificial ingredients. Not a lot of sugar. Whole grains. Muffins to die for." The baked goods are indeed as elegant as they are homey, richly filled with fresh fruit and other ingredients, a selection of muffins, breads, cookies and cakes that changes every day. All of them made exclusively by Amanda. The blueberry muffin, for one, is large and properly damp inside, the berries residing at the bottom of the muffin like a goldmine of sweet.
When asked if she places the berries there and then fills the rest of the muffin-pan receptacles with batter, Amanda demurs. "No, the blueberries are an integral part of the batter. It's just that they're so rich that they sink to the bottom naturally."
For Amanda, the hardest part of doing this business, which has a staff of a dozen people, lies in the literal managing of it. "I don't mind the long hours. But being a woman running a place like this can be difficult. It doesn't matter that there are so many women in the restaurant business now. Both sexes have difficulty taking orders from a woman." Amanda stares a moment into her open hands. "If a man orders you around, that's what you expect. If a woman does it, she often gets labeled as a bitch." She glances across the crowded room. "I don't care for that much. But this is a business, and you have to be tough."
A visit to Yelp gives a precise idea of how favorably people are reacting to this café. But what about Amanda? After the remarkable success that Jane has seen in its eight months of existence, does she still hear the "no"s? She points out the several dozen patrons, all in conversation, reading, or working on their computers. Light glimmers across the grand mirror.
"Opening a café like this is not for the faint of heart, believe me. But it's fun. Satisfying. It makes people happy, and I feel that if you're giving people pleasure, that's what you should be doing."
Jane is located at 2123 Fillmore Street, San Francisco, Calif.