"When I was 12," Mike Campbell says, "I was taking piano lessons, and despised them. So as a trade, my mom said, 'OK, you cook dinner for us four nights a week. And if that works out, no more piano.'" Mike takes up one of the lamb chops he is preparing for our dinner this evening. "That sounded pretty cool to me. So now, here I am!"
We often associate the rise of great, innovative chefs with world capitals... Paris, Venice, New York and the like. But Mike lives with his wife Monica and two children outside Darby, Montana, and Darby is not New York. It has a population of maybe a thousand people and is located at the far southern end of the Bitterroot Valley, near the border with Idaho. Here there is superb fresh-water fishing, riding, big game hunting and any number of other sports devoted to the wild outdoors. You have to be an adventurer to live in this part of The West, and Mike is surely one of those.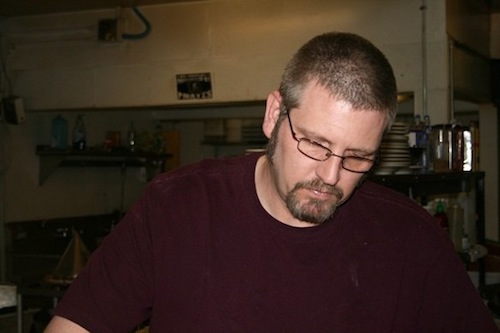 Photo courtesy of The Little Blue Joint. Used with permission.
He is the personal chef now for a wealthy San Francisco family that has a large spread just outside Darby, and he also recently opened a new and very successful restaurant in Darby itself, The Little Blue Joint.
Last year, Mike embarked upon another new concept, new at least for Montana.
"I'd been reading about food trucks," he says. "But not a roach coach, none of that. No greasy, crappy doughnuts wrapped in plastic in a corporate factory somewhere. No gross Sloppy Joes. I was reading about these trucks that serve quality foods. Hamburgers, yes, but great hamburgers. Refined burritos. Superb Italian." As he is speaking, Mike's voice brims with enthusiasm. "Lamb chops! Really good ethnic foods. Fresh. Prepared right there!"
Such trucks are already a staple in most cities in the U.S. In San Francisco, where I live, they have become a beloved institution. Reading about these successes, Mike decided, "I can do that."
But, in Darby?
In 1996, 26 years old and a rising star, Mike was already executive chef at Tuscany, the critically acclaimed Italian restaurant in Salt Lake City, Utah. In time, Tuscany's investment group, put together by owner Marc Eaton, a former star with the Utah Jazz basketball team, asked Mike also to oversee the operations of several other new restaurants in the western United States. The travel, the overwork and the internecine battles finally persuaded Mike to go out on his own, and now he and his family are in Darby.
"So, I wanted to do this food truck idea," Mike says. "I looked around for the right kind of vehicle, and found a new one at a good price right here in Darby.
Did he have investors?
"Sure. Before I bought the truck, I asked the owner if I could borrow it. I went to the parking lot of People's Market, the only supermarket here in Darby. They let me put out a sign, and I offered different things to people who came to see the truck -- all locals, of course. Give me 75 bucks here and you get your name on the truck. One hundred bucks there and you get something else. All kinds of people joined in. They loved it. Community investing!"
Who did the kitchen inside the truck?
"I did. Over the years, I'd collected a lot of restaurant equipment, and I outfitted the truck with a full professional kitchen. I did it by myself. Plumbing. Electrical. All to code."
A month later, in freezing mid-winter, alone, Mike drove the truck -- called "The Blue Phoenix" -- to Watford City, North Dakota. An enormous boom in oil exploration is taking place in that state now, and Watford City was awash with oil-field workers. "So many people," Mike says. "And no restaurants. It's a culinary wasteland up there. So at first, oil field workers came. Breakfast, lunch and dinner. Then, locals started to try us out, and after that... well, everyone came."
Mike was making money, and saw a rosy future.
"Then the city council of Watford saw what was happening, and they proposed changing local ordinances, so that they could get in on the action. Basically, they passed an ordinance that required me to pay the city 3,000 dollars a month, as a fee. A couple of other food truckers were there at that meeting, and I stood up and refused to pay. I turned to the other guys and said 'Look, the thing to do now is to get into your friggin' trucks and drive away!' Basically we'd been working seven days a week through the winter, more than 12 hours a day, on our own, feeding all these people, and now we were being punished for it. Nobody holds me for ransom. I don't play that game. 'Drive away!' I said. And I did."
Now back in Darby, Mike divides his time between his position as a private chef and The Little Blue Joint. When we were there for dinner one recent Tuesday evening, the newly christened eatery was packed with locals, tourists and one particularly boisterous group of fire fighters, ever vigilant in the tough, late summer fire season in Montana. "Everything's a blur, it's all happening so fast," Mike says.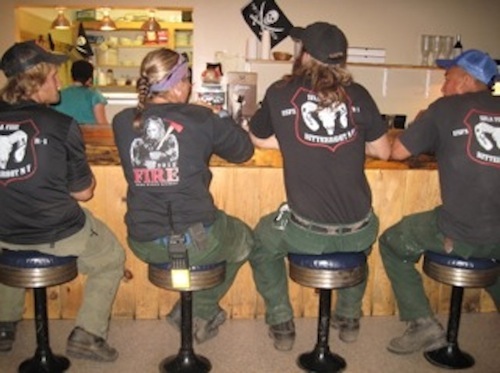 Photo: Beatrice Bowles. Used with permission.
The Blue Phoenix truck is resting for the moment, but it will be rolled out again soon as a catering vehicle providing new, inventive cuisine for large private parties in the Bitterroot Valley.
"I love food," Mike says. "I love to cook and to make people happy with food. That's why I do all this. If I hand somebody a plate, either with a hamburger on it that will knock your lights out or the most refined, most beautifully prepared filet mignon, when I see that smile on the patron's face... that's why I do it."