Contemporary Argentine tango dance has become a worldwide phenomenon. The music that accompanies the dance, though, is still thought to be mostly a Buenos Aires/Montevideo event. However, just as the dance is flourishing with new names and stellar talents in far-flung capitals, so is the music of tango.
But this is nothing new. Astor Piazzolla, the most recognized composer and purveyor of tango in the 20th century (with the probable exception of Carlos Gardel) was raised in Manhattan. One of his principal pianists, Pablo Ziegler, has lived and composed in New York City for years, as well as the stellar bandoneonistas Hector Del Curto and Daniel Binelli. When she is not touring in Argentina, Europe and the United States, Latin Grammy-nominated singer María Volonté lives a good deal of the time in the San Francisco Bay Area. As important, a number of younger U.S. and European tango bands are now coming very much into their own, and one of the most prominent is San Francisco's Trio Garufa.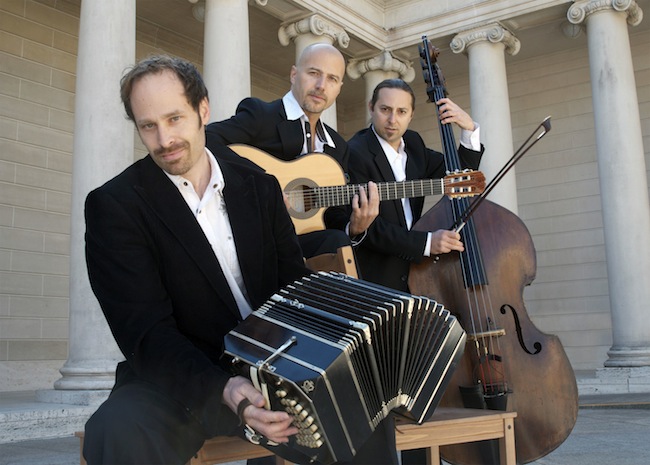 (L. to R.) Adrian Jost, Guillermo García, Sascha Jacobsen. Photo by Kristine Adams. Used with permission.
Adrian Jost, Guillermo García and Sascha Jacobsen give a truly international tone to this very tanguero band. García is the only Argentine. "I was born in Bahia Blanca, a southern port of Argentina, where I started playing tango music at the age of 10, and classical guitar at age 15." In 1996, García founded the group Flor de Tango, which produced one CD.
Bandoneonista Adrian Jost grew up in the French Riviera of Switzerland, where, he says, "drawn by a fascination with buttons, I started playing the accordion at the age of six. My passion for tango started in Chicago where, in the milongas (i.e. tango dance parties), I would dance 'til dawn."
Bassist Sascha Jacobsen comes from a long line of professional musicians. His great, great, great, great-grandfather played bass for the Moscow Opera, and his great-grandfather, also named Sascha Jacobsen, was concertmaster for The Los Angeles Philharmonic Orchestra.
García and Jost founded Trio Garufa in 2001. Electrical engineers specializing in digital audio signal processing, each had a strong love for and performance background in music. Argentine tango at the time was in the midst of its still ongoing advance toward worldwide popularity. The dance was the thing, and Argentine maestros covered the world teaching the steps, the sequences and the musical basis for the form.
It was tough, though, to find a live band in the United States that really knew what it was doing. Trio Garufa realized what they wanted from the start. "I was very interested in the music and the dance," Jost says. "At the milongas, as I danced to all those tangos over and over, they would stick in my head. It became important to me to make many of our tangos danceable, playing and exchanging the melodies, voices and counter-voices that I remembered from the milongas, while keeping an interesting 'comping' groove."
The rhythms of tango -- or at least the tanguero versions of centuries of Hispanic and Black African rhythms - are unique. García and Jost knew that a singular role in these matters would have to be played by the bass.
"We couldn't just give a bass player who does jazz gigs a musical score for some tango," Jost continues. "There are stylistic elements that you can get only by listening to thousands of true Argentine tangos. So Sascha started dancing. And listening. He saw what we were talking about, and he picked it up very well."
Trio Garufa at The de Young Museum, San Francisco. Photo: Andrea Fuchilieri. Used with permission.
"The first time I played with Trio Garufa," Jacobsen laughs," I'm sure I sounded like a jazz player simply making an attempt at tango. But you can't just look at tango music on a score and play it. The score doesn't tell you what you need to know. It takes years to understand tango's stylistic idiosyncrasies. So when I showed a real interest in learning those things, the guys were very excited about my joining the group."
Tango, like all musical forms, is constantly asked to absorb new musical elements and experimentations. These days, electro-tango, which makes use of digital electronics and, often, basic American rock 'n roll rhythms, is very popular. "It has a broad appeal to a public that is outside the traditional tango crowd," Jost says. "It's a very 'lounge-y' sound." But among traditionalists, that sort of appeal has little interest. "It's not tango," they say.
One gigantic new form of tango was brought about by Astor Piazzolla, who had played and done arrangements for some of the most revered tango orchestras in Argentina. Piazzolla introduced all manner of new elements -- counterpoint, radical dissonances and rhythmic mixtures -- that had not existed in tango music before him. Among traditionalists in Argentina, Piazzolla was often reviled for his experimentation. He passed away in 1992, but to this day his music remains a lightning rod for argument.
"I love these controversies," García says, "because both sides are at fault. This controversy makes no sense because tango is always evolving, and 'evolution' does not necessarily mean the same thing as 'improvement'. Red, blue and yellow are different from one another, but no one of them is necessarily better than the others. Also, Piazzolla was not in fact the first one to do such things. Other famed tango musicians like Julio De Caro, Aníbal Troilo and Horacio Salgán were just as innovative. They too introduced things into tango that had not existed before. Imagine if you were a longtime fan of tango in 1940 and were suddenly confronted with Aníbal Troilo. You might think, 'This isn't tango!' but that wouldn't be true."
Trio Garufa has completed two tours of Argentina. The reviewer for the newspaper La Nueva Provincia wrote, "The audience gave them two standing ovations during the encores, wrapping up 126 minutes on stage. They played for the people, without the pretense of some modern musicians who make tangos only they can understand. Trio Garufa was modern while playing old tangos, those tangos familiar to all our ears"
The group's third CD, El rumor de tus tangos was released earlier this year. The Christian Science Monitor said of it: "Play it and you'll either get up and dance, or more likely, wish you knew how."