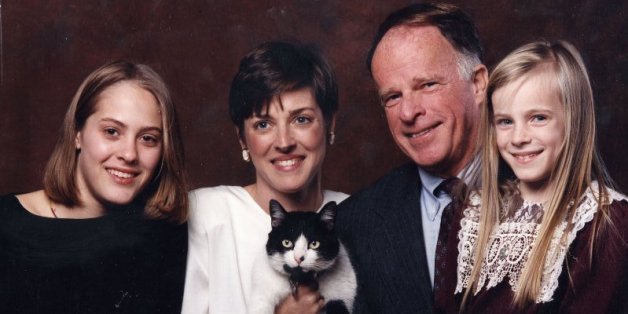 September 8-12 is National Suicide Prevention Week. The story you're about to read was written by someone who was deeply affected by suicide.
I am the VERY proud mother of two daughters. My youngest daughter, Kate, is terrific and stays resilient and strong in her fight for finding a way to prevent suicide for others. Her sister, my older daughter, Ginny, died by suicide in 2008. She was 31.
I WISH I could tell those who are new to this that the grief gets easier. For me...it hasn't so much....but it HAS become more manageable and in some ways more private.
I COULD describe the tow-headed happy little girl I once had and how she was sensitive and caring right from the start...even as a toddler she would cry when a playmate got hurt...and I could describe what a beautiful and brilliant young woman she became...and how midway through getting her master's degree, her emotional volatility became so severe that she knew she was unraveling....but I can't really tell you what went wrong or why or exactly when...I CAN tell you that I am still so VERY proud of who she was and how HARD she worked, desperately trying to find help, and how brave she was at the end when she told us "I don't WANT to die but I just can't go on living in this much pain and without any hope of getting better."
I'm working these days to have my daughter's life not defined by the tragedy of her death...so I prefer to write about what we all share.
We all SHARE in the grief and guilt of not having known how to help. How on earth can this country put a man on the moon, or replace human legs and even human hearts, or find cures and treatments to some of the world's most terrible diseases and yet...we can't find the most fundamental treatments for mental health, much less find any explanation for what goes wrong when someone dies by suicide. We all share a desire to find a better way.
There were some things said to me after Ginny died that have stayed with me:
First, within hours after I found her I called a woman at my office to say "I won't be back to work for quite a while" and told her why. She listened quietly and then she said "what do you want me to tell people?"
It was a question that took me aback...I hadn't really thought about that....I hesitated and then I said "just tell them the truth." I knew I couldn't deny HER truth...which was that the pain she suffered was simply too great. That decision hasn't been easy. Too many times someone asks a simple question, like how many children do you have? And then how did she die?, and my answer is followed by a comment that shows they just can't comprehend. Those moments provide an opportunity to educate and to counter the pervasive misconceptions about what a victim of suicide is like. Every news story about suicide is followed by some comment like "he was just divorced or filed bankruptcy or she lost her job"...as though these events are the cause of the suicide...Those of us who have experience suicide with someone close or in our family know it isn't that simple.
Which leads me to the second and most common thing I've heard...and that is "you did everything you could do..." I appreciate that sincere effort to comfort, but I know it's untrue and it misses the point. What IS true is that I did everything I KNEW to do at the time. But in the past 6 years I've read a stack of books as tall as I am to learn everything I could have, should have, would have done. I know so much more about the warning signs, the treatment options, the resources, and the struggles that so many suffer.
I STILL don't know if anything different would have saved her but one thing I DO know is that we didn't talk openly enough about her struggles to her friends, her fiancé, and her family...because no one struggling that much should have to do it alone or in the dark. Silence breeds shame...and while maybe no single one of use can save someone, collectively, through awareness, we may be able to provide a safety net...buying time for those struggling to find hope for a better future.
Those who suffer DESERVE to have reasonable and insurable treatment...with the AFSP walks we are bringing light to this issue and because of our pressure and insistence, solutions WILL be found. Our loved ones deserve no less.
We are ALL deprived when the lives of these incredible people are cut short because they are unable to find the help and treatment they need. We can change that, by refusing to let the stigma prevail and I'm confident it is changing.
We ARE making a difference one step at a time.
Need help? In the U.S., call 1-800-273-8255 for the National Suicide Prevention Lifeline.
This blog post is part of a series produced by The Huffington Post and the American Foundation for Suicide Prevention, in conjunction with National Suicide Prevention Week. For more information about the American Foundation for Suicide Prevention, visit here.