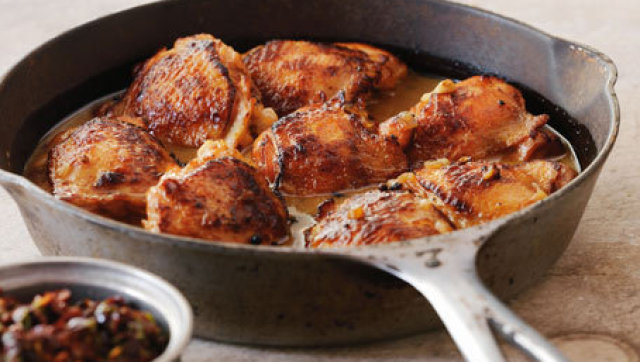 Just in time for the holidays, celebrity chef Michael Mina has created a daily email and website called Cook Taste Eat where wannabe chefs can spice up their rudimentary repertoires with some of Michael Mina's most famed dishes. The service is free and super simple. Just sign up for the emails and every day a link is sent with a short, informative cooking video. Chef Mina not only lets you in on some of his secrets, he also shares the "why" behind the recipe. Plus, you can learn some fancy new words you can throw around at your next dinner party like frappe and etuver. The other members of his A-Team include businesswoman Tanya Melillo, a Havard-grad-turned-foodie, and Grammy-winner Michelle Branch.
Along with his own creations, Chef Mina invites other top chefs to share their recipes and cooking tips. Look out for appearances by Ken Tominga of Hana, Bottega 's Michael Chiarello, Charles Phan of Slanted Door, and Mourad Lahlou of Aziza.
The recipes are seasonally based, so for the next few weeks you can learn how to cook some creative dishes for Thanksgiving. Those include Braised Turkey Legs, Turkey Croquettes & Gravy, Roasted Turkey Crown, and Panini-Pressed Brioche Stuffing. So much for grandma's boxed stuffing mix! What's cool is that he includes a timeline (now you know how much time you actually need to prepare a dish, so you won't screw up serving time). Also included in the recipes is a complete list of all the ingredients you need to buy.
Going from online to on-location, Chef Mina's weekly menu will be featured at his restaurants across the country. So, you can order one of the many dishes before trying to master it at home. For more information and to sign up for the emails du jour, go to the Cook Taste Eat website.