Over the past couple of weeks, I've seen an increase in the amount of Facebook news feeds about Trinidad Carnival. Why so much Carnival buzz in August and September when Carnival takes place in late February early March, I thought. I asked one of my Carnival addicted friends and she said that the bands have unveiled their costume designs for 2012 which is why there is so much excitement and discussion. People are talking about the Carnival bands (new and old), the costumes, and with whom they will "pay" to "play mas."
This immediately brought back memories of my five fun-filled days in Trinidad in 2010 when I produced and hosted a Carnival webisode series. This opportunity came at the last minute because another media outlet backed out. With only one week to prepare for the trip, I reached out to every Trini I knew to get their tips on how to arrive "Carnival Ready." My goal for this experience was to play mas like a true Trini.
I was advised to sleep as much as possible to build up a reserve before the fêting began. My flight from Newark to Port-of-Spain departed at midnight and my Trini flight mates decided that the party should start on the plane. I happily joined in until I could no longer take it and retired at 3 a.m. When my flight arrived around 5 a.m., I was exhausted. I checked into the Carlton Savannah Hotel and attempted to take a nap, but I was too excited to sleep and I could hear the party genies telling me to wake up. I listened. From that point on, I stayed up for about 20 hours each day, like a real Trini would.
The party began with J'ouvert which is a celebration and night-time street party in central Port-of-Spain that begins at 2 a.m. and ends around 8 a.m. which is just a few hours before the beginning of Carnival Monday. For J'ouvert, I was told to wear white clothes that can be thrown away because they will be ruined with mud, chocolate, paint, and oil by the J'ouvert revelers. Within the first two minutes after getting off my band's truck, I was targeted. My white outfit was immediately splattered with mud. Game on, I thought. Over the next few hours I danced, slung mud and paint, and quickly became acclimated to the popular soca songs that would remained my playlist over the next four and a half days. I was quickly transforming into a Trini.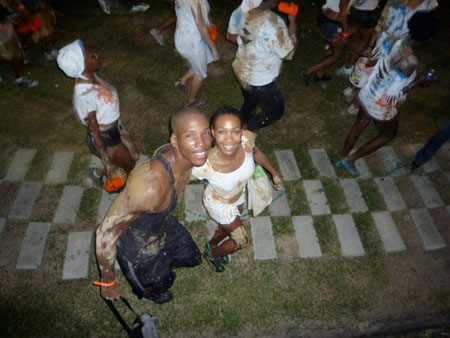 Teri Johnson with model Sandhurst Miggins - Dirty Dozen J'ouvert band
For Carnival Monday, I wore part of my Carnival Tuesday costume and met up with the Island People band, with whom I played mas. I learned how to "chip down the road" which basically meant shuffling my feet with my knees bent while staying on beat. I also jumped up, and "wined" (a circular thrust-like grind) with random people. Fun! I got the hang of how the Trinis party and was ready for Carnival Tuesday.
Carnival Tuesday is the day that the masqueraders dress in full costume, congregate with their band, and play mas with wild abandon in front of thousands of spectators in the stands.
Unfortunately and very un-Trini like, I overslept and missed my opportunity to cross the stage with the Island People. After finally getting up and dressed, I met up with my Trini friend Ginette, and played mas by hopping from music truck to music truck, while dancing, "wining" and taking shots of Cointreau along the way.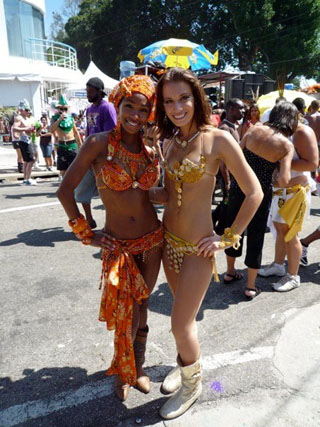 Teri Johnson with Ginette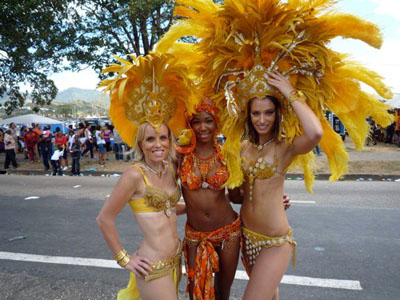 Carnival Tuesday
What I realized about playing mas like a Trini, is that they prepare early which is why people are talking about an event that takes place more than six months from now. They eat, sleep and dream of Carnival. From the bands, costumes, shoes, make up, personal photographers for hire, and workout regimes, the Trinis take Carnival very seriously. It's more than a few days of wild parties, fêting, and parading in elaborate costumes. Carnival is like a holiday. Trinis living across the globe come home to celebrate with friends and family. The pride of the Trini people is strong and infectious and Carnival is the time where everyone can soak in the wild energy that permeates Port-of-Spain during what is referred to as the "greatest party in the world".
If you're planning to attend next year's Carnival, I recommend planning ASAP. Carnival in Trinidad will take place February 20 and 21, 2012. Plan to stay for at least four days. Here are my ten suggestions for early Carnival planning:
Make sure your passport is valid.
Decide which band you and your friends will "play mas" with and register early. Carnival Bands listing
Choose an all-inclusive band or band section that provides food and beverages - These sell out quickly.
Select and buy your costume. The popular Tribe band has sold out of all costumes according to their website. Most costumes and packages range from US$250 -$1,000.
Book your flight early. Continental, American, Copa and Caribbean Airlines fly from the U.S. to Port-of-Spain.
Book your hotel early. Try to stay close to the Queen's Park Savannah which is Carnival path. It is difficult to find taxis during Carnival and you might have to walk home. Hotel List
Learn some Carnival vocabulary: Wine \win\ - A suggestive dance using winding hip movements 2. Lime \lim\- Hanging out. For more Click here.
Watch the 5-part series of Travelista TV coverage of J'ouvert, Carnival Monday, Carnival Tuesday, Ash Wednesday, and a Carnival Celebrity Party. Click here.
Start working out now so you can look amazing in your costume and have the energy to last throughout Carnival.
Be ready to have the time of your life!