One thing I am yearning for (other than a bigger apartment) is the gorgeous Nefertiti earlace from Lace by Tanaya. The Nefertiti consists of two magnetic hooks that attach 13 plated cuban chains. What else I love about it is 6 out of the 13 chains can be worn in the front, while the other 7 can be worn in the back, or you can wear all 13 in front for a full on statement.
Recently, I met Tanaya Henry at fashion stylist Zahra Ayub's wedding at the Beverly Wilshire. We were both on queue to hit the step and repeat and I couldn't stop doting at her necklace, and earrings, well, both. I was confused as to what it was. She explained to me that she was wearing the Nefertiti earlace from her latest collection. Properly, she was equipped with business cards vending them out to every woman who approached her and asked where she bought them.
Work!
I've been daydreaming about beautiful multifunctional accessories that make head turning statements, so it's no surprise that I've become obsessed with these amazing "earlaces" from Lace by Tanaya. Speaking of function, if the chain is pulled, it detaches and earlobe is left safe and not ripped.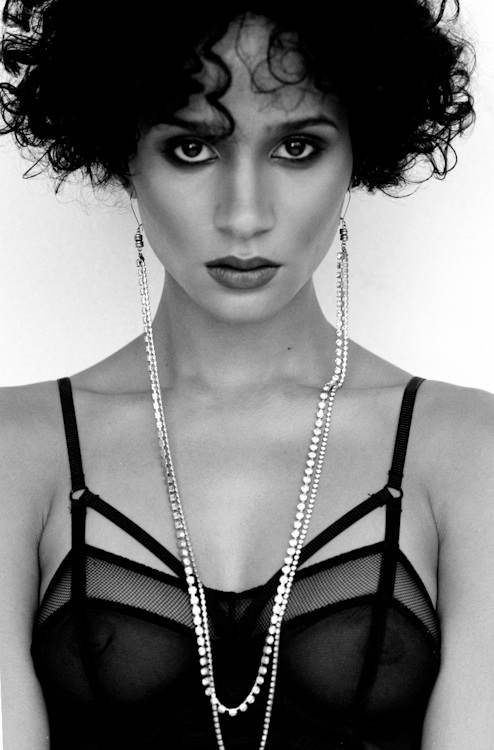 (Tanaya Henry in her own design, photographed by Delphine Diallo)
I knew I had to grab an appointment with her before I headed back across the pond so we met the next day and I was able to view the entire collection. Although the earlace is my object of affection, she also makes rings, body jewelry, and headpieces. She got the inspiration for the earlace because she wanted to wear earrings and a necklace at the same time, so she came up with something that could be worn as both.
The line is inspired by her love for lace because of its feminine, intricate, one of a kind detailing, just like each piece of her jewelry. Each piece is handcrafted by Tanaya and includes her patent pending magnet invention attached to the earring post and chain. Lace has been seen on Rihanna, Nicki Minaj, Cassie, Kat Graham, and Alicia Keys. It has also been seen in Vogue, X Factor, and Justin Beiber's latest video, Boyfriend.
Check out the slideshow below to see what caught my attention - and held it! The earlace collection ranges from $70 - $175 at lacebytanaya.com.
PHOTO GALLERY
Lace by Tanaya Collection