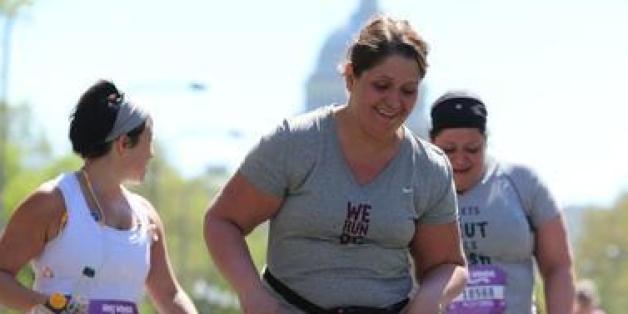 A few weekends ago, I traveled to Washington, DC to run in the Nike Womens Half Marathon -- my first ever endurance race. I'm proud to say that I finished the race, received a Tiffany necklace at the finish line and raised close to $2,000 for cancer research through Team in Training.
This accomplishment means even more, perhaps, because I spent over half the training season sick with the flu and pneumonia and was completely unprepared for the task. Additionally, days before the race, my husband and I dealt with some difficulties within our marriage -- the standard kinds of things that happen when two broken people decide to commit to each other for life, forgive each other's mistakes and press on through the obstacles thrown their way -- but difficulties nonetheless.
The odds were so stacked against me that my only goal was to finish without getting swept off the course -- to cross the finish line on my own two feet and receive my Tiffany's bling. The race was long, giving me nearly four hours to walk and jog through the Nation's capital, taking in the sights and spending some much-needed time alone with my own thoughts.
I realized that day that the sickness, stress and poor choices I'd endured through the winter months -- the sadness and the profound loneliness I'd felt more often than not -- all were directly related to the lack of strong female friendships in my own life. I knew in those long, grueling hours that this was where I'd gone wrong -- that life is lonely without connecting with the right people. That day, as I pushed myself along the 13.1-mile course, I watched the other women who ran alongside me and observed that friendship is no different than running an endurance race.
1. Everyone thinks everyone else is okay.
Standing in my pace corral waiting for the starting gun, I was horrified. I looked the part in my running shoes and my dry-fit race shirt, but on the inside I was starting to panic. I wasn't ready. As I stood there with other women who talked about their training schedule or their personal records, I realized that they had no idea I wasn't "one of them." Everyone is so busy preparing for their own race that no one realizes that some people are just plain not okay. No one will know you need help or are struggling unless you tell them. If you're unprepared, worried, afraid -- be vulnerable. Share it. Ask for help.
2. It's better to run with those who enjoy the views.
Through several miles of my race, I was preoccupied with whether or not my pace was fast enough to keep me from being swept from the course. I kept moving, putting one foot in front of the other, not stopping to take in the monuments and rivers and cherry blossoms around me. Then, I started noticing them -- other slow runners, like me, who were stopping to take a photo in front of the Washington Monument, or give the crowds who were cheering us on a high-five. It hit me then that I don't want to go through life with people who keep their heads down and press miserably toward their goal. May I choose partners in this race who stop for a selfie with Abe Lincoln or stop to enjoy the sunset when I'm busy rushing my kids out of the playground before dark.
3. Run with those who fall into your pace corral.
I'll never forget the group of women who got me through more than half the course that day. There were three of them -- inseparable, chatty, clearly close friends. I realized early on that their pace was one I was comfortable with, so I kept an eye on them throughout the miles, picking up speed when they got too far ahead of me. Sure, there were lots of faster runners, but these ladies fit my speed perfectly. In life, there will be those who run right past you. You can try to keep up for a short while, but if your paces don't match, your friendship will be brief. Look around. See that mom or coworker who moves at your speed? Fall into step with her. Relationships are supposed to be easy -- a well-paced jog that can be kept up over miles and miles, not a sprint to the end of the street that leaves you breathless and exhausted.
4. Keep moving until someone picks you up.
As I've said, I ran half the race terrified of being too slow and getting swept from the course. Somewhere around mile six, a thought struck me: Terri, there's absolutely nothing you can do except to do your very best. Yes, you may get swept. The most you can do in this moment is to keep putting one foot in front of the other until someone picks you up. How true is that in life? Keep moving, keep fighting until someone picks you up and allows you to rest.
My race experience was one of the most amazing experiences of my life. I've already signed up for the next Nike Women's Half this fall in San Francisco. I'm sure climbing those hills will teach me an entirely new life lesson and I'm looking forward to it.