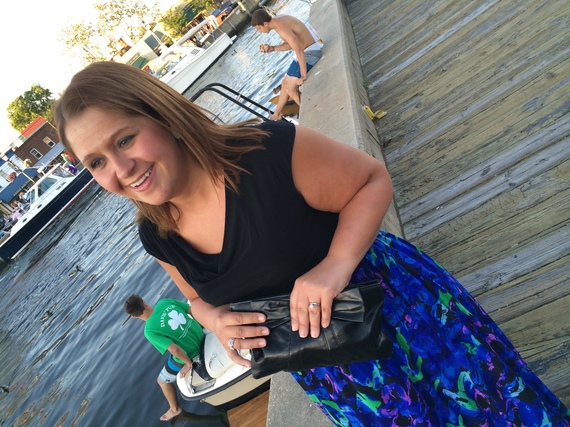 I don't know when I'll stop saying things like, "I just went through a really tough time," or "We've recently had some hard times in our marriage." Truth is, I can honestly say that for the first time in quite a few years, I've been actively working on fixing the problems in my life for at least the last six months. Six months. Half a year. And yet, I know I've not run far enough away from the person I used to be to truly feel like I've escaped her grasp.
And it's harder to run now -- literally -- because I've gained weight. Somewhere, in the midst of fixing my life, I've slowed down on my lifelong pursuit, nay obsession, of being thin. There's some extra padding there. But, although sometimes I hate it, I like it, too; because while I've been gaining a few physical pounds here and there, I've been tossing off mental baggage left and right.
My body may be heavier, yes, but my mind, my soul, my heart -- they're lighter. They dance with abandon and they stare at themselves too long in the mirror thinking, "You're so beautiful -- wow."
People celebrate pounds and inches lost in a myriad of very public ways -- selfies in the mirror, boasting on social media -- all of which make me jealous sometimes. And in those moments where I feel conflicted, where my body gets the best of me and makes me feel bummed about gaining weight, here's what I've been celebrating instead -- here's what I've lost -- here's where I'm healed.
Bad Relationships
Things in my life got so bad that they got worse. I often think about how I felt like I was drowning, yelling to friends and family members on the dry land where they watched. Some of them offered me a hand, but they were so busy with their own selves that they got distracted. They let go - let me fall back into the pull of the water. I was alone. I still am alone in some ways, but I've realized my own strength. I've learned to swim on my own. I've learned that the very things I was seeking my salvation from were the things that were pulling me below the waves. I've learned that you have to surround yourself with people who lift you up and support you. If a relationship doesn't do those things, it needs to go, even if it's painful.
Self-Centeredness
Wow, do we live in a big world. There are people everywhere with beautiful stories and amazing gifts to offer. There is always someone who needs a hand, you just have to be open to reaching out. We women, we humans, are so focused on what's going on in our own lives. I have learned that in order to truly feel fulfilled within my own heart, I have to move the focus outwardly. I have to celebrate with a friend who is successful. I have to cry with a sister who is hurting. I have to keep myself in the correct frame of mind, so that I can be the light that I'm meant to be in the world. I'm living proof that you'll lose about a thousand pounds of mental drama when you shift your focus off of yourself.
The Need to Please
Part of keeping myself open to the world around me and available for the miracles that are waiting to occur in my life involves stopping the need to say yes to everything. I have learned that just because you have the time on your calendar to commit to something does not mean it's the best thing for you. I have learned to weigh my choices, to minimize stress, to be myself in the fullest capacity that I can. My job is not to make the world happy by spreading myself too thin. My job is to bring my best self to the table, a task that is only accomplished by choosing my relationships, commitments and activities wisely.
Dieting Addictions
Strangely, the journey that brought me to this point -- 20 pounds heavier and uninterested in obsessive diet plans -- started with finding an amazing weight-loss coach. I stumbled onto this woman's email list months before I was ready to actually hear what she was saying, but when I was ready -- oh, how she resonated with my very core. After years of trying every fad diet out there, exercising myself into oblivion, and obsessing over the number on the scale, I can now say that I have spent the last half a year healing the problems that started me on the path to weight gain and self destruction to begin with. I know I'll lose weight. I know I'll have a healthy body -- and soon. But through this program, I've learned to personify my body, to recognize what a frightened child she is, and to journal, love and accept her into a place where she'll stop holding onto that weight, and start walking in a place of joy and health.
I've realized during my journey that I have two choices -- stay the way I was before and continue to live a life where my soul is exhausted from the weight it carries, or liberate my mind and let my body follow in it's own time. I've chosen the latter, and it's working out pretty well so far.